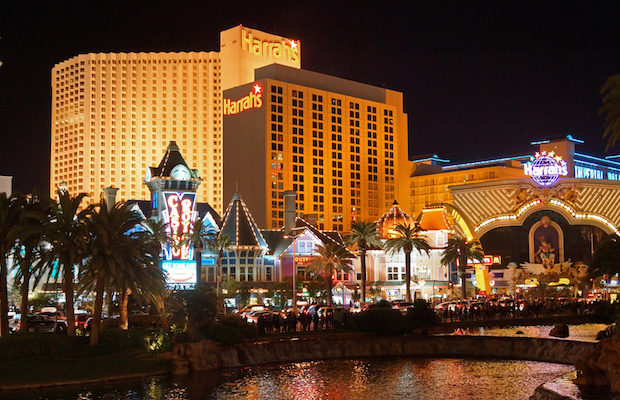 Hotel Reviews
Harrahs Casino
By
|
A Caesars property, this hotel became known as Harrah's Las Vegas in 1992. It formerly was the Holiday Casino, which opened in 1973. Now it is one of the most reasonably-priced Strip hotels in Las Vegas, and situated center-Strip. Here it is on Google Maps,just south of the Venetian, north of the Linq.
This is a chain you can find all over the country and is more affordable than many of the bigger hotels. Its recognizable purple, white and gold starred signs came to signify something approaching a household brand. That familiarity, combined with the famous cheesy statue in their lobby of a cartoonish pair named Buck and Winnie Greenback, the winning couple, sets a certain tone for this casino. You might call it nouveau trashy —- or just see the whole hotel as a (sometimes humorous) celebration of ordinary people. In fact, the best-known restaurant is Toby Keith's I Love This Bar and Grill, another homage to the ordinary man.
The hotel is large, with 2,530 rooms. They've done a lot of renovating of rooms over the past few years, but it sounds as if it was really needed.
Harrahs Casino
Gaming options include a Poker Room with 12 tables spreading games of Texas hold'em, seven card stud, H.O.R.S.E. plus tournaments. There are about 100 tables of other games: Blackjack, baccarat, Asia poker, craps, Caribbean stud poker, Pai Gow Poker, Pai Gow Tiles, Spanish 21, roulette, and more.
Sometimes in the mornings you can find some of those elusive, lower-minimum-bet games at blackjack, roulette and other table games.
They have 1,500 slot machines with penny slots (235), nickels (75), quarter machines (125), dollar slots, 5-dollar machines, 100-dollar slots, and others. They offer progressive games such as MegaBucks and Wheel of Fortune. There are machines for video poker, video blackjack, and video keno too.
They have a race and sports book, where comfortable chairs are good for watching games during the football season while you order from a special menu from the Fulton St. Food Hall. There is of course the obligatory sports bar right there too.
There is a keno lounge with a parlor and comfortable seating as well. You can play keno from your hotel room, if you prefer, by clicking to specified channels, or play from the Cafe.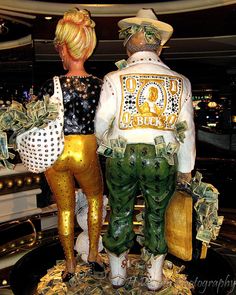 Night Life
What the nightlife areas inside appear to be is accessible, welcoming — and really fun. Shows at the resort include music headliners such as the Righteous Brothers, long-running shows such as Menopause the Musical, or comedy acts, all in the events Showroom. There's also the burlesque show X Country, which is performed in the Cabaret.
Bars include:
The Piano Bar is one of the most popular spots within the building, where you can sing karaoke, listen for free to a pair of pianists perform in the Dueling Pianos Show, or take in other live music acts each night such as the Saxman Duo.
The Signature Bar is purple and white just like the H's logo, open 24 hours.
Carnaval Court is the dance party spot in the courtyard, with DJs and live bands and a bar handy.
The Numb Bar is right inside the casino, offering frozen alcoholic (or otherwise) drinks, beer, or energy drinks. It's handy to Carnaval Court and the Piano Bar.
The Pool Bar is a definite destination, having the best of both wet and dry worlds. Food is served poolside too.
Harrahs Restaurants
Ruth's Cris Steak House – upscale steaks and seafood, hand-designed cocktails
Flavors Buffet — roasted chicken, Brazilian BBQ, the usual crab legs, and lots of Asian dishes like sushi, maki rolls, homemade wonton soup
Toby Keith's I Love This Bar & Grill — Southern comfort food and live country music
Oyster Bar – cold and hot seafood selections, BBQ grilled oysters, seafood risotto, Cajun Scallops, Bourbon St. Jambalaya, Scottish Salmon.
Fulton Street Food Hall – a step up from a food court, with changing offerings as the day goes on. Everything's all ready to eat, and you can get it to go too.
Ice Pan – specialty ice creams, soy-milk based ones too, boasts that it's organic and all natural.
Videos