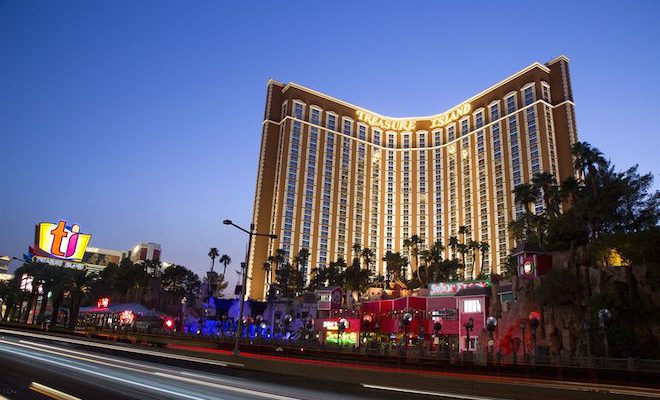 Reviews
Treasure Island – 2
By
|
If you love swimming in the heart of the desert but want a reasonably priced vacation hotel in Las Vegas, Treasure Island Las Vegas is one to consider. The 4-star establishment is in the middle of the Strip, directly across from the huge Palazzo Hotel; and the Wynn, the Venetian and the big Fashion Show Mall are surrounding properties.
The TI resort is a great option when searching for a place to stay in the city. This establishment has undergone many changes through the years and although it still has a seafaring theme, you won't see any pirates. Some people miss the pirates — but the water-and-bikini culture here has a lot going for it. Their outdoor pool is lovely, lagoon-style, and there's a 50-person whirlpool called the Party Tub, also outdoors. Cabanas, attentive staff to hand you your tropical drinks (bar service at pool goes without saying; food service too) and towels, and you're in your little paradise. To reserve a poolside chair is free.
This hotel attracts a more mature clientele than formerly. Since you're on the Strip, it's still easy to find family entertainment all around.
Treasure Island Hotel Rooms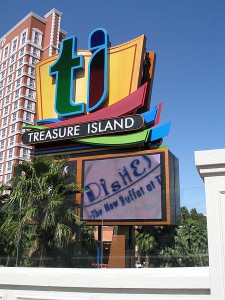 Their hotel rooms are some of the most affordable in the city and they have undergone renovations to make them more modern and comfortable. Ti has 36 floors and there are close to 3,000 rooms in this hotel.
The hotel has a self-parking garage available. They are pretty straightforward about their fees and costs. For instance, the Resort Fee is $30/day + tax. It includes fitness center access, internet, a 2-for-1 cocktail during your stay, and a $25 credit on a future stay.
Available directly from their website, a deluxe room deal for a 2-night minimum stay costs $69/night Sun.-Thurs. With this you get 2-for-1 beer at Gilley's, 2-for-1 Mystere tickets, and 20% off spa services. But check the fine print on these, there will be some restrictions as far as time of performances, possible stay cancellations, etc.
1-800-288-7206 or 1-702-894-7111
The Deluxe Rooms are about 400 square feet and they have either one king sized bed or two queen sized beds. They offer the most in comfort with the pillow-top mattresses and the beds have padded headboards and lights. You can enjoy a great view of the Sirens Cove or the mountains with the oversized windows that reach from the ceiling to the floor.
They have LCD flat screen TVs, digital cable, pay movies, a clock radio with iPod/MP3 docking stations and a large desk. Each room has a lounge area, which is very comfortable. There is a safe for your valuables and mirrored wardrobes. The bathrooms have marble floors and counter tops, which are modern and they feature large bathtubs.
The Suites have everything that the Deluxe rooms have with a few added amenities. The Petite Suites have 630 square feet of space, a king sized bed and two bathrooms. The Tower Suites is a very spacious 930 square feet. These rooms also have a foyer with storage cabinets and a dining area, bath robes, slippers and a stereo system. The bathrooms include a large whirlpool tub and a separate shower.
You can also choose from among the Luxury Suites, Executive Suite, Premier Suite or The Penthouse Suites.
Extras
Access to the Internet is available for free. Certain Deluxe Rooms have mini refrigerators and microwaves. If this is something that you would like to have you'll need to ask about it when you make your reservations.
Guests with small children can request cribs for their rooms but they do not offer babysitting services at this hotel. TI does have several meeting and banquet rooms that are very nice and a business center for those who have to mix business with pleasure. These are comfortable and come with fax machines, printers and the normal office equipment but there is a charge to use these.
The Hotel Pool Area
The pool has been renovated and it is heated. Tall palm trees dot the area. While small by this town's standards, the TI pool is still a very pleasant one. There is a pool deck that features music by a DJ and parties take place in the evening hours. You will also find a huge whirlpool that seats 50 guests.
You can rent cabanas that come with a TV or reserve a spot in the VIP loft. Massage chairs are also available at poolside that you can reserve. You cannot take your own beverages or snacks to the pool area, but there is food service.
Things to Do at Treasure Island Casino
There are several things to do at TI that includes taking advantage of the Spa and Salon. They specialize in massage therapies, facials and wraps. They also offer beauty treatments that'll leave you feeling refreshed and ready for a new day. The staff is very skilled at what they do and always act professionally. The facility is relaxing with soothing sounds and invigorating aromas and they do offer special promotions for guests to take advantage of.
You will find several unique stores in this hotel that include The Watch Shoppe, Captain Kids, The Lobby Store and The Siren's Cove Shoppe. It's interesting to see all of the things they have to offer in the stores.
It you love playing golf, you're in luck. There are four golf courses here. These include Bear's Best, Bali Hai Golf Course, Royal Links Golf Course and Desert Pines Golf Course but be sure and bring your own clubs.
Final Thoughts
The rooms are nice and affordable with modern décor making the Island a good choice for those who have to keep budget in check. It has a great casino and other forms of entertainment that will keep things interesting. However, they do have a few problems.
For example, long lines can form at the front desk and since the lobby is rather small, it can get crowded and uncomfortable. You may get an answering machine instead of a real person when you call the lobby depending on when you call. Guests have complained about slow services and deliveries and some visitors have complained about the strong smoky smell, even in the rooms and low water pressure in the showers.
You may also see trash lying around especially in the pool area because it can be difficult for housekeeping to keep up with all of the guests partying most of the night.
Overall, TI in Vegas has a lot to offer especially for the price of the rooms but don't expect extravagant decor or overwhelming shows that'll blow you away. If that's what you're searching for, you may want to choose one of the other hotels on the Strip. You will get clean and comfortable rooms that are affordable enough to leave you extra money to enjoy other things while in town.
Videos