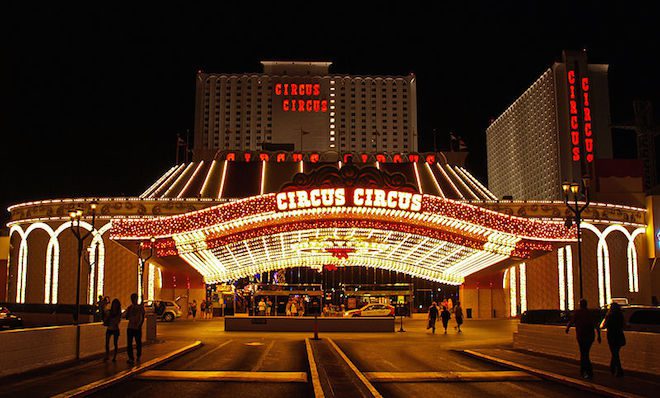 Reviews
Circus Circus
By
|
You might think about "bread and circuses" that Roman emperors evidently used to distract the people from troubling issues of the day, because Circus Circus was conceived shortly after Caesars Palace Casino — and was originally planned to be next door to it. Circus Circus was built with Caesars in mind, as an additional spot to appeal to entire families, which the sophisticated Caesars did not. The original developer, Jay Sarno, in 1968 wanted to broaden Las Vegas' entertainment to all sorts of customers. And he did manage this.
The hotel sits proudly near the north end of the famous Las Vegas Strip where it made its home about 47 years ago. It's about four miles from the McCarran International Airport and there is transportation to and from the airport, for a fee.
You'll find all types of fun at this resort as you enter the world's biggest permanent circus. This is one of the few places where kids have always been welcome in the midst of this adult, gambling-centered town and it's still a great place for families to visit now.
The circus acts are high quality and amazing, and year-round. This is one reason why so many visitors stay at this hotel. Another is the roster of casino games available.
The Casino Room at Circus Circus
The casino floor is by far the biggest one you'll find in this amazing city and it may not be the very best but that doesn't mean you shouldn't check it out. You might even be a little surprised at all of the great things this casino does offer.
If you've been looking at all the other hotels but Circus Circus, because you thought it would probably lack good gaming action, it's time to take a fresh look at this unique resort. Once you learn some of the things this casino room has to offer, you may change your mind.
You can also check out the "Rockin Party Pit" that offers high payouts in blackjack during certain times of the day and free gaming lessons are also available seven days a week in the main pit. You can check with hotel staff to learn when these events take place.
Table Games
They have a good variety of table games, which include some of the most popular ones you hope to see in a Vegas casino and some that may make you take a second look. The most popular tables include Blackjack, Craps and Roulette but they do have other options available.
Some of the games that you wouldn't expect to see include Virtual and Live Craps and Virtual and Live Roulette. These games help to make the place stand out and it shows visitors that the "little guy" has a lot to offer, too and shouldn't always be passed up for the bigger, more dramatic casinos.
There are over 80 tables scattered about so there is plenty to keep you busy but that's not all this hotel has to offer its adult visitors.
Poker Room
Yes, there is a poker room. Here, you can take part in either cash games or tournaments depending on your play style, preference and availability. Game limits vary considerably and offers gamblers low stake games, high stake games and everything in between. This makes it easy to find something that you feel comfortable playing and games that give you the opportunity to win big.
Live games offer the most excitement and tournaments are held both weekly and daily, depending on which ones you want to get in on. The poker room is always open and you'll find it located right at the front of the main casino.
Slots and Video Poker
If you love Slot machines or Video Poker, then this is a great place to be. They have over 1,500 machines to play beginning with penny slots and going up to denominations of $25. There are even penny slot machines that have jackpots, which will allow you to win a brand new Corvette.
Some of the games include Magnificent 7s, Reel Millions and Quicksilver. They also offer keno games and they have a true Carousel that spins while you play the slot and video machines. You can even enjoy watching some of the remarkable circus acts performed inside of the casino as you play.
Sportsbook and Horse Racing
When you walk into the newly remodeled Sportsbook and Race Room, you may be a little impressed. They have 32 high-definition flatscreen TVs of various size. Ten of these broadcast just races. The smallest TVs have 52-inch screens and the largest one is a huge 103-inch TV that shows the main games playing each day. You won't miss any of the action when viewing that one!
This Sportsbook has a new state-of-the-art Video Board where guests can view all the odds and point spreads for the day. You can wager on all the major sporting events or horses, but here you can get a little more personal service than what you may find in bigger facilities.
If you're new to sports betting, the staff will gladly help by answering any questions that you might have. They are knowledgeable and very friendly so don't hesitate to approach them. The doors open at 9am every morning but closing time is when the last event ends.
Entertainment at Circus Circus Casino
With its unique atmosphere, you know there should be lots of fun things to do, and there are. You can start by watching the live acts in the "tent" that are performed every day which won't cost you anything extra. These acts are free shows, every single day! These are not just small shows either that only last for a few minutes. They are full-length amazing shows that will mesmerize everyone.
The Carnival Midway brings out a little bit of the kid in everyone. This arcade is full of all types of games from the classics you may have played as a child to the newer modern games kids love today. There are many great prizes to win, as well.
If you're still searching for more excitement, check out Adventuredome. This theme park covers five acres and it's all indoors so you can enjoy the fun all year long. There are many thrilling rides to keep kids and adults alike entertained for hours. They even feature free clown shows and have a variety of games to play.
Food and Restaurants
With all of this excitement, you're going to get very hungry but they have you covered in this area, too. There are many places where you can go to enjoy a great meal. The Buffet is a great place where you can choose what you want from the buffet table. If you're in the mood for a good steak, check out The Steakhouse that has earned the title of being the best in Vegas.
You can also visit the Westside Deli if you want to grab a sandwich, doughnuts, coffee and similar items. Other options include the Garden Grill, Barista Café, Mexitalia Express, Pizzeria and Rock & Rita's.
Extras
This venue offers its guests several extra features that can enhance your stay. The Circus Players Club is a great way to save money by earning rewards that'll allow you to play free slots and you can earn cash back. You may also be invited to VIP events and enjoy complimentary dining and rooms. It's really a great value and worth your time to sign up as a member.
Overall, it's a great place for kids and adults to go to have a great time when in the big city of Las Vegas.
Videos