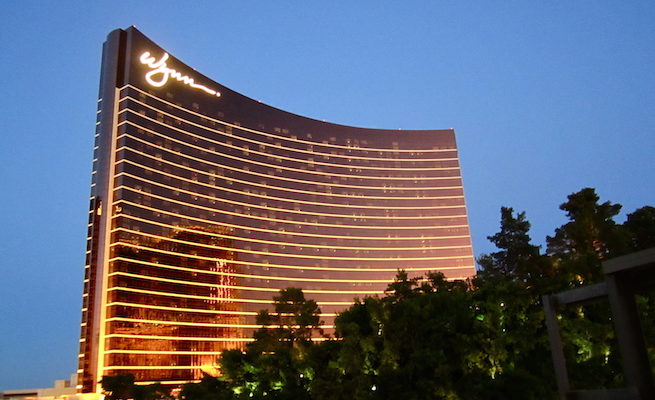 Reviews
Wynn Las Vegas
By
|
The Wynn Las Vegas Casino is one of the super-large properties of Paradise NV's Main Strip, known for its beautiful decor and exquisite style. Developed by Steve Wynn, it was finished in 2005 at a cost of $2.7 billion, and occupies the site of the old Desert Inn Hotel which was imploded in 2001 (and 2004).
This gambling hotel is located Mid-Strip on L.V. Boulevard South, and closest to it is its sister property, the Encore Hotel. Southward across Sands Ave. are the Palazzo and then the Venetian hotels; also nearby is Treasure Island. [See it on Google Maps.]  Directly across the Boulevard is the Fashion Show Mall.  Both hotel towers resemble a copper curved wall with their name written in cursive across the top, instantly recognizable. Each name is in Steve's handwriting.
The Wynn is one of only 7 hotels in the city to earn the 5-Diamond rating from AAA, and it has been awarded similar top ratings from Forbes, Michelin and other organizations. It is the only casino anywhere to get the AAA Five Diamond and the Mobil Five Star award for 3 years in a row. The hotel has over 2300 rooms and 351 suites, plus 18 restaurants.
The Wynn Casino
The casino covers 186,187 square feet including a poker room with 25 tables, a race and sports book. Its gaming chips were the first to incorporate RFID chips for tracking. The entire floor holds 2,600 slots of different types, and 295 table games. Areas include a baccarat salon, VIP private gaming rooms, a keno lounge, and race & sportsbook. The roulette tables are European style. The poker room spreads games of Omaha Hi-Lo, Texas Holdem, and mixed games. Slots range from a penny to $5,000 a pull, with nickel and quarter slots as well. The sportsbook has about 195 seats, VIP lounges, and 37 big screens for watching races or games.
Two big poker tournaments, the Summer Classic and Fall Classic, are events with prize pools of $750,000 or more. (For latest on poker, check their Twitter feed @WynnPoker ) These championship tourneys are played between the poker rooms of both sister casinos.
Hotel Features
To walk in is a pleasant experience. Its signature lighting inside appears to be upside-down umbrellas that seem to have been purchased either in Oz or Wonderland, in warm shades of red, purple and yellow. In other places, the lighting is individualized, such as the glossy red chandeliers in gaming areas or the multicolored crystal chandeliers approaching the theater. Huge glass vases and bowls of fresh flowers are everywhere (sometimes vases are the size of trees), and golden hallways and colorful gardens (also indoors) are invitingly dreamlike. In fact, the whole place suggests invitation rather than private exclusiveness — perhaps helped by the broad walkways leading you everywhere along.
Restaurants At The Wynn Las Vegas
Another category where the resort reaches top ratings is its cuisine, with multiple award-winning, fine dining venues. Vegetarians should take note that vegan cuisine is available at many restaurants. The Bombay Indian restaurant seems to be gone, but you can ask for vegan items on other menus. You might wish to know that both TripAdvisor and Yelp's reviewers called the Buffet either Excellent or Very Good, with several thousand people rating it. One even said an "hourlong wait" was worth it.
The best-known running show, Le Reve, is also an owner-inspired item, because "Le Reve" was actually the original name of the hotel project itself. Another long-running show is the big music spectacular Showstoppers.
The Lake of Dreams is a huge 40-foot waterfall with a nightly light and music show which can be viewed from the Steakhouse restaurant, the Lakeside Seafood restaurant, the Parasol Down lounge, or if you simply go out on the terrace.
They have an 18-hole golf course on the property as well.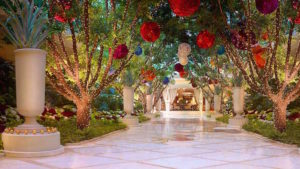 Videos