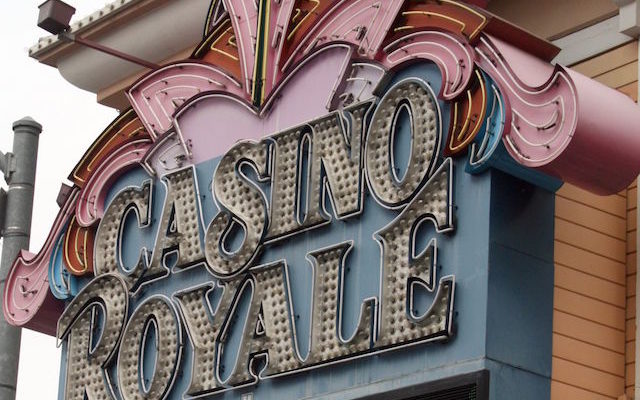 Reviews
Casino Royale
By
|
Address: 3411 Las Vegas Blvd. South, Las Vegas NV 89109
You have known the name of this hotel-casino since the first time you saw a James Bond movie, probably. The property didn't open, however, until 1992, as a redo combining a Denny's, a Travelodge, and other structures. It became a Best Western Plus accommodation in 2013, newly remodeled and has 152 rooms, so its proper name is: Best Western Plus Casino Royale. It is located in the middle of the Strip; see it on Google Maps.
Royale is a lower-priced or bargain resort, drawing a lot of customers for that alone. For one of the budget casinos, with modest dining places and all, it gets some pretty robust good reviews on the travel sites TripAdvisor — which gave them a Certificate of Excellence — and Yelp.
They have a White Castle restaurant, an Outback Steakhouse, a 24-hour Denny's, and a food court (also open 24hrs).
Casino
Known for having many low-stakes games, so it's good for beginner gamblers who want to try table games. They offer $3 craps, with 3X, 4X, and 5X Odds on craps — and sometimes you will find it offering its famous 100X Odds on craps. Watch for this deal especially on weekends, which is available only with a minimum $5 bet. They have $5 Single-Deck Blackjack too. Also the games:
FreeBet Blackjack
Three Card Poker Progressive — will return soon.
Blackjack Switch Bonus
Roulette
Slots
They offer penny to $5 denomination machines, among their 540 slot machines. They kindly post a list of many of their games on their website, if you're looking for specific ones you like; just check http://www.casinoroyalehotel.com/gaming/ — the list towards the bottom of the page. They have progressive slots Wheel of Fortune and MegaBucks among others.
Some examples:
Sex in the City
Superman
The Mummy
Tarzan
Michael Jackson/King of Pop
Ghostbusters
Stars Wars/Droid Hunt
American Idol
The Hangover
The Dark Knight
Survivor
Wizard of Oz
Lord of the Rings
Epic Monopoly

Royale is proud of their green policies and recycling efforts. One part worth knowing about is their clean, filtered water provided by Reverse Osmosis dispensers, the type that is known to be the most reliable way to rid the water of heavy metals like lead and chromium, as well as other impurities. There's just no need to buy bottled water there.
On their Twitterfeed @CasinoRoyaleLV they often ask visitors' opinions — so you can help them decide what features to bring in — also, they post frequent free-play promotions or other freebies, new games, and specials, making it worth checking before you go to the casino.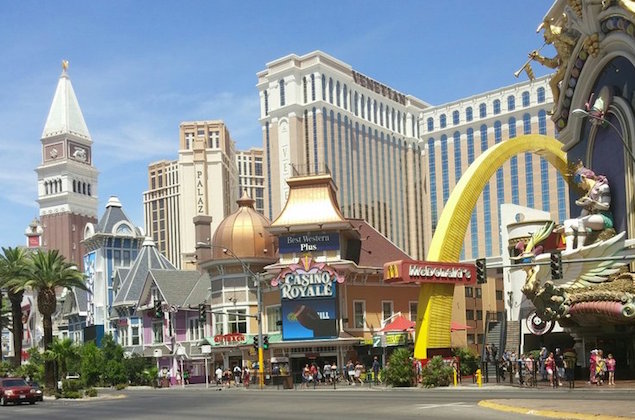 Trivia:
Ian Fleming, author of the James Bond books, was a Commander in the British Naval Intelligence Division. A plan he developed was named "Goldeneye," but it wasn't implemented by the military. After the war he purchased a house in Jamaica in 1946 and named it Goldeneye, and it was here that he wrote the James bond novels… the first of which (published 1953) was titled Casino Royale.
The first major film by that name was a spoof of the novels, starring David Niven as 007, with Peter Sellers & Ursula Andress.
Videos