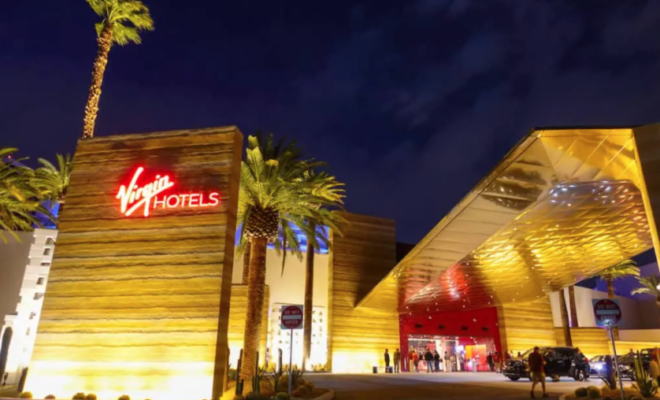 Casino News
Mohegan Sun/Virgin Hotel LV
By
|
Address: 4455 Paradise Road, Las Vegas NV 89169
Phone: (800)-910-2387
Website: VirginHotels.com/Las-Vegas or
Mohegan Sun Las Vegas
The former Hard Rock Hotel will open again, rebranded as Mohegan Sun at Virgin Hotels Las Vegas, a complicated name that popular use will surely abbreviate. Richard Branson's wish to operate a Las Vegas casino has become reality. What is unusual is that the casino will actually be a Native American operation, run by Mohegan Gaming. The casino itself — as distinct from the hotel — will be called the Mohegan Sun Casino.
The multiple names make things a little cumbersome, but everyone knows it's a Virgin property too. Visitors will have 1504 rooms to choose from, all styled to remind you this is an oasis in the desert. The hotel calls its guest rooms "chambers," and each is divided into a dressing room — the hallway, closet, makeup mirror and bath — and a lounge, where you'll find the bed and sitting/work and TV areas separated by a door. Designed during a pandemic, to help you not to need to touch very many surfaces, a good deal of the room's controls and switches can be operated with an app you can download onto your phone. What you can do by phone includes not only controlling the TV, lighting, thermostat, but also the ability to order room service, and checking out. There are motion sensor lights too for convenience. Each chamber will have one King or 2 Queen beds. There are dog-friendly rooms as well.
The dining and drinking areas of the hotel look a bit like places you'd think Richard Branson would like to be in himself. They're playful and pretty, social and open, mostly, with some more private sections. One lounge area catches your eye because it has a large hanging chair resembling a dinosaur's open mouth. The Shag Room, a great name, has thick curtains encircling the place like a sultan's tent, knotted puffy pillows to sit on alongside crimson couches under sparse lamplight. Other lounges are certainly… loungy. I wonder, do such places deter the elderly, due to the lack of supporting, straight-backed chairs? I'll bet the sports book will look different from this.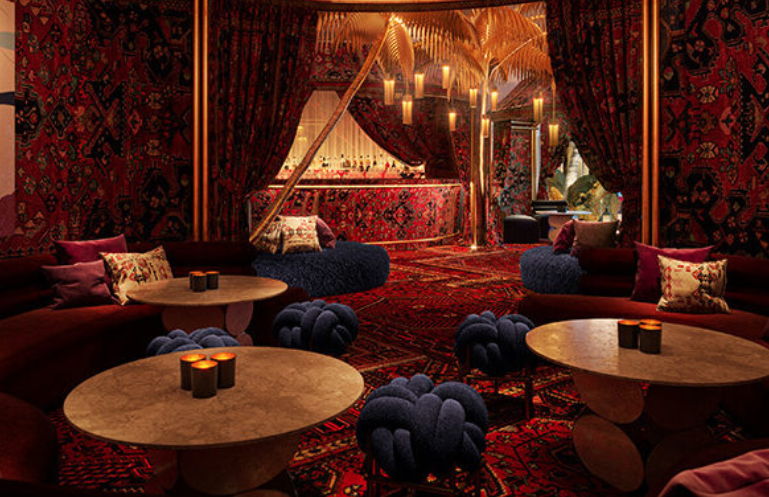 The Casino
While the main casino is run by Mohegan Sun of Connecticut, the sports book is under the aegis of Betfred, a UK sports betting company.
They've shoehorned about 650 slot machines in the place, so far, and some favorite refreshed games are now Progressives, such as Dancing Drums Explosion. New slots like Dollar Storm and Willy Wonka's Everlasting Gobstopper will be interesting.
Mohegan has over 50 table games out, with all the casino classics plus Crapless Craps — where the numbers you usually crap out on can be the point; Midi Baccarat — which seats 7 at a time; Face Up Pai Gow Poker; and Spanish 21. Momentum is the name of Mohegan's exclusive rewards club, although the cards say "Core," "Leap," "Ignite," "Soar" and "Ascend" to indicate tiered status. The sports book is due to open soon too.
Dining
Afters Ice Cream – is this a slightly suggestive name, or not?
The Bar at Commons Club
The Kitchen at Commons Club — Open 24/7 for breakfast to late dining, cocktails.
Casa Calavera — Mexican cuisine in open-air venue.
Funny Library Coffee Shop
Kassi Beach Club — South Mediterranean style with Italian, Greece dishes.
One Steakhouse — David & Michael Morton's restaurant.
Nobu — The familiar seafood, sushi, etc. place of Asian & Japanese cuisine.
Todd English's Olives
The Shag Room — sultan's sort of lounging stage but also describes the carpeting.
Things To Do
The property has a 4-acre pool area, a huge 4500-seat showroom, a smaller stage and showroom. The parent casino, Mohegan Sun of Connecticut, has been stellar at providing big entertainment, and hopefully their skill will carry through here too. The dining properties are connected worldwide with wonderful global cuisine such as Casa Calavera and Todd English's Olives; there are some great expert chefs brought together here.