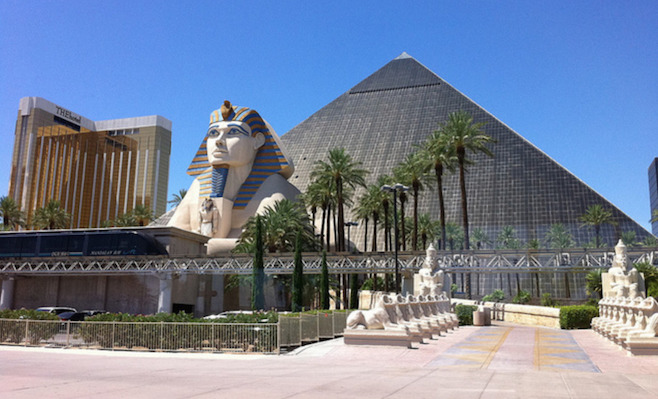 Hotel Reviews
Luxor Hotel
By
|
The Luxor Hotel Las Vegas is often called a mid-tier hotel for the town, with good rates for rooms but not the fanciest accommodations. However, its extravagant structures — from the main pyramid building modeled after the ancient wonders of Egypt, with a light spike that goes upwards towards space (the most powerful light in the world), to its Great Sphinx replica amongst others — make it one you will remember best. It is the 5th-largest hotel in Vegas, situated at the South end of the Strip, in between Excalibur and Mandalay Bay casinos. Here's where it is: Google Maps.
It opened in 1991, at an initial cost of $375 million and later additions at almost twice this cost. The building is stunning and huge, standing 30 stories high with its unique Egyptian theme. The hotel rooms are located in the three towers that make up the property. The main tower is book-ended by the other two columns, and shaped like a pyramid. A huge pharaoh statue lurks in front of the building with two Corvettes rotating on pedestals at its feet (used as sweepstakes prizes) and a powerful light shooting out the top of the pyramid.
When it comes to value and getting the most for your money, the Luxor is a very affordable hotel but that's not the only reason why visitors choose this particular resort when staying in Vegas. It has a very nice casino, too, filled with most any game you can imagine. Many visitors searching for an affordable hotel with amazing casino action choose the Luxor. This way, they can use the money they save on a room in the casino and they don't have to waste time traveling to a different casino for games.
Luxor Hotel Casino
The casino floor covers a huge 120,000 square feet, located in the bottom part of the pyramid. With this much room, you're sure to find just about any type of gaming activity you can imagine. This place is very popular with tourists because it does have most anything you could want and the dealers and wait staff are known for being very friendly and helpful if you need assistance.
Like many other gambling hotels, this one has a party pit where you can enjoy different types of entertainment and fun. Here you can sit at tables and play games where you have a great view of the beautiful girls on stage.
There is a high-limit area where high rollers get together to play for big money. In this area, you can play Roulette, Mini Baccarat, Double Deck Blackjack and Six Deck Shoe Blackjack games. This is one of the most sophisticated high limit poker rooms you'll find. There is a private cocktail station, comfortable lounge and you're guaranteed to receive special attention from the staff. Everything you do in the private lounge will be handled discreetly for your privacy.
Table Games
You'll find 62 table games that consist of Roulette, Craps, 3 Card poker Progressive, Let It Ride Progressive, Mini-Baccarat, Texas Hold'em Progressive Ultimate and Texas Hold'em Bonus Progressive. There are several types of Blackjack offered, too so you can pick what you enjoy the most or try all different types offered for a variety of fun.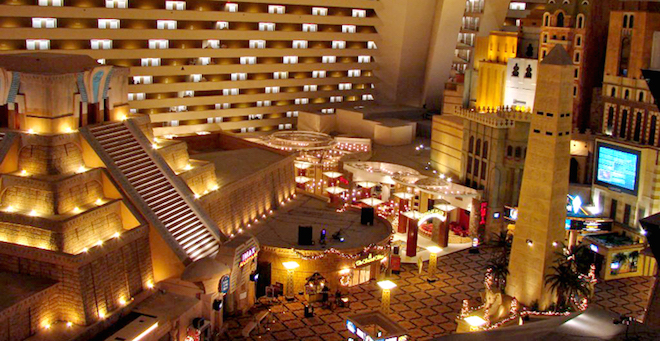 All gamers get free cocktail service and you can even reserve a private table if you're traveling with a group and you want to stick together. They offer free game lessons each day at noon if you're new to gambling or if you want to try a different game you've never played before.
Luxor Poker Room
The poker room at this hotel and casino is highly rated among poker players, making the top 10 of many online lists. They offer both Limit and No Limit Hold-em games and it's known for having some of the friendliest dealers in Vegas.
Tournament Schedule
10:30am — NLHE, buyin $45 — Daily
8:30pm — NLHE, buyin $45 — Daily
Slots and Video Poker
You'll find a large variety of slots and video poker games at the Luxor Vegas casino that consist of single progressive slots and the older "reel" slots that so many gamblers have grown to love. In addition, there are many of the newest machines to hit the market found here, as well. There's over 1,500 slots and video machines available in all. There's a good variety of denominations available to make it easy to stay within your budget that range from one cent to $100.
Sportsbook and Horse Racing
If you look forward to making a wager on sports or horses, the Luxor Sportsbook can accommodate your needs. It's located in the main casino on the west end of the floor. You must be 21 to enter the Sportsbook area and it's a smoke free facility. It has four projection screens, 128 TVs with the largest one being a huge 90 inches giving you a good view from most of the 110 seats in this Sportsbook.
However, the best view is on the second row and even though they have a lot of TVs, they're older than what you'll see in many of the other Sportsbooks in the area. The boards are also handwritten, which is a little outdated but they make up for these shortcomings with the awesome number of betting options they offer.
You can place bets on all of the major sporting events and races held all over the globe. These include both pro and college football and basketball, baseball, hockey, boxing, soccer, golf, racing, tennis and even a little mixed martial arts. So the options are some of the best found at any of the Sportsbook facilities in the city. You can even bet future odds and redeem your ticket by mail if you win.
Entertainment at the Luxor Hotel in Las Vegas
The Luxor Hotel and Casino has a variety of entertainment that includes famous performers such as Criss Angel and Carrot Top along with a variety of shows like "Fantasy" and "Helldorado Days," and the Blue Man Group also appear. You'll also find several nightclubs and bars inside the hotel where you can have a great time. Some of your options include the LAX Nightclub, CatHouse and the Savile Row. The Aurora Bar, High Bar, Playbar and Flight all have comfortable settings where you can go to relax, have a few drinks or party, depending on what you're in the mood for.
Luxor Restaurants
In-between playing the games and enjoying the nightlife, you'll need to take time out for a good meal and you have eight restaurants to choose from at the Luxor. Some of your options include the Tender Steak and Seafood, Pyramid Café, Tacos & Tequila and The Company Kitchen and Pub House. You'll also find a food court where you can grab something fast if you don't have time to slow down. The restaurants in this hotel haven't won any rewards and they don't have world-famous chefs cooking your food but it's still good and affordable for the most part.
Extras
As a part of the MGM group, Luxor offers the M Life program where you can earn reward points for doing the things you would do anyway such as dinning and enjoying entertainment or playing games and the slot machines. When you become a member of this program, you can receive discounts on rooms, entertainment and restaurants. These rewards can be used at 15 well-known locations so it offers a lot of flexibility.
Overall, this place is a good choice to stay when you're searching for affordable accommodations combined with great casino action. You won't be blown away by the décor and most of the Egyptian theme has gave way to modern décor so don't expect the theme to continue inside the rooms. Although, it's still pretty cool to stay in a hotel shaped like a pyramid. That in itself can be very interesting.
Videos