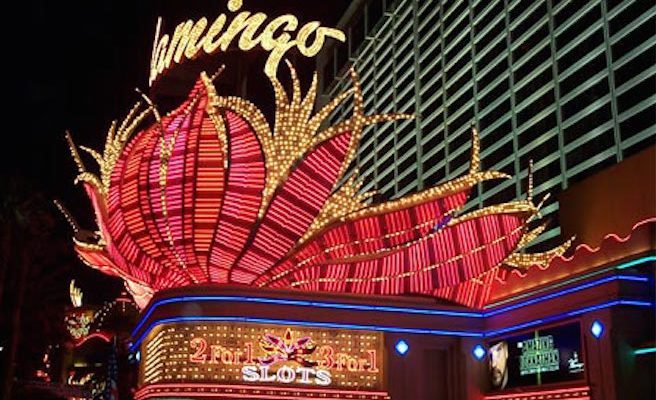 Casino Reviews
Flamingo Part 1
By
|
The Flamingo Hotel and Casino is one of the oldest hotels and casinos found on the Las Vegas strip but it still draws in large crowds of visitors every year. Bugsy Siegel opened the hotel and casino in 1946 and since then, the establishment has gone through many renovations. However, even with its long history and many changes, the Flamingo has managed to hold onto its charm and beauty throughout the years. It's a great place to stay in Vegas where you can relax in comfort and style while enjoying some exciting casino action.
The Main Casino Room
When it comes to games, you won't be disappointed. The main casino is a huge 77,000 square-foot room filled with a variety of games to suit anyone's taste. You can expect a lot of traffic throughout the casino because you can access it right from the Strip. This is something that you can't do with many of the other casinos. For this reason, it gets a lot of foot traffic from people who are not staying at the hotel.
Everyone has a chance to join in on some of the fun even if you have a limited budget because you can often find bets with a minimum as low as $5. You can also play low-stakes Seven Card Stud, Texas Hold'em and Omaha in the main casino room. Many of the machines in the casino use the ticket method. This makes it easier to keep up with your winnings and to collect, which is very convenient for the guests.
Table Games
There are many table games to enjoy at the Flamingo Casino so you'll never be bored. There's always something to get your attention but it may be a little difficult trying to decide which games to play with such a wide selection. No casino would be complete without Roulette and the Flamingo doesn't disappoint anyone wanting a chance to win at the spinning wheel. They also offer Craps, Mimi-Baccarat, Blackjack, Pai Gow Poker, Three Card Poker, Let It Ride Poker and Caribbean Stud Poker. The Flamingo Casino has enough variety to keep you entertained throughout your entire visit.
The Margaritaville Casino
One thing that makes gambling unique at the Flamingo is the festive Margaritaville Casino. It's a 15,000 square foot expansion that has an additional 22 table games and 220 more slot machines. This is a great place to play your favorite casino games while enjoying the exotic but relaxing laid-back Caribbean Island themed atmosphere. Be sure and stop by the "5 O'clock Somewhere Bar" where it's always 5 o'clock no matter what time you visit while you're this close to enjoy a cold beverage.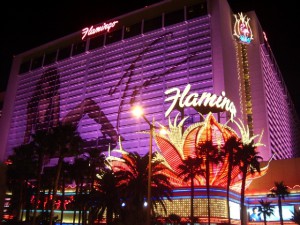 Slots
The Flamingo has 2,100 slot machines for your gaming pleasure. They offer different bet amounts starting at a penny and they have a variety of payouts as well. You can also choose one of the 2-for-1 and 3-for-1 slots or the 2-cent progressive slot machines when playing at the Flamingo Casino in Las Vegas. This casino has earned the nickname of "Payout Paradise" because the slots offer more chances to win with extra spins for every maximum coin bet placed. This is one of the things that draw many visitors to the Flamingo.
Video Poker
When you need a break from traditional style poker, try your hand at video poker. The selection is great with several different types of blackjack, poker and keno to choose from. You can also play Megabucks and Super Megabucks.
Sportsbooks and Horse Racing
The Las Vegas Flamingo offers more than good table games and slot machines. If you are a fan of sports betting and horse racing, you'll love the Race and Sportsbook Lounge. This is a rather large area but you will notice that most of the emphasis is placed on the race area so it takes up most of the lounge. The sports area is somewhat small but it's a friendly and comfortable environment where you can relax and enjoy the games.
All in all, the lounge is very comfortable and features three rows of large leather chairs that face four big screen TVs and nine 35-inch TVs in one section. You'll also find three aisles with smaller individual TVs sitting on desks in the horse racing area. These are turned towards the book's betting counter, which has two big screen TVs with eight smaller TVs scattered all around the big screens.
There's certainly no shortage of TVs in the lounge so you'll never miss a minute of the action no matter where you are in the area. The casino will broadcast the results of the races and games on the TVs as well for your convenience.
Not only can you lounge around and place bets but if you need help, the staff is available to answer any questions you might have. They're knowledgeable, professional and friendly so you'll feel comfortable speaking out and asking questions about anything you don't understand. You can also pick up future books about horseracing that can help you the next time you place a bet.
Nightlife at the Flamingo
After you've tried your hand at a few casino games, you can sit back and enjoy some of the nightlife at the Flamingo. There's always something exciting and interesting going on. You'll find two bars located within the Flamingo. One of them is the Bugsy's Bar that's right in the middle of the casino where you can sit back and have a drink anytime night or day without missing any of the action.
If you prefer a quieter environment, you can head over to the Garden Bar, which sits next to a beautiful waterfall and lagoon. Nightlife at the Flamingo can be as relaxing or exciting as you want it to be and they have a variety of accommodations to fit anyone's needs.
Food and Restaurants
When it's time to take a break from the casinos and get a bite to eat, you don't have to go far to find a good selection. If you want to dine in a festive environment, check out the Jimmy Buffett's Margaritaville themed restaurant. Complete with colorful décor, Jimmy Buffett's videos playing on large screen TVs and even parrots, you'll feel like you traveled to the Caribbean Islands.
The Paradise Garden Buffet offers fine dining in an environment with vaulted ceilings and huge windows. It's a very comfortable and relaxing restaurant with great food. If you're in the mood for something a little simpler, you can always visit the Poolside Beach Club where you can pick up sandwiches and appetizers. Other dining options include The Burger Joint, Pink Bean and Hamada where you can feast on Japanese cuisine.
Extra Things to Do
One of the main attractions the Las Vegas Flamingo Hotel and Casino has to offer is the Wildlife Habitat. This is a beautiful area where you can see pink Chilean flamingos, turtles, koi, ducks and so much more. It's a peaceful area where adults and kids both can go to relax and see a completely different side of Las Vegas. It's a nice addition to the hotel and casino that you're sure to love.
When you're in the mood for a little more excitement, head over to the Flamingo Showroom. Here, you'll enjoy a variety of family musicals, comedy and more. There is also a video-arcade located inside the Flamingo where kids enjoy playing some exciting games, too.
Videos