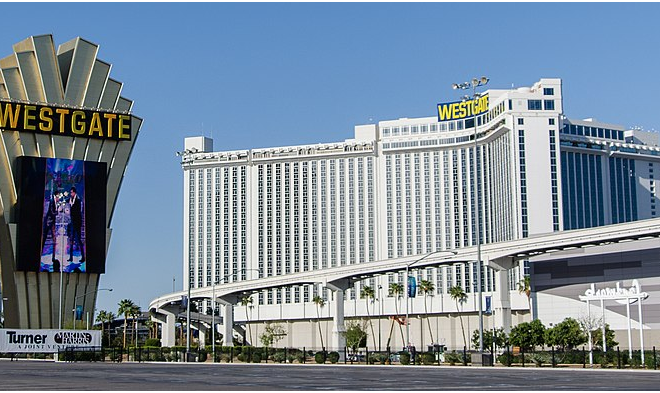 Image by Jeff Hitchcock https://www.flickr.com/photos/arbron/41785809100/ used under Creative Commons Attribution 2.0 Generic license
Casino Reviews
Westgate LV – Part 1
By
|
Address: 3000 Paradise Road, Las Vegas, NV 89109
The Westgate Resort and Casino, once known as the Hilton and later as LVH, is still one of the best-known hotels of Las Vegas. If you recall the Hilton logo — a sort of golden cluster of rays — it is the same only with the name Westgate across it. Located a block off the main Strip, it has easy access to the Strip by monorail. Here it is on Google Maps. The property opened 50 years ago as the International; renamed the Las Vegas Hilton after 1972, then LVH before becoming the Westgate. It was constructed by Kirk Kerkorian.
Although this resort is only one block from the Strip, you may need to ride the monorail or find some other type of transportation, especially if you want to visit the heart of the Strip, which is about five or six blocks away.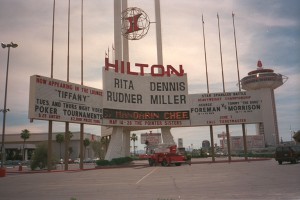 The resort has been associated with figures like Elvis Presley. A statue of Elvis stands in the hotel, an homage to this performer who helped put the hotel among the top contenders, as he performed 636 consecutive, sold-out shows up to 1976. He lived in a top-floor hotel suite during his show seasons and was the hotel's most noteworthy headliner, making the hotel basically his Las Vegas headquarters. Another frequent figure was Liberace. It's still home to many celebrities today.
The Casino
The casino room in the Westgate has 74,000 square feet of pure action; it's known for being filled with high-stakes play.
Table games are one of the things that gamblers look for when choosing a casino and Westgate has a great selection. Here you can enjoy a variety of games that include Blackjack, Craps, Baccarat and Roulette to name a few. They do have more options to choose from so it should be easy to find the particular games that you look forward to playing the most.
Slots and Video Poker
The casino claims to have the best slots and video poker selection in town, with 693 machines, a modest number for a mega-hotel. Some of your options include Wheel of Fortune, Fireball Frenzy, and Hot Hot Penny Slots.
The video poker machines consist of progressive poker, progressive reels, and video reels. They also have single and multi-game machines and video keno available.
They have a Poker room with 6 tables, which offers Limit Holdem at $2/$4, $3/$6, and $1/$2 No Limit Holdem. Opens at 10am. Nolan Dalla wrote a review on their poker, here.
Sportsbook and Horse Racing
Superbook, which is the name of their race and sports book, was added to the casino in 1986. It is boasted to be the largest sports book in the world. It covers 30,000 square feet, all dedicated to placing wagers. It has more than 300 comfortable seats to accommodate the crowds; hotel guests and locals alike prefer it.
With 28 huge TVs and 22 monitors to view all your favorite games and races, you can easily keep up with all of the sports action and races in this facility. You can also view live-action races that take place all over the world from the Ultimate Fan Cave where you'll enjoy a relaxing lounge setting with 120-inch HD TVs. The lounge is nonsmoking.
The Superbook has a wide variety of options with eight wagering windows to accommodate bettors faster and easier. You can also place wagers from the individual IPT terminals. They have the largest wagering menu found anywhere in the state of Nevada, which is one of the reasons it draws such a crowd.
If you feel hungry while placing your wagers, you don't have to leave. Just stop by the Superbook Deli for a bite and you can also take advantage of the excellent cocktail service they offer. If you need any assistance, there is always someone available to help. The staff has a reputation of being very friendly and they're there to explain betting combinations, help you understand wagering and assist with any other betting needs that you may have.
Entertainment
Some of the other hotels have more to offer in the way of entertainment but the selections offered here are some of the best in the city. They offer three different venues for guests to enjoy: The Shimmer Cabaret Theater has an intimate setting where you can enjoy performances by Nunsense, Sandy Hackett's Rat Pack Show or Trent Carlini. Some of the best shows in Vegas are held in the International Theater. The Tempo Lounge is a great place to enjoy cocktails and live band performances also; check scheduled events for the week here.
Food and Restaurants
If you're interested in fine dining, you have some excellent choices — Benihana, for instance, is famous for its Japanese platefuls. Here is a list of dining venues at Westgate:
Benihana — Japanese cuisine cooked in front of you.
Edge Steakhouse — a steakhouse that gets excellent marks from review site TripAdvisor.
Silk Road Asian Bistro — choose Chinese, Japanese, or Vietnamese dishes.
Fresco Italiano — Italian style cooking, pasta, meats, & seafood. Gluten-free entrees as well.
Bar Sake & Robata Grill — Japanese style barbecue cooked on kabobs.
Sid's Cafe — home style food and big portions.
Fortuna — deli choices. Visit Fortuna Swirl for dessert.
Rikki Tiki Sushi — Japanese sushi choices in attractive setting.
Fresh Buffet — inside the Superbook, open daily.
Cordovano Joe's Pizza — also located inside the sports book.
The International Bar — a long curve of bar with plenty of tables and sofa seating too. Live music and entertainment every night. Open from 5pm to past 2. You can continue gaming here or watch sports on the big screens.
Extras
The player rewards program is called WOW (World of Westgate), in which you can earn points for free slot play and comps. The more points you earn the higher you can move up the Tier, becoming a Premium, Elite or Ultra member. You can receive invitations to special events along with complimentary or discounted rooms and meals during your stay.
Service
The service you receive is very important when choosing a place to stay while on vacation or business. The Westgate Resort offers the basic services for guests as other hotels do that include room service, bellmen and concierge. The staff is very efficient and they always act professionally, which helps to create a calm and relaxing environment. When you make a request, they do their best to respond quickly and there is always someone available when you need them. Overall, the service and the accommodations at the Westgate combined with the staff attention will make you feel better than home!
Videos