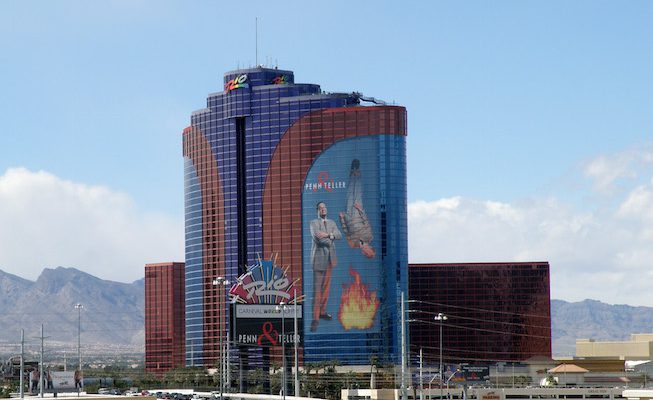 Casino Reviews
Rio Las Vegas – Part 1
By
|
The Rio Hotel and Casino in Las Vegas is well known for hosting the "World Series of Poker Main Event" and for being the only place in Vegas with "100% certified World Series of Poker Dealers". A lot of poker tournaments shown on TV are held here, which has helped to make those purple and red glass towers famous all over the globe. This hotel has earned a big reputation for its poker games, which draw in a huge crowd of players every year.
The Rio is known for having a fast paced, carnival style environment. In other words, it's usually very crowded and noisy. It gets a lot of attention for a hotel and casino not located on the Vegas Strip but it's not far away. You'll find the Rio on the west end of Flamingo Avenue so you're just a short distance from all of the action on the Strip, if you plan to visit some of the sights while in Vegas.
This resort has a Brazilian theme complete with the cocktail waitresses dressed in lingerie styled outfits. Kids are welcomed at this hotel but the atmosphere caters mainly to adults searching for some exciting gaming action.
The Casino Room
The casino room at the Rio is a huge 100,000 square feet of gaming pleasure. You can find most any game that you can think of in this casino. You'll find over 80 table games that include all of the favorites such as Roulette, Blackjack and Craps but this casino room does focus mainly on poker. You'll find most any type of poker game here that you can think of such as Let It Ride, Stud poker and they even have Asian Poker.
They also have a Keno Lounge, which is something many guests look for at casinos. Keno is a very fun and exciting game that offers a variety of payouts depending on how much you put down and how many numbers you bet. The Keno Lounge is open 24 hours a day so you can pop in anytime.
The Poker Room
The Rio poker room is where you'll find the main action in this casino. You'll find the poker room located right next to the Sportsbook. There's something for all types of gamblers to enjoy from the casual player to the professional, which is one of the reasons why it's so popular. Texas Hold'em and Seven Card Stud are the most popular games but there are many more to choose from.
The No Limit Texas Hold'em tournaments are held daily and the minimum buy-in usually starts at $50 but they also have $60 and $75 buy-ins. If you love playing poker and you're in Vegas, this is the place to be.
Slots and Video Poker
Since not everyone is interested in poker, the Rio offers a nice selection of about 1,200 slot and video poker machines. The denominations vary so you can choose the ones that suit your budget the best. The jackpots also vary and get larger the more you play, which makes playing even more exciting. Slot and video poker machines are a big part of Vegas so if you've never played before, this is a great place to give them a try.
Sportsbook and Horse Racing
The Sportsbook and Horse Racing section of the Rio is worth checking out if you're a sports bettor. It's not one of the largest Sportsbooks found in Vegas but it's not one of the smallest either. It's doesn't have the best seating arrangements or décor but the environment is very laid back and that makes it a good place for someone new to this type of betting.
You'll find the sportsbook close to the front desk and the Toscano's Deli. They have six huge big screen TVs where you can keep track of all the action but that's not all. They have about 20 32-inch and 12 70-inch TVs scattered about the room. They also have 60 small flat screen TVs designed for personal viewing.
You can place bets on a huge variety of events that include football, baseball, hockey, boxing, golf, basketball and racing. They do offer futures odds on the large events and you can bet propositions on many of the major events along with a variety daily betting options.
Entertainment at the Rio
When it's time to take a break from the casino or spend some quality time with your partner or friends, there are several ways to spend your time at this Vegas hotel. They offer two main shows that attract lots of guests. One is the "Penn and Teller" show that mixes just the right amount of comedy and magic together to make it fun and exciting to watch. The other is the "Chippendales The Show", which features all male dancers who put on a quite a show.
The Rio in Vegas offers several special performances that include a variety of comedy shows and musicals such as "The Show in the Sky", which is a very popular show featuring stunning dancers performing a variety of amazing routines in eye-catching outfits. You should enjoy this unusual but very entertaining show if you love watching choreography.
There are several nightclubs to choose from that includes the "VooDoo Rooftop Nightclub", "Martorano's", "iBar" and "Flirt". They each offer something special for guests that attract different crowds. For example, at the "VooDoo Rooftop Nightclub" you can relax while enjoying a wonderful view of the city and "Flirt" is a great place to go to socialize.
Food and Restaurants
The Rio Hotel and Casino features a wide variety of dishes known all over the world that includes everything from seafood to pan-Asian foods. The "Carnival World Buffet" is one of the best in Vegas with a modern design and over 300 dishes to choose from. There should be something suitable for everyone in your party to enjoy.
"Martorano's" serves amazing Italian foods and the "KJ Dim Sum & Seafood Chinese Restaurant" offers all types of dishes including giant clam and lobster.
Extras
The Rio has a special offer provided by Caesars Entertainment that gives guest a chance to win one million dollars by playing the "Three Card Poker, Six Card Bonus" game. This new version of the game allows players to take a bad hand and turn it into a good one. Certain rules do apply but it's a nice extra that gives you a chance to win some extra cash.
Final Thoughts
Kids are welcome at the Rio but the environment does cater mostly to adults and some parents may not find it suitable for kids. The clientele consists mostly of men and women between the ages of 30 and 60. The waitresses are barely dressed and there is very little for kids to do other than spend time at the pool.
If you've not visited the Rio lately, a few things have changed. For example, The "Lucky Strike Bowling Alley" has shut down and Prince no longer performs at the hotel but they are still one of the top resorts. They're always crowded and may even seem a little too crowded at times. This keeps the staff busy and every though they offer friendly service, they may not notice you if you need something unless you approach them directly.
The Rio Las Vegas Hotel and Casino is one of the best resorts in Vegas when it comes to poker. Their televised poker games have earned them so much attention that it keeps them in the spotlight and it's what continues to bring in gamblers from all over the world.
Videos