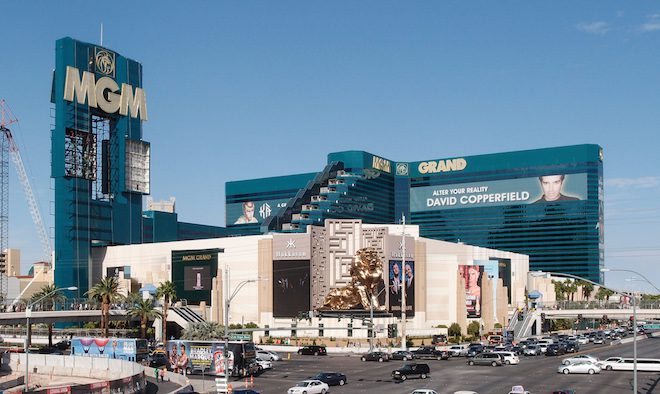 Casino Reviews
MGM Grand Las Vegas: Part 1
By
|
When you think of the MGM, you'll surely think immediately of their lion, the image that opens all those Hollywood films. Leo the MGM lion is today featured in the golden statue that stands in front of the hotel, as well as in its logo and decor.
The hotel was built in 1993; the original building of this name stood at 3645 Las Vegas Blvd. South from 1973 to 1985. That was where the tragic fire of 1980 occurred in which 87 people died, and probably led to its being sold to Bally's Entertainment. So in 1993, the Marina Hotel at 3805 L.V. Blvd. South was renamed to become the new MGM Grand (after a short period during which it was called MGM-Marina). See its present location on Google Maps. Casinos in its immediate vicinity are: New York-New York, the Excalibur and Luxor.
This is now the third-largest hotel in the world as far as number of rooms. When it opened, it was the largest in the world. Its decor is of classic Hollywood. The name is an old one in Las Vegas, and at times the hotel has shown its age too. It has recently gained a 3rd (or 4th or 5th) life with its Wet Republic nightlife venue, where you can witness just how popular pounding-music-and-pool-parties truly are.
The casino is an older one, gathering many complaints as well as praise, but it remains a very well-visited one with a pretty consistent player base. The poker room is always popular, and so is the sports book, which has 60 TV screens. When you play here, your membership in their M Life player club is shared with all the Caesars casinos, so it's easy to accumulate points — making for a nice LV player perk.
Table Games
You can't have a Vegas casino without the quintessential table games. Blackjack, craps baccarat, roulette, paigow tiles and poker and casino war are all available in the luxury of the casino. Whether you're looking for a table of high rollers to play against or a low stakes game of chance you'll find it at the MGM Grand.
Poker at the MGM Grand Vegas
The poker room is open 24 hours a day. It's known for games of easy betting limits ($1-$2), which are very popular. They have 11 nonsmoking tables, tableside massage services and the ambience of the convenient Centrifuge bar. You can choose your stakes and your game, and participate in daily no-limit Hold 'Em tournaments too.
The poker room spreads cash games of limit holdem with table stakes of $2/$4 and $4/$8; no-limit games at $1/$2, $2/$5, $5/$10.
Tournament Schedule
Daily:
11:05am — NLHE, buyin $80 — Sun. thru Thurs.
2:05pm — NLHE Turbo, buyin $50 — every day
7:05pm — NLHE, buyin $80 — Sun. thru Thurs.
Sit-n-go tournaments are available according to player demand.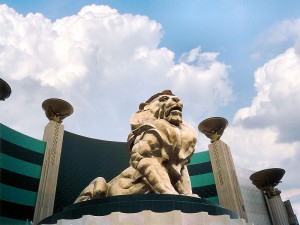 Race and Sports Book
When you want to wager on racing and sports their state-of-the-art betting arena will more than meet your needs. With 5,300 square feet of sports betting area, seating for 104, more than 50 televisions and more than 50 channels of sports and racing action, you can easily spend the day or night wagering on your favorite sports.
Complimentary beverage service and the Race and Sports Turf Bar make it convenient to sit back and enjoy the game or race while you're treated like a special guest. The Race & Sports Book also features sky boxes for private viewing and wagering as a group.
While all the casinos in the area offer most of these games of chance, there's something special about the atmosphere here. From the plush furnishings to the technology and comfort you know you're experiencing Maximum Vegas when you gamble. So whether you're thrilled by the games of chance or prefer a thinking man's card game, you'll find lots of wagering and winning opportunities as well as excitement and pampering. Step into luxury and excitement, try your hand at making friends with Lady Luck and experience top of the line gambling.
Lions at MGM Grand Las Vegas
The original hotel had a live lion available for photo ops with visitors. Until 2012, the current MGM Grand had a live lion habitat just inside the front. The Lion Habitat, which offered daily viewing of the lions in their glass-walled area as they relaxed or went through paces with trainers, closed in 2012. The only lions in town these days are at Siegfried & Roy's Secret Garden (the Mirage), or the Las Vegas Zoo. Las Vegas, despite the dangers of wild animal acts and displays, certainly has always been fond of its big cats.
Videos