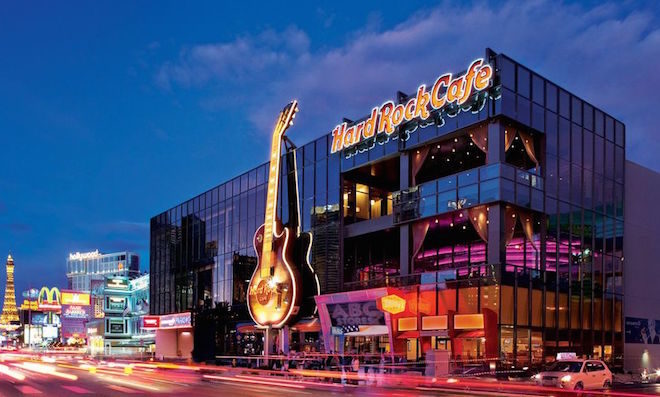 Hotel Reviews
Hard Rock Hotel Las Vegas
By
|
You can't mistake this hotel for any other. Just look for the big electric guitar. While Hard Rock is usually considered a midStrip hotel, it is really a bit off the Strip, but in the Paradise Corridor, which is a short piece of Paradise Road, parallel to the middle of the Strip. It's "behind" Planet Hollywood and Paris LV. See how it is on Google Maps.
Origin Story
In 1971 in London, Peter Morton and Isaac Tigrett built the original Hard Rock Cafe. It acquired and displayed more and more rock n roll memorabilia, starting with the signed guitars of frequent customers Eric Clapton and Pete Townshend, which they mounted on the restaurant's wall. A franchise soon emerged and went international.
The Las Vegas cafe was, unlike many of the worldwide franchises, actually built by Peter Morton in 1995. The casino resort is named for it.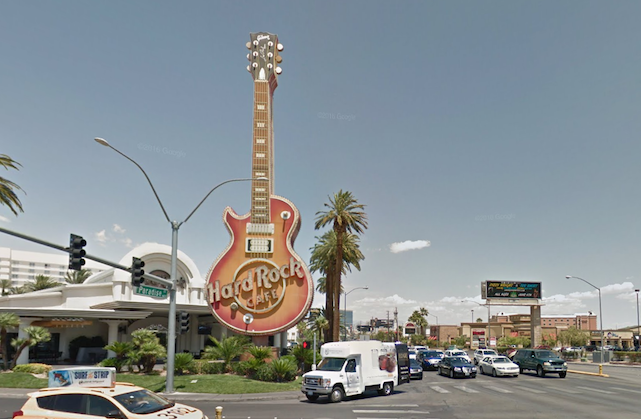 Known for its close connections to the music industry, HRH has hosted some of the greatest rock shows to happen in Las Vegas. These days they can't surpass the huge casino resorts for top shows — they simply don't have the space for the crowds — but they remain a lively place to dance and live for rock. HRH is now owned by Warner Gaming and Brookfield Asset Management.
The Hotel
The hotel has 648 rooms and 64 suites. You can choose accommodations from either the All-Suite Tower, Paradise Tower, or Casino Tower. The Paradise Tower's decor fits the mold of a rock star kingdom, with glam rooms and rich, modern, maybe a bit over the top style. You should check their hotel specials page for show ticket packages if you're planning a trip there.
HRH Casino
HardRock has a Poker room with 5 tables. They host Daily No Limit tournaments at noon and 8pm, with a $600 guaranteed prize pool. Buy in for $65 or a deal on chips if you buyin for $70. Sign up early (30 minutes ahead of start of tournament) and receive 1000 additional chips to start with. Tournament Bad Beat Jackpot of $2000 twice daily.
Swim up Blackjack – On weekends, there's no need to get out of the pool to play blackjack. Just visit the Rehab Beach Club.
The casino has regular tables of blackjack and all the major casino games as well, and a High Limit Slots Room. There are over 600 slots total on the property. Race & sports book, too.
Restaurants at Hard Rock Casino
35 Steaks + Martinis — a steakhouse extraordinaire.
Nobu — Japanese cuisine, a twin of the NYC famous restaurant.
Pink Taco — Mexicali homemade specialties.
Culinary Dropout — Icon-smashing dining space with relaxed aura and creative menu.
Fu Asian Kitchen — Fusion of Chinese authentic cuisine and other Asian dining.
Mr. Lucky's — 24 hour diner. Retro style and more: Try a spiked milkshake.
Goose Island Pub — Watch sports here while you eat and drink. Fantastic pub food.
Fuel Cafe — coffeehouse with smoothies, pastries, sandwiches.
Pizza Forte — made quick and good.
Juice Bar — near the Spa and Salon. Get your vitamins after a steam/massage.
Reliquary Spa features a sauna, whirlpool, co-ed pool. You'll find Harmonic Massage treatments here, hand and foot treatment and nail services, makeup, hair salon treatments, styling, coloring, cuts; also, body and facial waxing. The spa has its own (short but really good) dining menu, because this is a complete station for relaxing and rejuvenating. You'll get hungry after a while. Not to mention thirsty; there's wine and cocktails.
Entertainment
Their Rock music hall is called The Joint; it attracts some of the biggest names although this isn't the biggest venue in town. Upcoming shows include country star Gary Allan, and actor/comedian Adam Devine (of TV shows Modern Family, Workaholics).
Continuing Show: Magic Mike Live, a strip and dance cabaret show.
Friday Night Live at the Pool: Each weekend, live rock bands perform — They have a complete sound stage outdoors on the pool area.
Videos