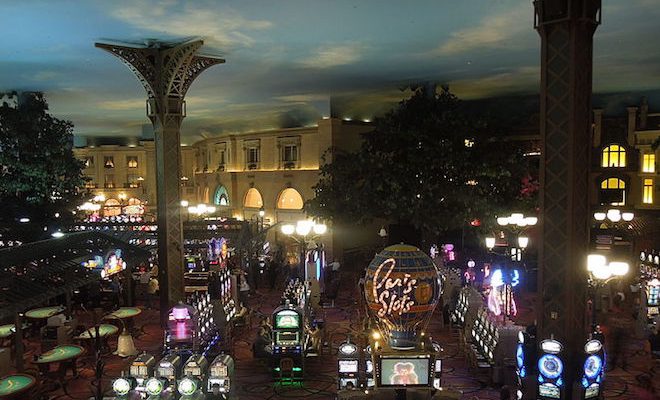 Casino Reviews
Paris Hotel and Casino – Part 1
By
|
Paris in Las Vegas is a Mid-Strip casino-hotel, whose theme is of course the city of Paris. It is situated amongst the MGM, the Flamingo, and Caesars. See it on Google Maps. The resort contains a half-size replica of the Eiffel Tower, a replica of the Arc de Triomphe, one of the Fontaine de la Concorde, and a 3-dimensional image of the Montgolfier Balloon (first manned hot-air balloon, 1783). The front of the hotel has architectural features suggesting both the Louvre and the Paris Opera House.
For those who love everything that Paris has to offer from the cafés on every corner to the wonderful shopping experiences, this is a great choice for travel. The inside is true to this theme with quaint Parisian streets, cafes and patisseries throughout the resort. Occasionally you'll hear the staff speaking French, at least phrases — which adds a nice touch. The hotel's construction was completed in 1997, costing $760 million.
Paris Casino Las Vegas
The casino floor is beautifully decorated with iron lamps lining the cobblestone paths. The fact that the casino is placed at the bottom of the replica of the Eiffel Tower makes this one of the most interesting and unusual environments you'll encounter in a casino. It's large and packed full of all your favorite tables and slots. A walkway with a variety of shops connects this casino to the one located in the Bally Resort so you have double the action without even venturing outside.
There is an attractive Keno Parlor that's open every day, all day long, located in this resort, too. You have several options when playing that range between $1 and $10 so you can choose what suits you the best.
Paris Las Vegas Poker Room
They have an excellent poker room that's located behind the floor of the main casino. The main two games played are Seven Card Stud and Texas Hold 'Em but there are other options to choose from. This is not one of the biggest card rooms you'll find in vegas but it's a good one with high-limit gaming action that you can really enjoy. The tables take some of the highest bets in town, which lead to higher payouts and that's something that will get your attention if you're interested in winning big at poker.
Table Games
You'll find 90 table games that consist of all the old favorites such as baccarat, craps and roulette but there is also a variety of other newer games to choose from, too. The overall environment is comfortable which adds to your gaming pleasure and the dealers are helpful and friendly.
Slots and Video Poker
Most everyone wants to get in on a few games of slots and video poker and this is home to over 1,700 of them. They are situated in a unique environment underneath the legs of the Eiffel Tower. You'll see statues, fountains and streetscapes alongside some of the best machines around. You can play progressive Megabucks machines, high-limit slots and Champagne slots to name a few of your options. It really is a great place to get in some gaming action.
Sportsbook and Horse Racing
The Sportsbook and Horse Racing section of this hotel and casino is amazing. If you love sports betting, you'll want to visit here for a while. You can place all types of wagers here so you won't miss any of the action that you might find in nearby books.
This betting facility has several projection screen TVs along with many individual monitors that'll keep you updated on all of the live action that takes place all over the country from horse racing to football games. It also has electronic displays with regular updates to keep you well informed. You'll know when a player is injured, when weather affects a game and so much more. They offer a fully stocked bar called the "Le Bar du Sport" where you can enjoy a few drinks while placing wagers or while just watching the games and races on the large screens.
This is a great option for both experienced and new bettors. The staff is professional and knowledgeable. They're also friendly and will help you any way they can by answering questions and explaining bets to you when you're checking out something new.
Entertainment at the Paris
No resort is complete without some form of entertainment and this one doesn't disappoint. The Eiffel Tower is the main attraction but it's not all they have to offer.
They have seven different bars and lounges throughout the resort and each one of them offers a different experience. You can sip on French wines with that special someone or get right in the middle of the sports action, depending on where you go and what you're searching for.
The Le Cabaret lounge has a relaxing garden atmosphere and the Napoleon's Dueling Piano Bar is where pianists sing hit songs and compete in nightly dueling piano sessions for your entertainment. It's a fun and exciting place to be.
Chateau Nightclub & Gardens is both a nightclub and an outdoor Parisian garden. You can enjoy all types of fun and entertainment here so it's a good place to go when you're searching for some other form of action besides gambling.
Paris Las Vegas Restaurants
When you visit an establishment named after the most epic city in the world, you have to expect some of the best fine dining in the area and you'd be right to do so. They have two of the best restaurants in town here. The Eiffel Tower Restaurant is a beautiful place with floor to ceiling windows, plush red booths and wood accents. It's a great place for couples looking for a romantic place to dine and for families, too. The restaurants is 100 feet above the Strip located in the tower so if you choose a table near the windows, you'll have a gorgeous view of the city while you enjoy one of the best meals you've ever had.
Another option is the Mon Ami Gabi, which is a famous French bistro. They offer a very extensive wine list, a number of fruits de mer and classic steak frites.
Extras
The hotel offers a few extras to guests that choose to play here. For example, if you play enough games to qualify, you can get some cash back on the wagers you make and the house does offer complimentary drinks during play.
Caesars Entertainment also gives you a chance to win one million dollars with the "Three Card Poker, Six Card Bonus" game. This is fairly new but it's getting lots of attention because it offers low game play with high payouts. You have the opportunity to turn a bad hand into a good one and it's the first large jackpot that can be won by anyone and in table games that do not depend on a progressive jackpot. There is no special time or day that you have to wait for to see if you're a winner because you can win anytime.
This is a great place to stay and to get in on some great gaming action even though it's not as well known for its casino as many of the other hotels. You can enjoy some great foods and a view from the magnificent scaled down replicas of famed architectural wonders during your stay. Overall, it's a good choice when trying to decide where to stay when visiting.
Videos