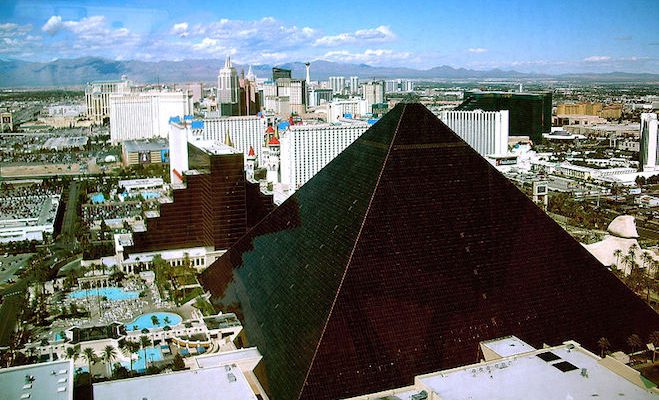 Reviews
Luxor – 2
By
|
The Luxor Hotel and Casino is one of the largest on the strip and it's definitely one of the most unusual with its Egyptian theme. The main part of this hotel is shaped like a Pyramid which stands 30 stories high. It also has two more towers beside the main building where additional rooms are located making approximately 4,400 rooms in all.
The top of the pyramid has a light shooting into the sky that is so powerful you can see it from space. A 10-story Sphinx replica rests in front of the pyramid, and there is also a pharaoh statue that stands two stories tall and a few other statues scattered about the resort. However, the Egyptian theme is not as prominent as it used to be. They've made some changes to modernize the establishment and this has given it a more stylish appearance but in the process, it took away a little of the charm that the theme gave the hotel.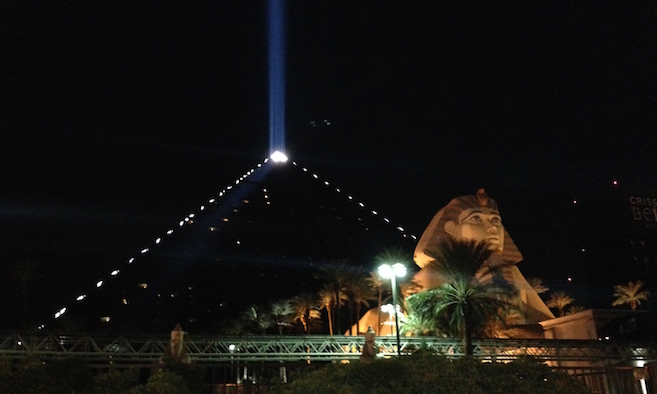 When you compare the quality and outstanding features of the Luxor Hotel and Casino to others in the area it falls somewhere in the middle. It's not the most luxurious and beautiful spot on the Strip but it's a long ways from being the lowest quality. One thing that really stands out in the Pyramid building is the elevators. Since the building slopes inward, the elevators must move at a 39-degree angle. It's really quite amazing.
This is one of the most affordable resorts on the Strip and that's one of the reasons why many guests choose it over some of the more extravagant ones. It also has one of the nicest casinos in Vegas, which draws in a lot of visitors. Guests looking for a good-value hotel that will save them money, plus one with a casino that offers lots of action should be satisfied staying here.
Luxor Las Vegas Rooms
There are six types of rooms located inside the Luxor Vegas and each one has its own unique qualities. The structural design put into these rooms is stunning. Imagine the challenges the builders faced as they constructed the rooms inside the pyramid shaped building.
The rooms called the "Pyramid Deluxe 2 Queens" have two queen-sized beds, a TV, pay movies, a video game console and wireless or wired high-speed Internet. These average about 420 square feet and the bathrooms have large showers but not tubs. The "Pyramid Deluxe King" overlooks the atrium and it has all of the same features and amenities.
The "Pyramid Suites" average 590 to 800 square feet and they offer a great cityscape view. The bedrooms feature two queen-sized or one king-sized bed, and there is a separate living room with the basics including a couch, chairs, compact refrigerator and a dining set with 2 chairs. These rooms include a 27-inch TV, pay movies and video game console. Rooms do include high-speed wireless or wired Internet that's included in the room fee. The bathrooms are spacious and complimentary toiletries straight from the hotel's spa are available.
Tower Rooms
The "Tower Deluxe 2 Queens" and the "Tower Deluxe King" rooms are located in the towers beside the Pyramid and they are very similar to the Pyramid Suites. They have windows that stretch from the ceiling to the floor and two armoires for storage. The bathrooms in these rooms include a tub (which Pyramid rooms do not have).
The "One Bedroom Luxury Suites" are located in one of the Towers next to the Pyramid and they are about the same size as the "Tower Deluxe 2 Queens." These are located in one of the towers next to the main Pyramid shaped building. The main difference in these rooms is that they have two TVs, a wet bar and one king sized bed. The marble bathrooms do include a separate tub, dual sinks, a phone and they have complimentary bathrobe and slippers.
Extras
The Luxor does offer handicapped parking and there are special rooms available that include roll-in showers and equipment for the deaf. If you need a handicapped room or special services, you'll need to request them when you make your reservations to ensure they are available.
They have a lot to offer families with older children partly because of the design but also because they have dedicated one complete floor to non-gambling entertainment. Here you'll find a variety of video games, IMAX movies and amazing virtual reality rides.
Luxor Pool
You'll find four pools here and they have a hot tub. The total swimming area covers about five acres and music is piped in for guests to enjoy. Cabanas are available for rent and they include lounge chairs with cushions, phones for in-house use, table and chairs, ceiling fans, TV, a misting system to help keep you cool and a refrigerator.
Drinks are included in the refrigerator and guests will receive two rafts for no extra charge. The adult only VIP pool offers private cabanas that include iced towels, misters, alcoholic popsicles, chilled fruit and hammocks.
Things to Do
When you need a break from all the hustle and bustle, spend some time at the Nurture Spa. They have all types of services available from teeth whitening to wine body wraps. They also have a fitness center with weight strength training and cardio equipment to help you stay in shape or work off a little steam.
You can also enjoy the nightlife and other forms of entertainment the hotel has to offer. The Atrium is located just above the casino where guests can shop, dine or check out the showroom. With 29 distinctive retail stores available that offer everything from ancient antiques to the latest fashions, you're sure to find something to capture your interest.
If you want to leave the resort, there are many different attractions and forms of entertainment nearby that includes the Bali Hai Golf Club and helicopter tours. There's also rock-climbing, horseback riding, boating, swimming, hiking and biking trails nearby.
Service at The Luxor Hotel
The service is good but not spectacular. The staff is available to assist with your needs but they don't come to you and ask if they can help. Of course, considering the size of the building and the comparatively modest price they charge for rooms, this is understandable. If you ask for help with your bags or any other needs, someone will help right away but if you don't ask, they won't offer.
Checking in can also be very slow and take up to about 30 minutes during busy times, so be prepared to wait. However, most services are rendered within a reasonable amount of time and they do try to provide friendly, accurate service.
Final Thoughts
It's a good hotel with lots of amenities. It's one of the most affordable resorts on the Strip. It has a great casino with lots of gaming options. It's also a great place for kids because it has a whole floor dedicated to non-gambling games, where older kids can have a great time.
On top of that, who wouldn't like staying in a structure designed like a Pyramid and riding an elevator that moves at an angle? However, the angle of both may be a little uncomfortable for some people. Overall, it's a great value hotel that may lack in some areas but it makes up for it in others.

Videos