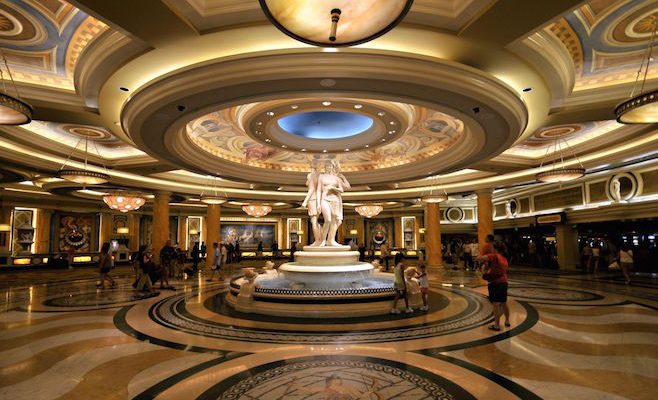 Reviews
Caesars Palace – Part 2
By
|
Caesars Palace Las Vegas is a grand hotel and casino located on the Vegas Strip. It's one of the oldest resorts found in Vegas and it was built in 1966. It has an authentic ancient Rome feeling with a touch of modern luxury, which is one reason why it's still popular today.
The architecture is amazing with the Roman theme, statues and huge pillars. It's located on the Southern end of the Strip and it represents old style Vegas, which is something that many of the other older hotels have lost when trying to make their resorts more modern.
The casino has an amazing reputation and many consider it the very best in Vegas. Its huge covering 129,000 square feet with a fairly new Sportsbook area and a gaming section called the "Pussycat Dolls" that gets a lot of attention. The poker room is the largest in Vegas and many tourists who stay at other hotels come here to gamble. It's a hot place for the locals too.
Considering that this hotel and casino is one of the oldest on the Strip, you have to wonder how the rooms stack up when compared with other more modern hotels. It has been called the most luxurious hotel on the Strip but does that title still hold true today?
Caesar's Palace – Hotel Rooms
The Caesars Palace is old and for this reason, it has undergone many renovations to make it more modern. There are six towers in all and there are almost 4,000 guest rooms available in this resort. These elegant and sleek rooms come in many different styles and sizes.
The Forum Tower Deluxe Rooms have all of the modern conveniences you would expect from a hotel in Vegas. The Octavius Tower has 668 rooms in all. Sixty of them are suites and six are luxury villas. It has its own lobby and you can access the "Garden of the Gods Pool" directly from this tower. In the Palace and Augustus Towers, you'll find modern and beautifully decorated rooms, marble bathrooms, brass fixtures and oversized spa tubs.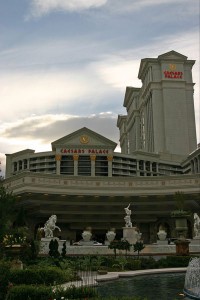 The Palace Tower Premium Rooms are comfortable and spacious with a dual marble bathroom, dual shower and oversized spa tub and a bidet. When choosing the Industry Suites, you have four very large and luxurious styles to choose from. The Fantasy Suites are designed to astound you by offering the very best in accommodations.
PetStay Rooms
The Caesars Palace Hotel and Casino participates in the PetStay program. This means that as long as you follow the specific rules, you can bring your dog to Vegas with you. When you book one of these rooms, you'll be given extra amenities to help care for your dog while at the hotel.
These include a room with direct access to the designated outdoor area so you don't have to walk your dog far to get outside. It also includes food and water dishes, waste bags, a mat for your pup and even specialty dog treats.
There are rules that you must follow in order to qualify for the PetStay program and if any rules are violated, you may be asked to board your dog at a kennel instead of your room during the rest of your stay. Therefore, make sure you meet all of the requirements before you take your pet along.
In order to take advantage of the PetStay rooms your dog must weigh less than 50 pounds and present at check in. You cannot have more than two dogs per room and you must have your pet on a leash at all times when you're outside of your room. Your pet must be in a kennel when left in the room unsupervised. If he barks a lot, you may be asked to leave or to place him in an outside kennel.
If you need special pet care while at the hotel you'll find several options near the resort that includes a veterinary clinic, a walking service and groomers. You can get a complete list of services from the pet stay check-in area if you need more information on the nearby services.
Extras at The Palace
This hotel does offer wheelchair accessible rooms but you must book in advance. They offer concierge, currency exchange, laundry services and safety deposit boxes. They do have valet parking but they seem to get too busy at times to provide this service to everyone in the hotel. Internet is available for an additional fee.
The Hotel Pool Area
The Caesars Palace hotel in Vegas offers several pools for your enjoyment each designed with the Roman theme in mind and named after Roman deities. The "Garden of the Gods" is the most breathtaking pool in the entire city and it has undergone many renovations to make it more modern and comfortable.
The "Apollo" has the Roman theme down perfectly and it's located on the south end where you can get the most sun. The Fortuna Pool is named after the Goddess of luck and you can swim up to a blackjack table and play. The "Jupiter" is designed for pure relaxation. There are many day beds and cabanas where you can relax and soak up the rays.
The "Neptune" is for those looking to mingle with others. This is considered the social pool where guests go to meet other guests and have some fun. The "Temple" is the essence of Roman elegance. The pool itself is round and there are plenty of places to rest and relax while enjoying a nice drink and admiring the amazing décor.
The "Venus" is the place to be if you're looking for fun. This pool has a European style and there are many food and drink options for you to enjoy. You do have to pay a fee to use this pool and men have to pay more than the women do to enter. There is also a pool reserved for VIP guest only.
Things to Do at Caesars Palace
From shopping to some of the best nightclub action in town, you'll always have something to do at Caesars Palace. The "PURE nightclub" is the hottest club in Vegas where you can party until your heart's content. You'll also find many places to shop here that include a variety of big names such as Louis Vuitton.
The exquisite spa offers all of your favorite treatments plus some unique services you'll only find at this hotel such as the Roman Bath, a snow-filled Arctic Ice room and a dry-heat Laconium room. There's also a top-notch fitness center with all the equipment you could possibly want to use.
Final Thoughts
One thing that most all guests agree on is that the casino in the Caesars Palace Hotel is amazing. You have the opportunity to win big and many guests do. It's a great gaming experience that you're sure to love. However, when it comes to the rooms and service, you have lots of mixed views.
It appears that some guests have a wonder experience and love their accommodations. Some say it's the best Vegas hotel they're ever stayed in and that they received some of the friendliest service ever. On the other hand, some guests complain that their rooms were dirty, smelly and even moldy in some cases. These guests stress the fact that when dealing with the staff at this hotel they were treated rudely and that their issues were not resolved.
Some guests also complain about having their rooms given away to other guests even though they booked way in advance and having to take a downgrade without compensation. Still, many of these guests reported getting an upgrade that they enjoyed even more.
Many complain that the rates are very high for the rooms and food but this is considered a luxury hotel right on the Vegas Strip. Therefore, it would be higher than many other hotels.
It seems that the experience you have may depend on which tower you stay in and which staff members you encounter. It also depends on what type of experience you're expecting to have. In a hotel this size, not everyone will have a great experience.
Videos