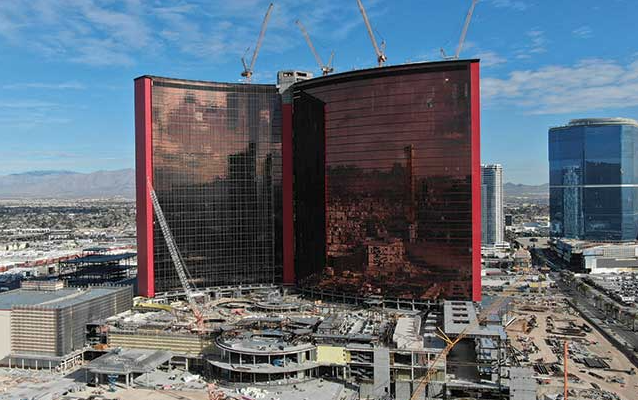 Casino News
A New Strip Casino Finished
By
|
Address: 3000 Las Vegas Boulevard South, Las Vegas NV 89109
Website: RWLasVegas.com
(See our earlier review, Resorts-World-review)
Resorts World, the new casino on the north end of the Strip, announces its opening date: June 24, 2021. Ninety-five percent of the resort should be open then, including hotel rooms, over 40 dining venues, retail space galore, and the casino — which is 117,00 square feet. This is the first new Strip hotel to open in over a decade. They are taking reservations now for their 3,500 rooms.
Emblazoned across the top edge of the building are the names of the hotel projects comprising this resort's accommodations: Hilton, Crockfords, Conrad (Hilton). Each one is the brand for a block of guestrooms & suites you can choose amongst — regular fancy, especially fancy, or so-elite-it-costs-the-gnp-of-a-small-country. The resort's build cost $4.3 billion. Hilton runs 1,774 of the elite guest rooms and suites. Most of these rooms are part of its brand entitled Conrad Las Vegas At Resorts World. The remainder of the rooms are run by Crockfords Las Vegas LXR Hotels & Resorts, which will provide ultra-luxury accommodations and highly personalized service.
What's interesting, and they are not trying to conceal, is that the projected revenue of the resort will mostly come from the elite accommodations and services they're offering, not from gambling. It would be fascinating to track down which other megahotels earn more from non-gaming sources as well.
Formerly on this site was the Stardust, which was imploded. Boyd had begun a hotel project called "Echelon" a few years back, but financing became too difficult in recession years, so in 2013 they sold the 87 acres and the already-begun structures, for $350 million, to Genting Group, the Malaysian company which runs the Resorts World brand.
The Casino
The casino will have a devoted poker room; there will also be high-limit gaming sections, and a sportsbook. Genting Rewards is the name of their rewards club, for which you can enroll right now on their website.
It's been reported that due to pandemic-related travel and shipping delays, their slots may not be entirely there for a while. The machines will be coming in gradually, apparently.
Dining
For food, you can be sure of numerous Asian-cuisine restaurants of both fine dining and the favorites of street food. They've planned a section devoted to street-type stalls of popular food and drink from Asian and Western menus, called "Famous Foods Street Eats." These will be foods that are favored by food critics, so it should be excellent variety.
Entertainment
For nightlife entertainment, it is firm that EDM will be a big feature, as Zouk's Nightclub opens. Its namesake, Zouk, is a celebrated EDM DJ. There's a corresponding AYU Dayclub, too, for all-day diversion. Tickets for shows will be posted soon.
The hotel will feature its own spa, and a vast 5.5-acre pool area with 7 pools. One will be the Strip's first infinity pool.