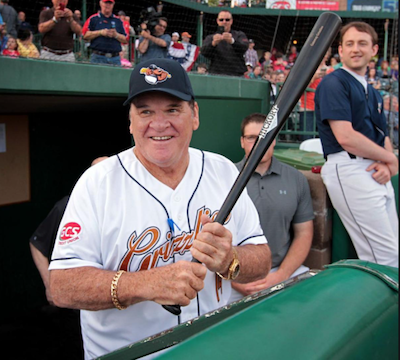 Casino News
Betting and Sports Teams, Together Now?
By
|
Remember when sports teams had to steer far clear of gambling? Remember when Pete Rose was kicked out of professional baseball in 1989, and then banned for life, having been found betting on baseball games while he was a player? Rose, at age 79, may never get the Baseball Hall of Fame to allow him ever to be voted all-time hit king of Major League Baseball — so it must be grating to him and fans in his corner, to know that some of pro sports has completely turned about-face on the subject of gambling by players and teams.
In fact, we just passed a huge billboard the other day in Pittsburgh touting the "partnership" of the Pittsburgh Steelers … with BetMGM. Like they're best friends now. Online sports betting operators now sponsor professional sports. It's a real sea change, one that's crept up over the last few years.
The US Supreme Court opened the floodgates by legalizing sports wagering nationwide in 2018. Tennessee followed its lead and became the first state to offer mobile-only wagering. (They have no land-based casinos.) They also were the first state to extend loans to sports bettors. However, the Tennessee Senate, in Senate bill TN SB 1029, and House bill 824 are now reconsidering this, pointing out there can be conflicts of interest with sports betting firms, because a bettor may be lured towards making bets again in order to pay back a loan.
In January 2020, Caesars Entertainment became the NFL's first official casino partner for US bettors; and Tabcorp became the NFL's wagering partner for fantasy games.
The NFL
As for players themselves, the NFL had a strict no-betting policy, but lately that's changed too. Players are allowed to enter and gamble in legal US land casinos, and participate in online casinos — if they are US regulated. What remains is that NFL players are still forbidden from any sports betting: No betting on any professional, college, international, or Olympic sport — and this means no betting with casino sportsbooks, bookies, or any private bets with NFL full- or part-time staff or officials. Players may not even visit a sportsbook during the NFL playing season. They must not, in fact, make any sort of deal (gambling-related or not) on casino property.
The NFL's players must also never accept any gift or service (including comped rooms, etc.) from a gambling operator or casino in excess of $250.
They are still permitted to bet on dog and horse races — in US-regulated racebooks.
NBA and NHL
The NBA and NHL, unlike the NFL, still restrict and bar their players from gambling in any form.
MLB and gambling
Major League Baseball, due to the controversy and troubling years surrounding the Pete Rose scandal, has had a particular interest in coming to grips with the subject of gambling. The offical MLB policy reflects more of the league's concern with maintaining good clean games with no fixing, rather than direct concern with players making bets themselves. Their Misconduct Rule is mostly about baseball players and messing with bookies for the purpose of changing the outcome of any game: MLB Misconduct Rule
But the MLB will penalize a player for betting on baseball games — by taking them out of the sport for the season. Team owners are barred as well, at present. The Official MLB policy on gambling spells out that: Neither players nor owners may bet on baseball or softball in real or fantasy games, via online sports betting operators, in or out of the season, and may not ask another person to place such bets, either. They may bet on other sports, however, in legal (meaning US-regulated) casinos, and online casinos and sportsbooks. Also, players may not perform services for any company or individual running a betting operation.