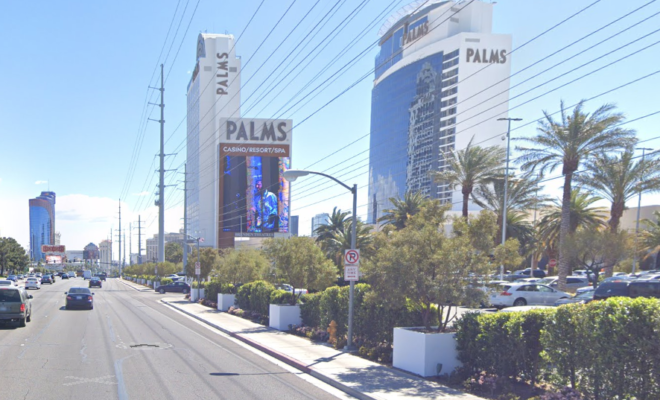 Casino Reviews
The Palms
By
|
Address: 4321 W. Flamingo Road, Las Vegas, NV 89103
Phone: 702-942-7777
Website: Palms.com
With its iconic-sounding name, an outsider might assume that the Palms was probably one of the older hotels in Las Vegas, but that isn't the case. It is not quite twenty years old, but has experienced the usual changing of hands between multiple owners that all the big hotels seem to; the property was originally built and developed by the Maloof family, who also were involved in TV productions and sports teams. Later the hotel was purchased by Station Casinos, in whose hands it remains today.
The hotel has two towers of guest rooms, the Fantasy Tower and the Palms Place Tower. It is just off the Strip, on West Flamingo Road, 2 and a half blocks west of Las Vegas Boulevard; here is its location on Google Maps.
In 2002 an ambitious project was begun to link the hotel to one of the first reality TV shows, MTV's The Real World. The cast members of the show lived in what is now called the Real World Suite — which now costs guests $10,000 a night to stay. This suite is far from being its most expensive. That distinction belongs to its Sky Villas and the Fantasy Suites, which are $40,000 per night, making them among the most expensive hotel accommodations in the world.
Its luxury rooms and renown make it an excellent location to film TV specials. It has been the setting for filming of The Real World: Las Vegas, the MTV Music Awards, Celebrity Poker Showdown, The Pauly D Project, and many others.
Casino
The main tables have a view of the huge shark sculpture in the center, so you never forget where you are. A High Limit Room is available, by reservation only, for some select gaming.
If you play slots, going on Chinese New Year's (January 25 for 2020) is advantageous, when you can earn 500 same day base points — that don't expire. The Palms has 1,325 slot machines in penny, quarter, nickel, dime, 50 cents, dollar, five-dollar, ten-dollar, twenty-five-dollar, and hundred-dollar denominations. With this extensive diversity it seems you never need to settle for a level you don't like. There are also 14 MegaBucks machines.
The race and sports book is now owned and operated by William Hill, which just purchased CG Technology. It has earned positive reviews for being nonsmoking, having sharp, high-definition TVs, and comfortable leather seating. Daily lines are by Cantor Gaming. It is open every day from 8am to 10pm.
Like at other large casinos, you can bet online with Palms if you're in the state by going to STNPlay.com or downloading their sports betting app from StationSports.
The player's club card is called MyBoardingPass, which is used by 18 casinos in Vegas, so carry it everywhere you go to get your points.
Dining
Palms has some distinctly wonderful restaurants. You'll find these:
Scotch 80 Prime — rare steak, rarest whiskey. Ribeye, lobster, scallops, dry-aged steaks, Kobe beef, much more. Also a vegan menu.
Vetri Cucina — Italian fine cuisine with surprising offerings such as smoked goat, roasted turbot, dry-aged steaks, incredible crafted desserts.
Shark — dining in the Shark Bar; seafood and sushi.
Sara's — quietly elegant and British clublike with food to match: the best filet and crab, lobster, Dover sole, truffles.
Mabel's BBQ
Greene St. Kitchen — a combination of cuisine styles, all elegant.
Tim Ho Wan — Chinese casual dining, a nice discovery for favorite dishes.
Laguna Pool House — Poolside food, American style.
Send Noodles — Asian fusion.
Bars
The Unknown Bar — a newer feature of the Palms. Above the bar you can see the only shark in town you don't need to fear. It is a sculpture of a trisected shark suspended in what look like 3 tankfuls of water but actually contain a solution of formaldehyde, the work of artist Damien Hirst. Hirst also designed the Unknown Bar itself. He has made other shark sculptures, which have been displayed in New York and London.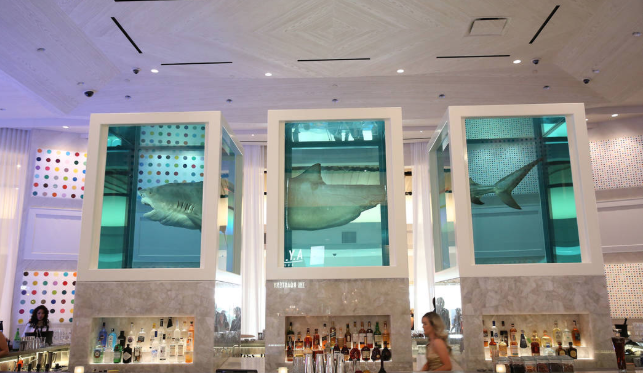 Mr. COCO — Live music, upscale dress code.
Tonic — open 24 hours.
Rojo Lounge — Lobby bar, in the Palms Place tower.
Videos