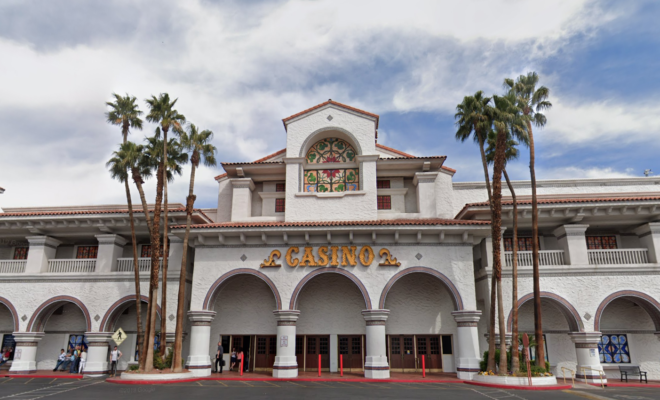 Casino Reviews
The Gold Coast
By
|
Address: 4000 West Flamingo Rd., Las Vegas, NV 89103
Phone: 702-367-7111 or Toll Free: 800-331-5334
Website: GoldCoastCasino.com
The Gold Coast is known as a locals' casino. It's just about one mile west of the Strip. It is owned by Boyd Gaming, but built by Michael Gaughan, operator of the Barbary Coast. Opened in 1986, its style is reminiscent of California-gold-rush, Barbary Coast-type, 19th-century adobe buildings.
Here is its location on Google Maps.
Hotel
The hotel has 711 rooms, which will help you remember the phone number. They offer free wifi, free parking. There are smoking & non-smoking rooms. Every room has a safe, iron & ironing board, clock radio, and widescreen TV (39-inch LED for all but the suites; suites have a 32-inch LCD TV which is backlit and better display). Refrigerators are standard in the Luxury and Executive Suites, but for other rooms it's an added charge if you want one. Handicapped accessible rooms are available, with wider doorways and assistance bars in bathrooms, as well as a roll-in shower.
A free shuttle goes to the Orleans and the Strip. The Resort Fee is $24.99 per night as of this writing. One should remember that this daily fee shows up only at the end of your stay, not with the price of your initial booking. The fee entitles guests to: free wifi for up to 3 devices, in-room coffee, the shuttle; access to the Fitness Center, and free/unlimited local and 800 calls.
Casino
There are close to 1900 slot and video poker machines in the casino. Most (about 1,459) are video poker machines, because it's the player's game of choice, but the most popular type of slot is Wheel of Fortune, a progressive which is also here. Denominations start at a penny, and you can play this at video slots or reel type machines, or play on nickel, quarter, half-dollar, dollar, or five-dollar slot machines. The High Limit slots room has the upper denominations of machines, which do not go over $10.
The Bingo room has 720 seats, making it one of the largest in Nevada, and it offers 8 sessions every day. You can even check the current jackpots for all of the games here.
Blackjack games at Gold Coast all pay 3-2 for a natural. Table limits are from $5 to $25. The roulette tables are all American style, double zero, with minimum bets starting at $3 inside, $5 outside. They have in addition a virtual roulette table,
Other table games offered include Ultimate Texas Hold'em Progressive, Fortune Pai Gow Poker Progressive, Asia Poker, Three Card Poker, and Baccarat.
Race and sports book has keno seating for 4. Snack type food (hot dogs) is available at the back of betting area.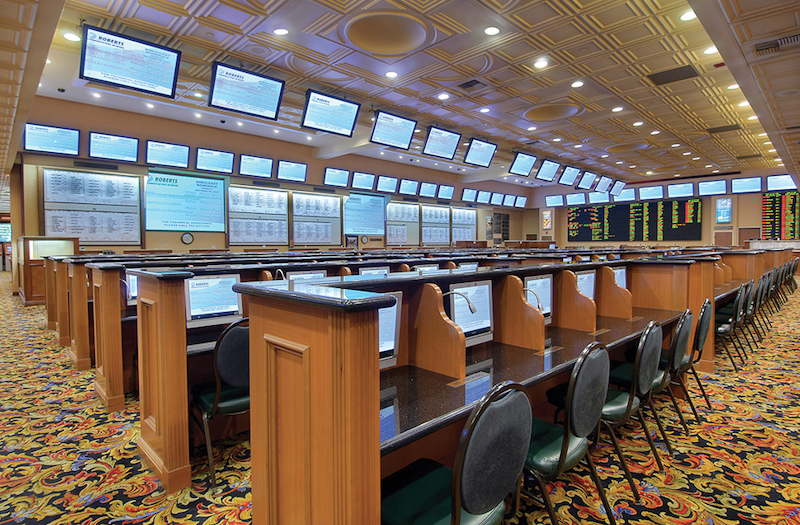 The race and sports book offers plenty of wagering opportunities but with its forward-face setting and individual carrels, it looks a trifle like a library, if a library had over a dozen large screen TVs. Still, those individual seats with screens are excellent for certain bettors — such as racing buffs — who want to keep an uninterrupted eye on the action.
The B Connected sports/racing mobile app allows you to place bets with their sportsbook from anywhere within Nevada.
Dining
Cornerstone Steakhouse — fine dining with Social Hour specials. Cocktails and their own Whiskey Library.
Ping Pang Pong: The Chinese Kitchen — casual but highly rated dining with seafood, beef, poultry, vegs.
Noodle Exchange — Open noon til 11pm. Chinese cuisine.
Ports O' Call Buffet — 6 stations: American, Chinese, Mongolian, BBQ, Seafood, Mexican. Good price.
T.G.I.Friday's — the place you know, with steak, ribs, chicken, etc., and full bar.
Red Zone Sports Bar — comfortable with seating and quick bites.
Subway — Open 7 days a week, 7am to 2am.
Java Vegas — Coffee drinks, tea, juice, etc. with sweet baked goods.
Bowling Snack Bar — Burgers, hot dogs, pizza, sandwiches all in the Bowling Center.