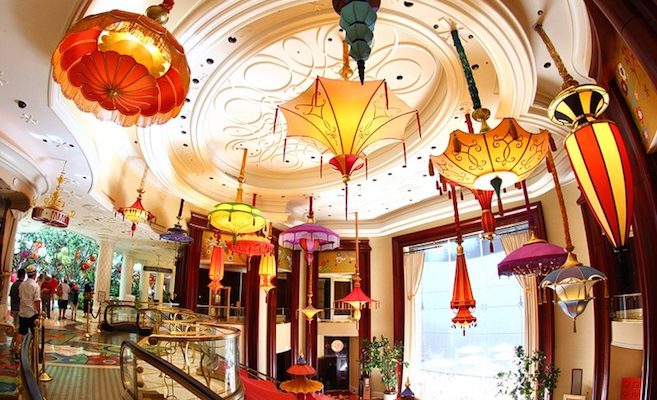 Reviews
Wynn Las Vegas – 2
By
|
Some Special Things About The Wynn Casino
For starters, you can get a guided tour of the Wynn Las Vegas Casino resort any day at 2pm, and in fact it's an excellent idea at a stunning spot like this. Its design is famous worldwide; with it began a distinct citywide movement, a departure from the traditional way of choosing a "theme" for every casino-hotel. Steve Wynn's decision to do so — to forget about themes and focus on beauty — was said to have been made after seeing the end product of his last casino, Treasure Island. It didn't please him, all those pirates — so hinted Roger Thomas, designer for these casinos.
Thomas was main designer on the team that made both Treasure Island and then the Wynn. He said with this design, he "had to create a new design alphabet" in order to make something nobody had ever seen before. He settled on "S" and "C" curves and swoops; the shape of the parenthesis; he put the outdoors, indoors; used jewel colors and laid great emphasis on lighting. It is noticeable that the Wynn seems brighter than most casinos but not glaringly so — more like daylight. This helps one appreciate the sights inside.
Words that describe the decor: "Whimsical." "Bold."  "Imaginative." "Stimulating."  No theme, it is instead elegant and superbly crafted.
The memorable parasols that adorn the ceiling helped name the two cocktail bars of the hotel — Parasol Up and Parasol Down.
Restaurants at Wynn Hotel Las Vegas
This hotel has just too many good places to eat. Tableau is a good choice if you like to look around at amazing decor while you eat; but so is Costa Di Mare, where you can eat inside or outside in a cabana. The SW Steakhouse, Andrea's and Costa Di Mare may be the choicest of the fine dining venues. At these places you'll find offerings like real Kobe beef (another Asian restaurant at Wynn, Mizumi, also has it!), Wagyu beef and lobster roll, and 40 kinds of fresh fish and shellfish. Or you can go with Italian at Sinatra, find more wonderful Asian fare at Wing Lei — which won a Michelin star — or stick with American cuisine at Lakeside Seafood or the Country Club.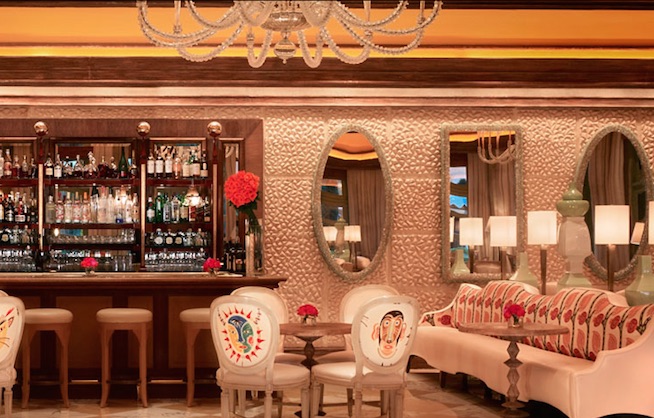 As for the casual dining, you can see the good stuff simply by their menus: La Cave,   Allegro,  Red 8 (Asian),  Wazuzu (Asian),  Terrace Pointe Cafe (breakfast/lunch),  ZoozaCrackers Deli.
Entertainment
The change of seasons brings updates of garden beauty at the Wynn; Chinese New Year and Christmas season have special, elaborate displays. These are a visual pleasure at different times of the year. A look around the gardens each time you visit is well worth it.
The Lake of Dreams runs its waterfall light show with thousands of lights that change color, every half-hour from 6:30pm to 12:30am.
The signature show Le Reve is an amazing one, performed in a round theater, and it takes place in an aqua setting. It has live music, modern choreography and some of the best aquatic and aerial acrobatics you will ever see. The special effects will amaze you as well.
Surrender Nightclub offers dancing and luxury bottle service, within sight of its big snake bar sculpture; it's a beautiful place. Another dance club is called Intrigue, its newest. These, and the clubs available just over at the Encore (the spectacular XS and the Encore Beach Club), provide fantastic nightlife.
More Hotel Features
There is a fitness center, and spa. The spa offers luxury treatments in its 45 rooms, open 7am to 8pm. Salon and barbershop offer pedicures, manicures and hair service. The Barber offers straight-razor shaves.
The Wynn has a Maserati and Ferrari dealership inside the hotel, where you can see their exotic car collection.
Amenities
The beds are extremely comfortable and all of the bedding is of good quality.  Each room has a flat screen TV with DVD player, a phone and a fax machine. The rooms also have  desk and chairs and all the normal amenities you would expect from a Vegas hotel. You can also get high speed Wi-Fi for an added fee in any room.
The bathrooms are stunning and very large. They come fully equipped with huge marble tubs, separate showers and a flat screen TV. Depending on which room you choose, they also provide satin robes and plush slippers. The smaller rooms start at 640 square feet and the villas are a spacious 7,000 square feet. There is also a separate check-in area located in the adjacent Tower Suites. This makes it easier for guests to take care of the details so they can head to their rooms faster during times when the hotel is extra busy.
The Hotel Pool Area
They have three very nice pools and the areas surrounding them are beautiful. One is very quiet and peaceful. This is the type of spot where you wouldn't mind taking the kids to play and it's a great place to relax for awhile.
The private pool, however, is a different story, with 24 cabanas you can rent, each with a fully-stocked mini-fridge, a 42-inch flatscreen TV, lounge chairs reserved for you outside where you can order room service menu, or the poolside cafe menu.  Some of the cabanas are adults-only, with extra luxuries such as a misting system and sun-bathing pool. These are $750. You can enjoy playing Blackjack poolside and cocktails are available. This is where the guests who like to party will be hanging out. They also have a separate pool area in the Tower Suite where guests can go to relax and have a great time.
The Resort fee is $28, consisting of a $25 fee plus the $3 resort-fee tax. Concierge service is a valuable thing at the Wynn. You can ask for area activities, get car/limo service, directions, special needs, and even get childcare from the concierge nanny if you would like a night apart from the kids.
If you're looking to cut costs while on your Vegas trip, then this may not be a good choice. There are more affordable hotels on the Strip that have nice accommodations and plenty to keep you busy.
On the other hand, if you want the experience of a world-class hotel resort, this is one of the best options in Las Vegas. You'll be amazed from the time you walk through the doors until you leave.