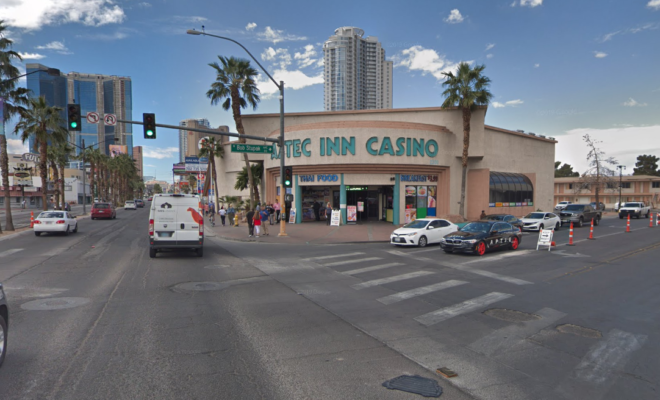 Casino Reviews
Aztec Inn
By
|
Address: 2200 Las Vegas Blvd. South, Las Vegas NV 89104
Phone: 702-385-4566
This humble casino-inn is 62 years old now, but it opened under the name Sun N Shine Motel, later changed to the Mojave Meadow Motel. It wasn't a casino until 1991, however, and now boasts a 3,120-sq. ft. casino floor with 39 slots.
A small casino resident of the main Strip, the Aztec is located south of the downtown area. It is right across the road from the Stratosphere, and the next casino south of it is the Sahara, then comes Circus Circus. Here it is on GoogleMaps.
Interest in this area of the Strip is sure to increase later in the year, when — it's hoped — that ResortsWorld opens up. It makes a nice stretch of varied gambling places in a row to sample. The Aztec has fought hard to retain its land and parking areas to continue business in Las Vegas; it's weathered lawsuits, low revenues, one wild car crash that took out its front doors and 15 slot machines, and then a couple of fires. There must be some lucky spirit that keeps it in operation. But then the city of Las Vegas seems to have a lot of those…
Fortunately, it's a very walkable area the casino is in. Once inside, locals and frequent Vegas visitors who take the time to try it out have nice things to say about the place. It could be considered a local's casino due to its size.
There is no sports book, or table games. Dining consists of a pizza shop that also sells Thai, Mexican, American and Asian foods.