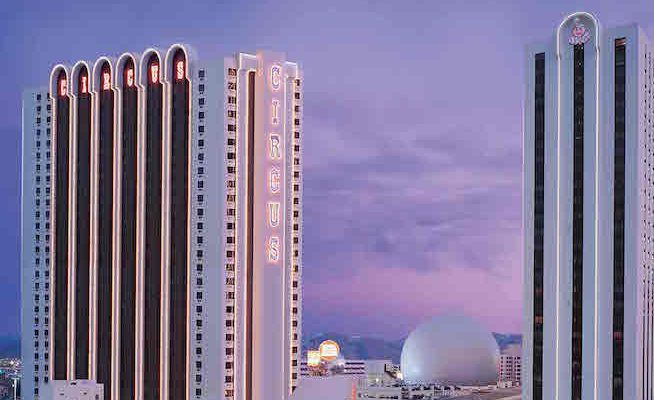 Reviews
Circus Circus – 2
By
|
One of the most fascinating resorts located on the LV Strip is the Circus Circus Las Vegas. It's one of the most popular picks for families because of its big top theme and promise of great family fun. There's no doubt that this spot delivers in this department. After all, there is a permanent circus located on the premises complete with all the shows, games, clowns and excitement.
The hotel is also the home to Adventuredome, which is a huge covered theme park with thrilling rides, free clown shows and more. You'll also find an amazing arcade room called Carnival Midway where you can enjoy a wide variety of games.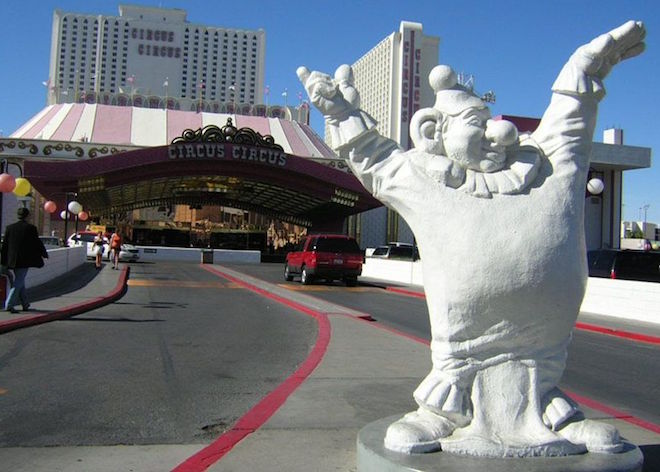 Now, you know why the kids and every adult who loves to have fun wants to stay here but you may be wondering what does it have to offer the adults who want some gambling fun? Quite a bit would be the answer to that question. This resort has a nice casino where you can enjoy table games, slots and more. It's not as big or as famous as some of the other casinos on the Strip but it is an excellent one and you should thoroughly enjoy it.
With all of these fun and exciting things to do, there's still one more thing that needs to be taken into consideration before booking your stay here and that is the guest rooms. How do they stack up when compared to other hotels in the area?
Circus Circus Rooms
The hotel rooms at this resort are not as glamorous or even as large as some of the ones you'll find at some of the larger and more modern Vegas hotels but they are still nice and should serve their purpose well.
One of the first things that you'll notice when you walk through the doors of this hotel is the pink and white decor that continues with the carnival style, which starts outside of the building. You'll see these colors in all of the public areas throughout the resort. The hotel has three towers that contain a little over 3,700 guest rooms.
The rooms have mahogany-stained furniture and colorful circus-motif designs throughout the rooms but they are not overwhelming. The rooms are clean and they offer guests a comfortable place to relax. Each room has a flat-screen TV with premium channels, pay movies, phones with voice mail, clock radio, and climate control. The blackout drapes will make it easier to rest during the day and smoking is permitted in most of the rooms.
If you stay in the Manor Motor Lodge Rooms, you'll have to go through a moving walkway that is fully enclosed to reach the rooms. These rooms offer 351 square feet of space for your comfort. All of the rooms have one king or two queen-sized beds and safes.
The Skyrise Tower Rooms are a bit larger and you can request a non-smoking room if you prefer. The Casino Tower Rooms are the ones in the original 15-story tower and these are the most conveniently located to all of the entertainment and dining options. These rooms offer 395 feet of space so they have the most room.
Hotel Extras
This hotel offers many extras to make your stay more comfortable. If you need them, cribs and rollaway beds are available but there will be an additional fee for these items. You can rent strollers when visiting the Adventuredome so you don't have to carry young children everywhere you go. The hotel offers wheelchair rentals, too but these are limited. Daily housekeeping is provided and guests can request wake up calls any time you need it.
The Circus Circus resort provides rooms for the handicapped or physically impaired guests. These include wheelchair accessible bathrooms with roll-in showers, Braille or raised signage and equipment for the deaf. They have handicapped parking and an accessible path of travel to make getting from one point to another much easier.
This establishment has some of the best facilities designed for meetings, banquets and conventions that you'll find in Vegas and they can accommodate up to about 600 guests. If you're in need of this type of services be sure to check them out. It's a great place to hold business meeting, to have a wedding or plan a family reunion to name a few things.
You will also find a nice RV Park and it's the only one found directly on the Vegas Strip. It's operated by Kampgrounds of America and there are 399 spaces available. Each one of the parking spaces has full-service hook-ups and there is a pump station available. Guests will also have access to a playground, Laundromat, store, showers, swimming pool, hot tub and sauna.
There's even a place where your pet can run if you bring the family dog along on the trip. If you do bring your pet along keep in mind that they are only allowed in the RV Park and the temperatures can rise well above 100 degrees in the summer in these vehicles. Make arrangements to keep your pet cool and healthy.
Circus Circus Pool Area
You'll find three pools at this hotel and each one is located in a prime location. One is next to the towers, one is near the RV Park and one is easily accessible by the guest in other parts of the resort. There are a few palm trees scattered about but most of the pool area is cement. One of the pools is open all year long and they are heated to a nice comfortable temperature. However, there will be times when you'll get a chill as you step out of the pool.
There are cabanas available but you cannot reserve them the way you can at some hotels. Instead, they're offered on a first come first serve bases. Towels are available at poolside and there is a snack bar in the pool area.
Things to Do at Circus Circus
There are many other things to do here when you're not playing games, riding rides, enjoying a show or taking advantage of the great casino action. Shopping is always at the top of the list for many visitors, it's exciting to see what types of stores are found in this very popular city and this resort has a good selection.
There are a number of bars where you can go for entertainment and to have a few drinks. These include the Big Chill, Slots A Fun Bar, West Bar, Cactus Bar and the Lobby Bar.
If you want to travel outside of the premises you don't have to go far to enjoy rock climbing or horse riding. There are also several biking and hiking trails nearby that are a lot of fun for the whole family.
If you're searching for a more relaxing way to spend your time outside, visit one of the nearby golf courses and play a few rounds of golf or enjoy the miniature golf course on site. You can also contact Adventure Tours to make arrangements for a tour of the Grand Canyon or to take a tour through Las Vegas.
Final Thoughts
This is a cherished spot for most travelers to the city — and one they're grateful for when they're bringing kids. It offers the most entertainment for children without taking away from the experience for the adults. With so many fun and exciting things to do, you're sure to have a great time.
Videos