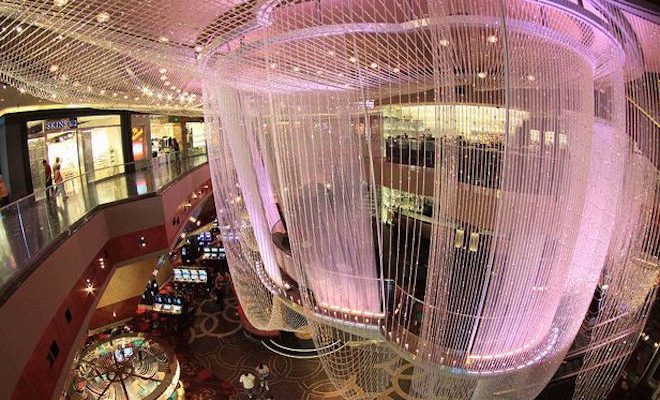 Casino Reviews
Cosmopolitan – 2
By
|
The Cosmopolitan Hotel sits right in the center of the Strip. New ownership invested heavily in a redesign of the hotel and casino in 2014, creating new separate high-limit gaming areas, a new bar and renovation to the sports book and the Bond Lounge.
The sports book now flows into its own table gaming area, with blackjack and roulette tables. Sports TV is on all the monitors around these tables. And the sports betting area itself was revamped to offer foosball tables, billiards and shuffle board.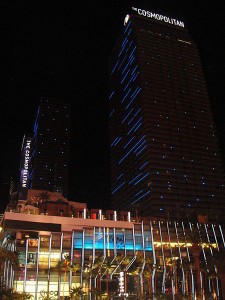 This structure, standing 52 stories high, has some of the best views found anywhere in Vegas. It has a decent casino with lots of tables, slots and video poker machines.
When it comes to hotel rooms, it is a great choice for its attractiveness but room rates include a steep resort fee. They do offer uniquely designed rooms with beautiful décor.
Cosmopolitan Hotel Rooms
There are over 2,900 rooms in its high-rise towers. The Studio Rooms are 620 square feet with terraces that average 110 square feet. The City Rooms are very elegant with two queen-sized beds and large comfortable bathrooms with marble floors.
The Wraparound Terrace Suite is one of the most luxurious rooms available with a private terrace that wraps around the outside of the room providing a panoramic view of the skyline. They feature modern kitchens, microwaves, stoves, ovens, dishwashers, washer/dryers and minibars. The bedroom alone is 1,200 square feet and then you have a separate dining area. They offer all the comforts of home in a relaxing and fun atmosphere.
There are several other terrace rooms to choose from that offers a variety of features to suit anyone's needs. You can choose a one bedroom with or without a view of the fountain or you can book the Terrace Studios with or without a fountain view. You can also select from the Terrace Suits or the Lanai Suites with a private terrace featuring a Jacuzzi and two-story windows that overlook the Bamboo Pool.
Rooms are availaable for those guests who want to bring their dog along with them on their vacation. You will be charged a $50 pet fee per day and you'll need to provide proof that your pet is up-to-date on her shots before you can keep her in your room. Dogs cannot weigh more than 25 pounds and you cannot bring more than two dogs with you.
Extras
All of the rooms here are smoke free but you can smoke on the terrace of any room. Internet access is available for a fee and they offer excellent room service. They do offer extra beds and baby cots if you need it but you'll have to put in a request for these. Only two extra beds are allowed per room.
They also have a very nice business center that covers 150,000-square feet. It's a great place to set up business meetings, hold receptions or put together a family reunion. Everyone will be impressed with your choice to have your event in this magnificent resort.
The Hotel Pool Area
The Hotel offers three amazing pools with three different themes. This gives you the opportunity to choose the theme that suits your style and personality the best. The areas around the pools are neat, clean and each one of them has some type of interesting feature that stands out.
The Boulevard Pool has an amazing view of the Strip and it has that laid-back yacht club look. It's a great place to socialize and meet new people. The Bamboo Pool areas are designed more for privacy with a design that provides some seclusion. This is a great place to go to relax and enjoy the quieter side of Vegas. The Marquee Dayclub Pool imitates the beach scene and this one is for adults only. After hours, it's an expansion of the Marquee Nightclub.
Things to Do at Cosmopolitan Hotel Vegas
For those who don't care much for casino action, there are many other things for you to do to keep you occupied and to make your stay enjoyable. You can rejuvenate your body by dropping by the Sahra Spa for a complete body makeover. As soon as you walk through the doors, you'll see the difference between this spa and all the others. The facility is amazing and something that you have to see for yourself before you can appreciate its beauty. It's definitely something that you should check out.
Before or after relaxing at the pool you can stop by one of the fitness centers. There are two of them. The small one is located on the East Side Tower near the deck of the Boulevard Pool and main fitness center is located in the West End Tower near the Sahra Spa.
They do offer a small shopping mall with some unique boutiques to explore but some of the other hotels have a much larger selection. The hotel also has a tennis court and there is a golf course about two miles away if you want to play a few rounds.
Service
The service at this resort is great. The employers are always available and ready to help take care of your needs. They're friendly and the whole atmosphere at the resort is a fun and pleasant one. The room service is fast and efficient and the staff will go out of their way to take care of your needs.
Final Thoughts on The Cosmopolitan Hotel
The hotel has a great layout and excellent parking with quick access to the main floor. This resort is also beautifully decorated. There's plenty to keep you busy throughout your stay and it's gained a lot of popularity from both the locals and visitors. Kids are welcome here but it's not considered a kid friendly hotel. There is nothing for them to do other than spend time at the pool.
The building does have a few surprising features that tend to make guests stop and take a second look. For example, some of the restaurants have porches, many of the rooms have terraces, there are pool tables in the common areas and there are even vending machines that sell miniature art pieces within the hotel. Another thing that makes them stand out from the other casinos in Vegas is what they don't have, which is impressionists and magicians.
For the most part, the Cosmopolitan gets good reviews but some guests have complained about the rooms not being cleaned thoroughly. For example, some people complained that the trashcans were not emptied and that the terraces were not cleaned. However, overall, it has a good reputation.
Videos