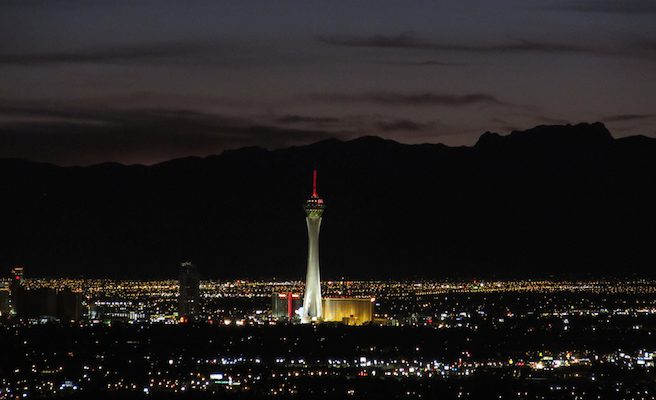 Casino Reviews
Stratosphere Hotel
By
|
When you get to the Stratosphere Hotel and Casino — as you ought to — get settled to stay awhile. This particular hotel is not just a place where you can go to find affordable accommodations and good casino action; you've landed at one of the classically great attractions of Vegas. The best view in town, good solid casino action, and wonderful dining and entertainment. Developed by Bob Stupak, this resort is a historical spot, and family-friendly, as well. The famous Observation Deck, with its open-air balcony, is a classic spot every bit as good as the Empire State Building's deck and just as many stories up. (Although the movies featuring the Strat Tower probably tend to be on the thrill side, not the romantic.) Famous for its crazy, daredevil rides at the top, everyone knows this casino.
The resort opened in 1996; previously on this spot stood a casino/gambling hall — without a tower — built in 1979, called Vegas World.
The Strat Tower is 1,149 feet tall, taller than Seattle's Space Needle. The Empire State Building is taller, but the big observation decks are both on 86th floor, approximately 869 feet up. Like the Empire St Building, it also has a 2nd spot to view from, in the 107th floor Skylounge. The hotel next to the Tower is a building of 24 stories and around 2,400 rooms.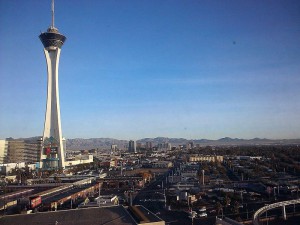 It's important to note that this hotel and casino is located on the north end of the Strip, a few blocks N of Sahara Ave. See its location on Google Maps. Therefore, if you want to be in the center of all the action happening on the Vegas Strip, you may be a little disappointed because you're all the way at the end. (However, you can always take the monorail or a cab to the center of the Strip.) It won't take you long to reach other parts of the main drag, and when you stay here, you can save money with the affordable rooms. This will give you extra to put towards having a great time while on your Vegas vacation.
Of course, the has so much to offer that you may not want to leave the premises and this includes some amazing casino action. In fact, the casino is one of the reasons why so many people choose to stay at this hotel instead of just visiting the tower. With literarily thousands of gaming options available, it has everything you need to make your Vegas stay a fun and exciting one.
The Stratosphere Las Vegas Casino
The casino room is a huge 80,000 square feet giving you plenty of room to walk around and play without feeling closed in or too crowded. It's well lit, which makes playing more enjoyable because you don't have to strain to see. You'll find all of the top-notch games that cater to both the high roller and the first time gamer here. They even offer a few exclusive games that you won't find anywhere else. They also offer great odds and promotions are held regularly that can help you get the most out of your visit.
Table Games
There are more than 50 table games to choose from. These games offer multiple variations of Blackjack along with Craps, Roulette, Crapless Craps and Baccarat. You'll also find Big Six Wheel, Let it Ride Poker and Mini-Baccarat along with a few other popular games. With this selection, you should be able to find a table that suites your style of gambling perfectly.
Poker Room at Las Vegas Stratosphere
This location has been at the top of many poker players' lists of favorite card rooms. It still is a very good one even if it is not so flashy as those at the Aria, Wynn, or Venetian. It doesn't compare to those as far as high stakes play. Still, this poker room offers daily tournaments with an easy buy-in, has a high hand jackpot ($100 for 4-of-a-kind, $250 for str. flush, $500 for royal flush), and if you're in the 7pm tournament you get free pizza. Gamblers like the mix of limits, and it's a comfortable place to play. The poker room opens daily at 11am, has 16 tables. There's tableside dining (from Roxy's Diner menu) and cocktail service available too.
Tournament Schedule
Daily tournaments:
11am — NLHE, buyin $45 — every day except Wed.
11am — NLHE, buyin $65 — Wednesday
7pm — NLHE, buyin $45 — every day except Wed.
7pm — NLHE, buyin $65 — Wednesday
11pm — NLHE, buyin $45 — every day except Wed.
11pm — NLHE, buyin $65 — Wednesday
Slots and Video Poker
The selection of slots and video poker machines available at the casino is about the best you'll find. Since they update their gaming options regularly, you can expect to find the latest, most modern slots and video gaming in the area. There have over 1,200 slot and video machines that include the ever popular Wheel of Fortune, Dirty Dancing, Triple Towers Greyhound, The Hangover Slots and Star Trek Battle Stations.
You'll find single level and multilevel progressive video poker and non-progressive machines. You'll find denominations from 1 dollar up to 25 dollars in their high limit room and they even have the reel spinning slots. Tournaments offer a variety of incentives that include free slots and cash payoffs.
Sportsbook and Horse Racing
Do you enjoy sports betting? Then head on over to the Sportsbook area of the casino where you can participate in contest and other special events. They have nine very large TVs surrounding the room, swivel chairs for comfort, cocktail service and a bar. You can place futures and prop bets on many different sports and you can place wagers on NASCAR and Arena Football. It's not the largest or the most exciting sportsbooks in Vegas but it is nice and it gives you plenty of options.
Entertainment at the Stratosphere
When it comes to entertainment, they have you covered. There's plenty to do when you're not enjoying the casino action or for those you don't care much for gaming. The nightlife offers many options that include hanging out at the bars and lounges or you can take time to check out the two amazing shows the hotel offers.
The show Pinup is a sensual revue that will keep you fully entertained. Numerous other shows of live stage entertainment is also available in the hotel. You may even run into a few celebrities, too, because many famous men and women stop in to enjoy the rides and the sights.
If you're looking for some thrills, any one of the four rides offered at the hotel will keep you going or you can take in the view from the top of the 1,149-foot tall Tower, where you can see in all directions. The hair-raising ones available these days are:
SkyJump — a leap into the void form the tower with a bungee
Big Shot — it fires you 160 feet up then lets you drop (serious G forces) until your fall is softened by a controlled landing, while you're attached to a metal column
Insanity — a huge claw that dangles you off the edge of the building
Scream — a ride in a little seated car that shoots you over the roof's edge and dangles you there.
These are some of the things that make this hotel great for families. There is something for all ages to enjoy.
Food and Restaurants
When you're ready for a meal, there are several options available. If you're interested in a romantic dinner, Top Of The World is the name of the circular fine dining restaurant in the top part of the Strat's tower. Surrounding are the tilted windows giving you the best view of Vegas, way way up, wonderful at night. This restaurant allows you to see a full 360 degrees, 800 feet up.
Another great option is the Roxy's Diner, which is a 50s rock style diner where the servers entertain you with song. Fellini's Ristorante serves Italian foods in a nice relaxing atmosphere where you can enjoy a great meal. Other options include the Level 8 Pool Café, Starbucks and the Buffet that is the perfect place to hold reunions or weddings.
Extras
The Strat offers the ace/PLAY rewards program and it has a lot to offer guests. You can earn rewards and comps along with a few exclusives that you won't get with any other program. After earning points, you can use them for slots, comps or for cash.
They also offer senior citizen discounts, military discounts and all government employees will get a 10% discount.
Final Thoughts on the Hotel
When you're searching for an affordable hotel that has both a casino and exciting entertainment, this one is a good choice. It has many excellent qualities and the rooms are clean and comfortable. It's even a good place for kids. If you're looking for a good family hotel where everyone should be able to find something enjoyable to do, this is a good option.
Videos