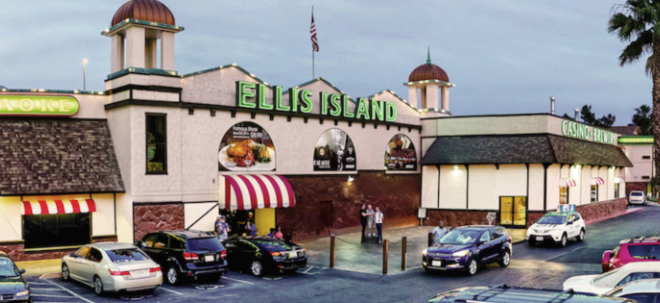 Casino Reviews
Ellis Island Casino & Brewery
By
|
Address: 4178 Koval Lane, Las Vegas NV 89109
Phone: 702-733-8901
Website: EllisIslandCasino.com
In operation since 1968, this hotel is located just one block east of the Strip. They make their own beer — a feature sure to make it a favorite locals' casino. Being from a brew town, I appreciate this endeavor, but even without it Ellis Island kind of looks like it might be a nice neighborhood secret. It looks so much fresher than most local casinos.
The hotel has 289 rooms and 12 suites. Their rooms are refreshingly bright and attractive, with all-white linens, modern wood and metallic decor, and all the beds are topped with 6 pillows.
Casino
The casino has 350 slots, video keno, and video poker machines in penny, nickel, quarter, and dollar denominations; they of course offer the progressive Wheel of Fortune and MegaBucks games. Some of the slots rooms have a low ceiling, but that area has a nice daylit atmosphere even so, with brass-finished machines, for a different atmosphere than the main casino floor, which is lit for nighttime, like most are.
Some good low-priced games are $5 craps at 6pm to 2am; $5 blackjack is offered all the time, and $5 roulette. Yes, they indeed do have a sports book. The poker room, unfortunately, closed for good. Bingo was offered in the past and still seems to be running strong, although their website doesn't even mention it.
Dining & Drinking
Being a brewery, you should get some good suds here; their beer garden is called The Front Yard. Only opened in 2019, it's an indoor/outdoor full restaurant covering two floors, with bar top gaming and lots of bigscreen TVs, even one 18-foot screen. It's a very attractive place, looking rather like a greenhouse, with glass-windowed sides and curved roof like a mini Fremont St. Experience. Their food has also been getting excellent reviews online.
Nice feature: They have karaoke!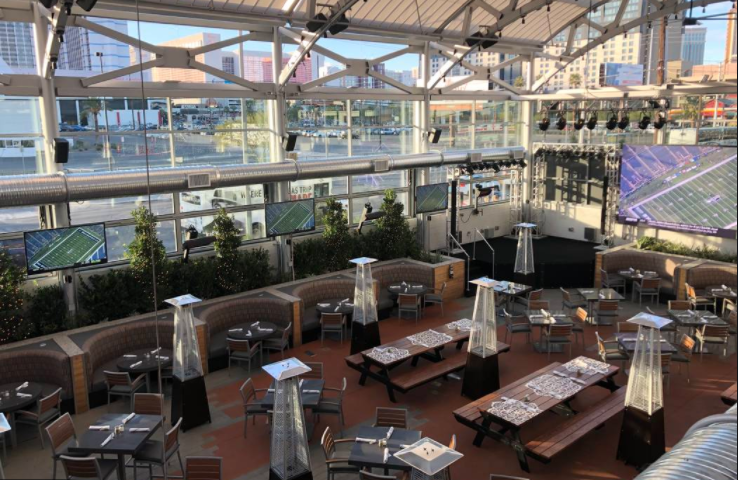 Many of their promotions extend to, or coupons can be redeemed at, the Village Pub & Poker, a restaurant that sells their beer and actually was located in Ellis Island's current spot, originally, before relocating.
This hotel has a pizza restaurant and a barbeque spot too.
Videos