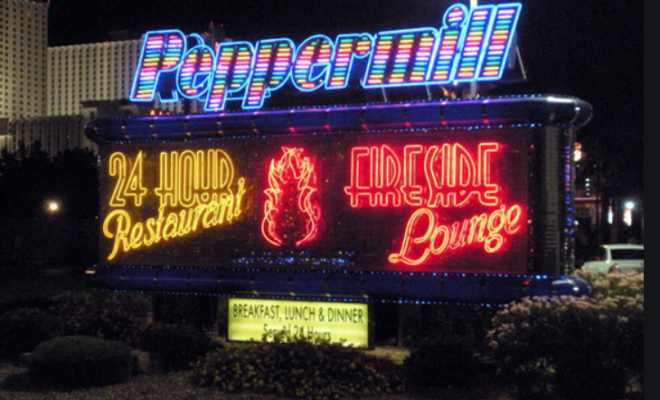 Casino Reviews
The Peppermill Restaurant & Lounge
By
|
Address: 2985 Las Vegas Blvd. South, Las Vegas NV 89109
Phone: 702-735-4177
Website: PeppermillLasVegas.com
If it's electric blue, fuchsia, and deep purple, it's probably the Peppermill. Those colors have been its signature for a long time — to sit inside is a bit like being inside a slot machine, visually, at least. They make it work in their signage and their indoor lighting schemes.
Although this place has just about 15 slot machines to play, this iconic restaurant & lounge keeps its recognition as a casino and visitors' destination for a number of reasons; sometimes it's not size that counts, but history or associations. The Peppermill has a location in Reno, and casinos in Sparks, Nevada, and other casinos have been once named this as well. At present this restaurant is a best-known dining spot in Vegas and you can gamble there and enjoy the atmosphere at the same time.
They are located between Resorts World (which is due to open as a neighbor casino in 2021) and the Riviera on the South end of the Strip. Here's the place on GoogleMaps.
Check out their menus, which include breakfast all day. The focus is American comfort food, but done better than you have a right to expect. And the electric decor feeds your eyes at the same time.