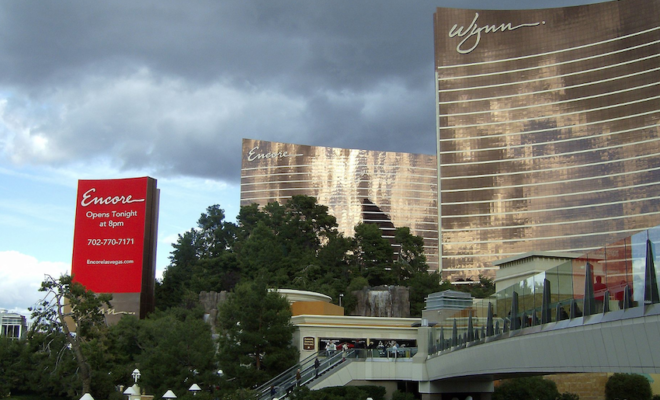 Casino Reviews
Encore Las Vegas
By
|
The Encore Hotel and Casino stands tall next to its sister, the Wynn. When you stay at this hotel, you get all of the same options when it comes to entertainment, shopping, and fine dining as those at the Wynn. It's also within walking distance of many of the major attractions on the Strip. It is considered one of the Strip's luxury hotels, located on the mid-to-Northern end of the Strip, which puts it in a prime location.


While the outsides of the Encore and Wynn are identical, the insides are very different; still, each bears the world-class design touch that Steve Wynn has brought to hotels. The modern but lush, quirky, utterly beautiful decor is hard to forget. The Encore incorporates a strong Asian theme, starting with the giant red chrysanthemums and other flowers perched on the wall behind the lobby's check-in desk. There's a lot of red; the floors are carpeted mainly in bright scarlet interspersed with gold-edged butterflies. (If you admire Asian decor, you should also visit the restaurants here and in the Wynn, especially Wazuzu's giant glass dragon, and Wing Lei's golden theme.)
The hotel opened in 2008 and although it looks exactly like the Wynn on the outside, you will find that the inside of this resort has a life of its own. When you walk inside the establishment, you will notice its unique décor: marble floors with butterfly-tiled designs and Asian symbols that stand for good luck scattered throughout the structure. It may surprise you that there are no floors numbered 40 through 49. This is because the number four is viewed as very unlucky in certain traditional cultures, and the Encore is all about having good luck and prosperity, hence the omission.
Encore offers concierge service 7 days a week during normal business hours and a valet service for all guests. Here's what else you can expect when you book your stay.
The Casino
The casino room is not what you would expect. It covers 70,000 square feet and there are a lot of dividers and drapes separating the sections of the casino. This creates a sense of privacy that you don't get in the big open spaces other casinos have. You might think that this would create a dark and gloomy atmosphere and it probably would have except for one major factor. The casino is filled with natural light that brightens everything up and creates a unique and comfortable environment.
The designers paid close attention to detail as they created this elegant design with an upbeat and very casual feel. It's simply not like anything you'll see elsewhere in town. There is also a baccarat lounge where you can go to have a great time at the Encore. Red cards can double as reward cards for players so this is something that you may want to check into before you start playing the games to see how it works.
Table Games
Many table games start at $4 buy-in and go up into the hundreds. They have all the favorite games of Blackjack, Baccarat, Mini Baccarat, Three Card Poker, Let it Ride, Pai Gow Poker, Big 6, and Caribbean Stud. They are both American Roulette and European Roulette tables.
The minimums to get into many of the games are low when you compare them to other casinos.
Poker Room
The hotel has a separate poker room, with games spread of Texas Hold'em and Omaha Hi-Low. Daily No Limit Hold'em tournaments are held next door at the Wynn, which you can take advantage of when you want more excitement. You can also visit the sports book and racebook.
Slots and Video Poker
There are about 800 slot machines and video poker machines that vary in denomination: lots of penny machines, but others designed for the more aggressive player. They also offer exclusive machines like Windfall, and they have bartop video poker.
Hotel Rooms
When choosing a room you'll notice that this hotel only has s uites. You'll find the Resort Suites in the lower portion of the hotel and these are considered the standard or cheaper rooms. Although they may be standard to the Encore, there is nothing standard about them. The rooms are an amazing size of 700 to 745 square feet. That's a lot of room for a standard sized hotel room.
They are designed with one large open space instead of separate rooms like the Suites other hotels have. However, they will have a semi-wall dividing the bedroom from the living room so there is some privacy if you're entertaining friends but not as much as you would get with a full wall separating the rooms. These Suites also have two double beds instead of one large bed.
The more expensive Suites are located in the upper portion of the building. All of the Suites at the Encore are beautifully designed and they offer a very relaxing and comfortable environment. You do get a few added features with these rooms that you won't see in many other hotels. For example, you can control whether the curtains are opened or closed and control the lights right from your bed.
You will also have two regular pillows and two large ones for extra comfort. Every room has a large flat Screen 42 to a 46-inch TV, depending on which room you choose. In each room, you'll find mirrors covering one wall, deco-style lamps, wood credenzas and you can expect your room to be clean and comfortable. If needed, there are free cribs available and rollaway beds for an additional $50 a night.
The bathrooms are enormous with a double vanity, a deep tub, glass shower, an 18-inch flat screen TV and the toilet is in a separate room for even more privacy. The bathrooms have lots of towels and all of the usual amenities most hotels provide along with a few extras like shoe polish and cotton swabs.
The Hotel Pool Area
The pool area is magnificent to say the least and it is huge. You will have access to three pools when staying at the Encore. The main pool is designed for those who want to spend a nice relaxing time poolside and it's the one that you will use if you have children. There is a lifeguard posted during pool hours to help ensure the safety of all swimmers.
The European pool is the adult only pool where you can roam around topless if you choose to do so. This one is located in a secluded part of the pool area. It features gambling and the Island Bar where you can get drinks and snacks. Some guests have complained that the quality of the food is very poor and that it's way too expensive. They are basically prepackaged sandwiches so you might want to take a break from the sun and go inside for your meals.
You can rent a Cabana or Lily Pad Bed for an additional fee that can help to enhance your stay. However, this can get expensive so if you're looking to save a few bucks, you may want to stick with the lounge chairs. All of the pools have a large number of lounge chairs for guests to rest in and catch some sun so you shouldn't have any problem finding one.
The third pool is specifically for VIP guests. If you plan to spend time at the pool, you'll need to check to make sure they'll be open during your stay. The pools are outside and they are not covered or heated, so they will close during autumn and winter.
Food and Restaurants
Wazuzu — Asian fine dining
The Switch — upscale French fare
Society Café — casual dining
Sinatra — Italian dining
Botero — steak restaurant
You also have the option of taking a short walk over to one of the award winning restaurants at the Wynn. The Encore does offer food at poolside but many guests have complained that it was way too expensive for the quality that you receive. The food is prepackaged and according to some guests, not very tasty.
The Service
The service is as grand as the hotel itself. The staff that works at this establishment has undergone extensive training and they are very efficient. It's known as some of the best service in Vegas.
Entertainment at the Encore
You can head over to the Wynn for the big shows but the Encore has plenty of nightclubs and bars. For example, the Surrender Nightclub is a great place to spend the evening and the XS is a fun nightclub where you can dance or relax at tables with soft plush couches.
The Beach Club is another nightclub with a total party atmosphere; and there are an additional four bars where you can go to have a drink, listen to music and socialize: the Southside Bar, High Limit Bar, The Lobby Bar and Café, and the Eastside Lounge, which has live piano every night.
On a quieter note, if you want to enjoy a round of golf, head over to the Wynn 18-hole golf course. It's a beautiful course with trees, a 37-foot waterfall and several streams.
Final Thoughts
Although priced like the other megahotels, this place is not quite so expensive as its sister the Wynn.
There is one drawback to the hotel: Don't get a room near the Beach Club or the XS if you're a light sleeper; it's loud (all sorts of online review comments on this), and people party just about all night.