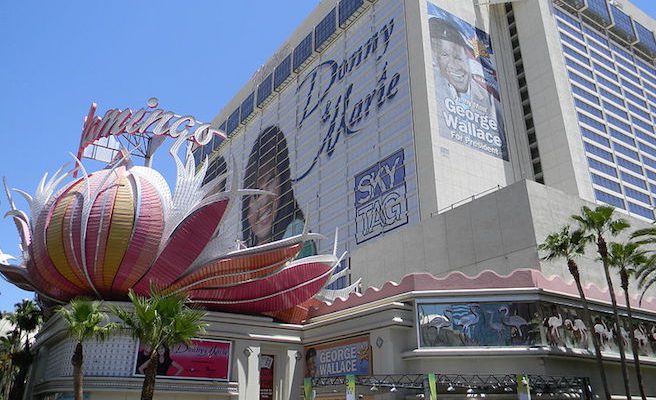 Casino Reviews
Flamingo Part 2
By
|
The Flamingo Hotel and Casino in Las Vegas has a long and interesting history that began in 1946 when Benjamin "Bugsy" Siegel opened up the hotel with 105 rooms. At that time, Las Vegas was just a desert area in the middle of nothing and it was the first hotel to be built in this area. Once the Flamingo opened, it was consider the most luxurious hotel of its time.
Throughout the years, the Flamingo Hotel and Casino has undergone many renovations but one thing that hasn't changed is its high quality service and excellent hospitality. A stay at the Flamingo will put you right in the center of the Strip where there is plenty of fun and excitement.
You can find all the excitement you want in the Flamingo Casino but that's not enough to choose this location for your Las Vegas destination. You also need to know what to expect in the way of accommodations. What type of rooms do they have? Are they comfortable? Is the staff friendly? What other activities are available aside from the casino and restaurants?
The Flamingo Hotel Rooms
The Flamingo Hotel and Casino in Las Vegas now features over 3,500 guestrooms that average about 350 square-feet. That's a long ways from the 105 rooms that it originally opened with but that just gives you an idea of how Vegas has grown throughout the years. You can expect to be greeted by a knowledgeable staff that is friendly and they are there to make your trip a great one.
The Flamingo hotel rooms are fantastic. They are modern, decorative and very comfortable. The flamingo pink colors scattered about through the rooms set off the white headboards and drapes that adorn the rooms. Combine this with the sleek and modern furniture and it gives them a sexy and sophisticated look.
The rooms feature wood-toned floors, a desk with a very comfortable chair and vintage artwork. They have either one king size bed or if preferred, you can get a room with two queen size beds. The mattresses are the soft pillow-top design and these are tripled-sheeted for your comfort. You can also enjoy faux fur throws and plush linens.
The bathrooms have frosted glass windows and doors, a jet showerhead and many bath amenities such as hair dryers and complimentary shampoos. Keep your clothing fresh and neat with the built-in iron and ironing board and stay in touch with the in-room phones that include voice-mail.
If you're into technology, you'll simply love the flat screen TVs with video-game consoles and pay movies, surround sound stereos with MP3 compatibility and there's even an iPod docking station. The rooms include safes to help protect your valuables and satellite television is available.
Extras
These rooms are very comfortable and relaxing and upgrades are available. Some of them feature large windows with an incredible view of the Strip overlooking Caesars Palace. You can even take advantage of in-room massages if you need to wind down after a long night of gambling or have access to high-speed Internet for an extra fee.
Cribs and rollaway beds are available per request but there is an additional fee for the rollaway beds. Children under the age of 17 can stay free with parents or guardians and they will provide childcare referrals if needed.
For those who mix business with pleasure, the Flamingo Hotel and Casino offers conference rooms, a business center, a currency exchange and banquet facilities. The Flamingo is wheelchair accessible and housekeeping is available daily.
PetStay Las Vegas
The Flamingo Casino in Las Vegas is one of the first casinos to offer the 'PetStay" program that allows you to take your pet on vacation with you. The hotel has specific rooms allotted just for pet owners. These rooms come with all the things you need to keep your pet comfortable such as water and food dishes, a mat and treats to make your dog feel as pampered as you.
You're allowed two dogs per room but they cannot weigh over 50 pounds. There is a designated area where you can walk your dog for exercise and where he can do his business. They also provide any additional information that you may need to care for your pet properly while staying at the hotel such as grooming and veterinarian care.
Your pet must be in a crate when left unattended and they need to be taken out of the room when they're being cleaned. If you have a pet that tends to bark a lot or that gets really loud, it would be better to make other arrangements and not bring him along on your Vegas trip. If your pet gets too loud, you will have to remove them from the hotel.
The Hotel Pool Area
The outside of the resort is just as glamorous as the inside, especially if you love the festive Caribbean theme. There's just so much to do it's hard to decide where to begin. One thing that you don't want to miss is the Wildlife Habitat where you'll see pink Chilean flamingos, ducks, koi fish and more. It a relaxing area where you can get a glimpse of nature so be sure and stop by.
When you're in the mood for some fun in the sun, be ready to be blown away by the astounding pool area. There are five beautiful lagoon swimming pools set in the middle of the Caribbean themed environment complete with palm trees and all. The landscape and pools are gorgeous but there's even more for guests to enjoy.
In this area, there are streams, ponds, waterfalls, fountains and a gorgeous rose garden scattered around the landscape. You'll also find two spa tubs, two whirlpools, a wet bar and a seasonal poolside restaurant and large water slide.
The staff is on duty every day to serve you and to provide you with towels and chairs as long as they are available. It is on a first come first serve basis and it does get packed quickly so to ensure you get a seat, you'll need to get out early. They also provide lifeguards for the pools to help ensure the safety of the guests and one of the pools is designed for children.
Things to Do
If you want to stay fit while on your Vegas trip, the Flamingo offers a very nice fitness center and there is a full-service health spa available for guests to enjoy as well. There are four lighted tennis courts and if you want, you can even have some of the professionals at the hotel give you lessons, for a fee of course.
When you stay at the Flamingo you can receive preferred access to two of the finest golf courses in Las Vegas. These are the Rio Secco and the Cascata. If you enjoy a good game of golf this is a big advantage. These two golf courses offer an incredible view of the Vegas desert and some very challenging holes. It's a lot of fun and something that you may want to plan for during your stay.
Enjoy your outdoor time by swimming, tanning, walking or just lounging around. With this much beauty and comfort there is something for everyone to enjoy every minute of their stay. When inside take advantage of the incredible casino or dine at one of the onsite restaurants. As a whole, the Flamingo Hotel and Casino is a great destination place for your next Vegas trip.