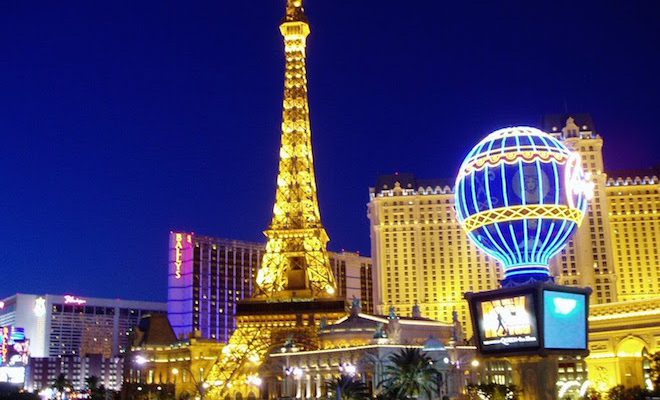 Casino Reviews
Paris Las Vegas – Part 2
By
|
If you always wanted to see how Paris looks like but travel to Europe isn't an option, you can always visit the Paris Hotel and Casino in Las Vegas. This resort is themed after the city and it even has a replica of the Eiffel Tower standing tall over the casino area. You'll find this resort right on the Strip.
You'll find a café on each corner and you can enjoy some great shopping at this hotel. The staff works hard to recreate the environment that you would experience if you did visit the real city by imitating the same passion and excitement Paris offers, just in a scaled down version, of course. You'll get the real experience when you encounter employees that speak to you in French.
The casino has a lot to offer gamers even though it's not that well known. Most of the attention is focused on the theme and tower so the casino part of the hotel tends to be overlooked a lot. However, if you're interested in playing slots, poker or placing wagers, you can find most anything you need in this casino.
The hotel rooms follow the Parisian theme and décor right down to the sheets. All the rooms are comfortable and spacious with amenities you would expect to see in a Vegas Resort.
Hotel Rooms
There are nearly 3,000 rooms in this hotel and there are several different styles to choose from. You can expect authentic details and elegant décor throughout the hotel. All rooms have TVs, video-on-demand, speakerphones with voice mail and in-room safes along with a few extra amenities such as hair dryers and irons with ironing boards.
The Luxury Guest Rooms have rich fabrics that add to the French décor and either a king or two queen sized beds. The marble bathrooms feature both a tub and a separate shower. The Premium Guest Rooms offer a great view of the Vegas Strip, European custom furniture and warm colors and rich fabrics for the décor.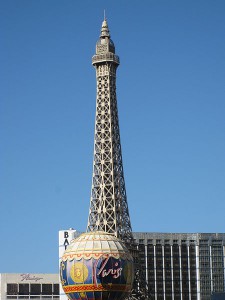 If you need more room, the Suite Le Mans has a separate area with chairs, a couch and coffee tables. It also has a refrigerator and a built-in wet bar. The Suite Calais rooms have everything the Suite Le Mans do but they give you even more space by adding a dining area to the seating parlors and the Master bedroom has both a his and her bath. It also includes a whirlpool tub.
At the very top of the towers, you'll find the Red Room Luxury and the Red Room Premier rooms. These have a very distinctive French style to go with the custom European furniture, which includes signature sofas and chic color palettes. These are these most romantic rooms in the hotel.
PetStay Rooms
As part of the PetStay program, the Paris Hotel and Casino in Las Vegas offers several rooms just for visitors with pets. However, you can only keep your dog in one of the PetStay rooms so it's very important that you plan ahead and make your reservation in advance to ensure you get a room. If you just show up and all the PetStay rooms are booked, you won't be allowed to keep your pet at this hotel.
Hotels that participate in this program make it possible for dog lovers to bring their pets along on their trips but you do have certain rules that you must follow. For example, your pet cannot weigh more than 50 pounds, he must be present at check-in and you are limited to two dogs per room.
You must also keep your pet in the designated area and keep him on a leash when out of your room. When your pet is left alone in the room, she must be in a crate and excessive barking will not be allowed. These are just a few of the rules so check with the hotel for a full list when you make your reservation.
Extras
This hotel offers several extras for guests such as wheelchair accessible rooms, blackout drapes, wakeup calls, in-room massages and electronic checkout. Both cribs and rollaway beds are available and you can have access to high-speed Internet services for a fee.
The Hotel Pool Area
The Soleil Pool is one of the most unusual pools you'll ever visit. It's a rooftop pool that covers two acres and it gives you a great view of the replica of the Eiffel Tower. It's surrounded by a well-maintained French garden and there is a spa in the area, too. The poolside attendants will take care of all your needs and there is a café in the area where you can get refreshments and food. You can also opt for a poolside massage and you can rent a private cabana if you want privacy.
The Paris Hotel also offers Villa Rentals with a private pool and a courtyard for privacy. They include a complimentary bottle of Cazadores Tequila, Grey Goose Vodka or Bacardi Rum, whichever you prefer and these villas will accommodate up to eight people.
Things to Do
There is plenty to do at the Paris Hotel in Vegas from relaxing at the "Le Rendezvous Concierge Lounge" on the 31st floor to spending time at the spa where you can rejuvenate your whole body. You'll be pampered in a luxurious setting by professionals and you can take advantage of the sauna, whirlpool or vanity bar. There is also a fitness center where you can use a variety of equipment to work out frustrations or just to keep up your routine while on vacation.
There's also plenty of shopping that'll make you feel like you truly traveled to Paris for a day. There's golfing and many other activities such as hiking, tennis and horseback riding nearby that you can enjoy if you want to venture outside of the premises.
Out of all the things to do at the Paris Hotel and Casino in Las Vegas, the Eiffel Tower experience is the most famous. This amazing attraction gives you a bird's eye view of the city. It's one of the most romantic spots in Vegas but there is something for everyone to enjoy at this attraction. There are several exciting rides that you can take advantage of, too. However, some of these can be very scary so they're not for everyone. The scaled down replica of the Eiffel Tower is a skyline signature of Las Vegas.
Final Thoughts
The Las Vegas Paris Hotel and Casino is one of the most popular resorts in Vegas and it gets a lot of attention because of its Paris theme and the replica of the Eiffel Tower. However, it has a lot more to offer than just a family attraction. It has a good casino with many gaming options and a very nice poker room and Sportsbook facility.
The hotel rooms are also very nice, comfortable and clean. Some of them are very large and beautifully decorated sticking with the Parisian theme. Overall, this Vegas hotel has a lot to offer anyone visiting the city. There's plenty to do for the whole family so it's a good choice when searching for a place to stay with kids.
Videos