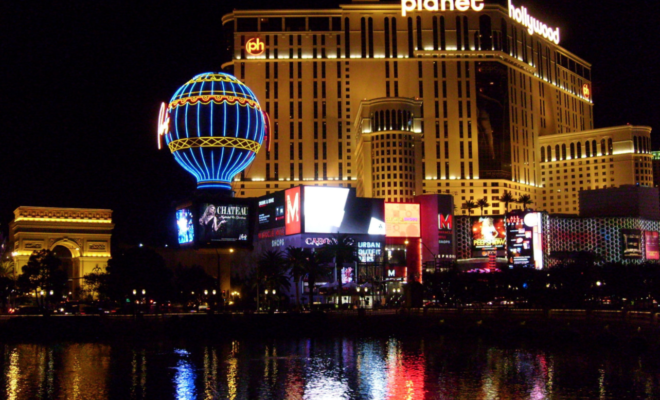 Casino Reviews
Planet Hollywood
By
|
Address: 3667 Las Vegas Blvd. South, Las Vegas NV 89109
Phone: 702-785-5555 or Toll-Free: 866-716-8130
Website: Caesars.com/Planet-Hollywood
Built in 1998 on the former site of the Aladdin Hotel, this south-end Strip hotel is next door to the Paris Hotel and across the street from the Cosmopolitan. Here it is on GoogleMaps.
Hotel Rooms
A major remodeling gives upcoming guests the pleasure of new rooms in the building, fresh, and with modern decor. They are amusingly called "Ultra Hip" Rooms: the King has 450 square feet and goes with 1 big bed, light-colored walls, luxury bedding with pillowtop mattresses, mini refrigerator, full bathtub and separate shower, desk and internet for 2 devices, and more. The Queen is just a bit smaller at 430 square feet, has 2 queen beds and about the same other amenities. The Ultra Resort and Ultra Resort Vista Rooms are larger and have grand views, even from the bathtub, of the city. They come with either king or 2 queen beds, and you can choose ones that allow pets too. Other, grander choices include the Ultra Hip Strip Suites, Ultra Panorama Suite, the 2-Bedroom Panorama Suite, the Boulevard Suite, or the top-of-the-line Apex Suite and Penthouse, which offers views both North and South.
All room types except the Penthouse come in another group too, as Smoking Rooms.
The Casino
Poker room has 12 tables, and this is where No Limit Texas Hold'em Tournaments take place 5X a day. The Planet's poker room is a World Series of Poker (WSOP) Circuit game site. Check their website for the schedule of competition of the yearly Series and the games right there where you can qualify for the big event.
**Due to the COVID-19 public health emergency, this year's games that were to take place May-July are postponed and will be rescheduled later in 2020.
With the Strip's casinos to reopen soon, Planet H is debuting its interactive gaming machines: CannonBeard's Treasure, which is a blackjack game for 2-4 players, and Gamblit Poker, 4-person game of poker where you move to seize cards you need that displayed. They feature big, fast possible winnings. Both games provide some social distancing, as you don't directly face any other player but your own game console and screen.
The casino holds at least 1087 slot machines. Among their slots are video craps, video keno, video blackjack, and the ever-present video poker. Here and there in the casino, the Crazy Girls dance on top of the tables or bar.
The Racebook & Sports Book has two sections. The race book area has daily races shown on jumbo screens. The sports betting section has dozens of plasma screens and theater-like seating, covers most major sporting events in huge variety.
P.H. is rated as a Budget-Friendly hotel. Travel reviews include some complaints about the pit dealers' attitudes (some reviews said they were rude or didn't like their jobs), and high limits on table games — nothing below $15.
The Miracle Mile Shops are built into the property,
Planet H Spa by Mandara, where you can get massage, body therapy treatments, facials, hair & nail treatment, tanning services; in the salon you can also get cuts, extensions, color, professional makeup application, bridal services, waxing services, eyelash enhancements.
Restaurants:
The Strip House Steakhouse — fine dining surrounded by pictures of vintage sexy photos of women. Beautiful reviews for their steaks.
Koi — Japanese fine cuisine and a beautiful lounge area with a view. Supposed to be a celebrity favorite spot.
Earl of Sandwich — as it sounds, quick sandwiches but hearty.
Gordon Ramsay Burger — he prefers to cook burgers over open flames whether it's a beef or vegetarian patty. Nice selections and unusual variations on ordinary stuff like nachoes and sliders.
YOLOS Mexican Grill — casual menu but better ingredients like ahi tuna. Lunch or dinner, and look for specials.
P.F. Chang's Las Vegas — your recognized Chinese spot but competing here has freshness and special changes.
Pin-Up Pizza — as if Hollywood always meant scantily-clothed women. But the slices are the biggest.
Ringer Wings, Pizza & Slider Sports Bar — their name tells you a lot of what they serve. Fancy types of wing flavors.
Cafe Hollywood — Has cafe foods as well as a wine bar and Counter for desserts. Open 24 hours.
Spice Market Buffet — every night there's a Prime Rib Dinner, along with foods of Asian, Italian, Mexican, Middle Eastern, and American cuisine.
Bars & Cocktail Lounges:
The Heart Bar — Friday nights at 8pm, the Crazy Girls (tabletop dancers) take over the Bar
Extra Lounge — themed for celebrity-watching and partying. The name evidently refers to actors who are "extras," as if you can be discovered there by a producer.
PH Shiver — Frozen cocktails or margaritas, plus beer, cider, or their unique Red Bull and vodka.
Blue Moon Bar — in front of Zappos Theater. Features their own exclusive beer. Sports bar seating, giant TVs.
Entertainment and Things To Do
Concerts are staged in the Zappos Theater, which will reopen later this year when restrictions are lifted.
The Miracle Mile Shops are built into the casino building, a huge upscale mall with extra Vegas-type features to goggle at. It has 200 shops, restaurants, and live entertainment. This section is separate from the P.H. Shops, where there's more souvenirs and regular stuff to buy.