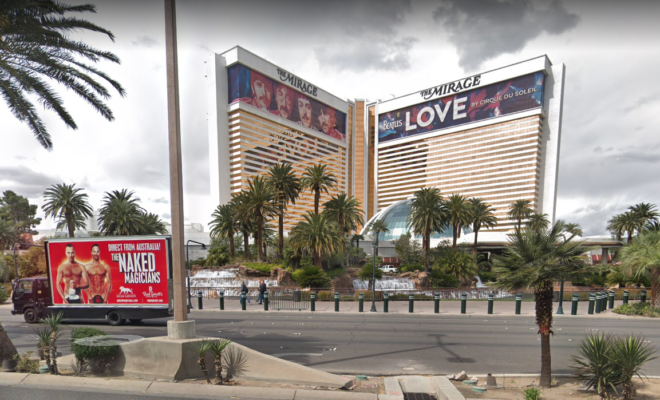 Casino Reviews
The Mirage
By
|
Address: 3400 Las Vegas Boulevard South, Las Vegas NV 89109
Phone: 702-791-7111 or Toll-Free: 800-627-6667
Website: Mirage.MGMResorts.com
Steve Wynn took Las Vegas casino building in a new and lavish direction with this signature property. It became, in 1989, the most expensive construction in town by far, and the financing was unusual too, done via junk bonds. It was geared towards startling facades (like an actual working volcano at the entrance) and luxe materials (like real gold dust incorporated into the windows, making them look golden). Its shows and special features had not only wild animals but the rarest ones — white tigers — and the most popular — dolphins.
This hotel is one of the MGM Resorts properties, so its rewards points club is MLife, which gives discounts on room rates, among all the gaming perks. The building is located towards the South end of the Strip. Steve Wynn developed this hotel, built it in 1989 when it was the biggest hotel not merely in Las Vegas but the world, with 3,044 rooms. It held the famous Siegfried & Roy show of magic and wild tigers for 13 years, and still has the wonderful Siegfried & Roy Secret Garden and Dolphin Habitat. These days its big shows are ventriloquist Terry Fator and the BeatlesLove theatrical show. Here is the hotel on Google Maps.
Mirage Casino
The casino turned non-smoking in 2016.
You'll find over 100 table games, including includes all of the favorites such as Baccarat, Blackjack, Roulette, Ultimate Texas Hold'em, Big Six, Craps, Crazy 4 Poker, Pai Gow, 3 Card Poker and Let it Ride; also Spanish 21. You can also join in on the excitement of the game of Casino War. When playing Casino War, you and the dealer will take part in some fast-paced games in which the highest number wins.
Don't forget that the hotel has poker. Their purple-and-gold poker room has 12 tables, and spreads games of Limit and No Limit Holdem, Omaha, and 7-Card Stud. No-Limit Texas Holdem tournaments are played daily, usually with a buy-in of $65, or $120 on the weekend.
Slots and Video Poker
Mirage has 1350 slots, two of the most-played are probably IronMan — which is hard to win on, apparently — and Willy Wonka games. You'll find reels, 3D slots, HD slots, all in a wide variety of denominations so you can play penny games all the way up to $1,000 a spin. Games include include multi-line machines, interactive slots, single machine progressive and the traditional reel machines.
Sports Book
The sportsbook is called BetMGM, and it has remained an excellent one over time. It is one of the largest sportsbook facilities in the area. It has over 10,000 square feet dedicated to the betting area where guests can relax in style while making their wagers. With this much room, they can easily serve a few hundred betters at one time while still maintaining maximum comfort for everyone. Open daily 8am to 11pm, it contains 85 feet of high-def viewing screens.
Horse racing is shown on 6 big screens and there are also individual player terminals — 150 desktop monitors where individuals can place bets in private instead of going to the counter. There are also 18 different race screens around the area that makes it easy to keep up with all the action. If you bet on horses, you can get free drinks much faster (a $20 will get you one) than other sports bettors. There are 5 interactive tables from which you can watch and bet, or play/bet fantasy sports too.
The casino has some of the highest limits in the area and the widest selection of betting options. Most of the bettors that come here are visitors and they don't usually bet the props as often as professionals do. For this reason, this sportsbook facility normally offers basic props with the exception of Super Bowl Sunday, when you'll have a larger selection.
Mirage Special Features
The Volcano
This is one feature you don't need tickets to see. You walk right by it on your way in the front door. Its flames, which shoot up in streaks and fireballs in a show put on multiple times each night, used to scorch the palm trees in the early years. The water surrounding it gets boiling hot, but if someone managed to climb there to jump in, there's an electrical safety system that shuts the whole volcano down.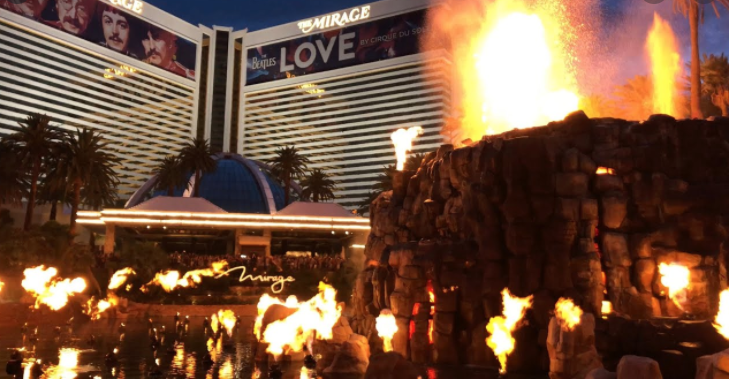 The Aquarium
In the Lobby right behind the front desk is the Mirage Aquarium, a 20,000-gallon tank holding an indoor, artificial coral reef. The sides of the tank are 4-inch thick acrylic, and it measures 53 feet by 8 feet high, and is 6 feet deep front to back. If anyone else is wondering about the manmade coral reef, it's a common thing to create and new ones get made in the ocean all the time — on sunken ships or big appliances, on which algae start to cling and attract layers of living organisms. Manmade metal coral reefs can even be treated to electricity, which starts limestone to build up on the outside, a good basis for the algae and later growth. All natural living coral is needed right where it is, in the ocean, as it is a threatened species.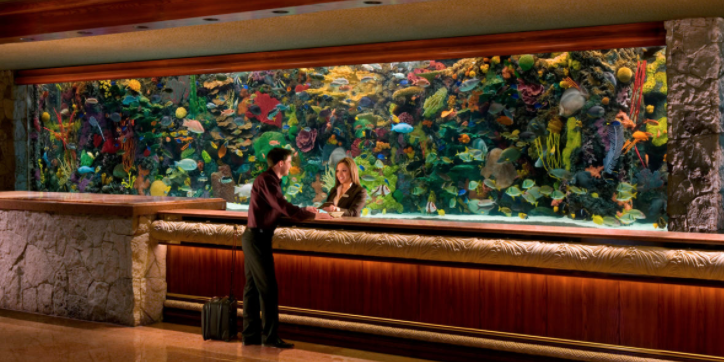 Contained in the aquarium waters are around 450 fish, from 85 different species chosen for compatibility in this environment. Some of the fish you'll find there are angelfish, puffer fish, tangs, porcupine blowfish, eels, stingrays, sharks, and sea bass.
Secret Garden and Dolphin Habitat
This special place now boasts of a new baby dolphin. Tickets are required to explore this special habitat.
Mirage's Pool is a winding, beautiful system of fountains and miniature islands of tropical landscaping. It makes an excellent setting for lying around or swimming.
Separately, there is a Bare Pool Lounge for adults only that permits topless bathing, European style. There is a full service bar and poolside-served menu items.
Restaurants:
Tom Colicchio's Heritage Steak — devoted chef dining.
Osteria Costa — coastal Italian cuisine, shellfish specialties.
OTORO — Japanese cuisine, served family or sharing style
Diablo's Cantina — Mexican dining
Cravings Buffet —
STACK Steakhouse — American steaks, surf and seafood.
The Still — craft beer & cocktails, sportsbar-type food, because it is a sports bar.
California Pizza Kitchen — hand-thrown classic pizzas.
The Roasted Bean — good coffee and also salads, sandwiches, pastry.
Bars:
The Bare Pool Lounge — adult-only partially clothed sunbathing, with a full bar and its own menu.
OTORO Lounge — This is a far East decor and setting, very pretty and dimly amber and curtained. It is part of the restaurant.
Heritage Steak Lounge — within the restaurant.
STACK — Has a long bar in what resembles a canyon.