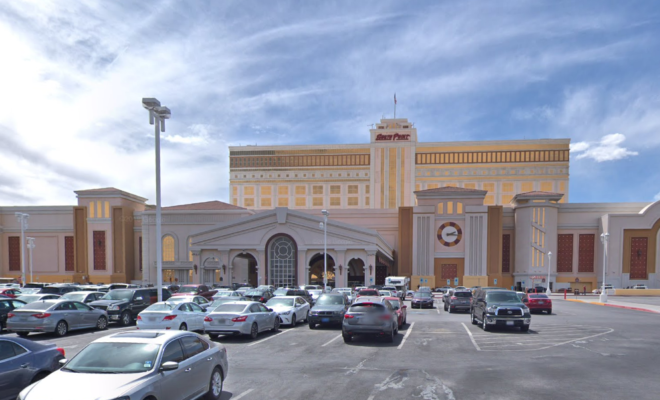 Casino Reviews
South Point Hotel
By
|
Address: 9777 Las Vegas Blvd. South, Las Vegas NV 89183
Phone: 702-796-7111 or Toll Free: 866-791-7626
Website: SouthPointCasino.com
This hotel is located minutes from the Strip, and you can reach it by going South on Las Vegas Blvd, passing McCarran Airport, and it's a few miles further on the corner of Silverado Ranch Boulevard. Here it is on GoogleMaps.
It's laid out quite differently from the Strip hotels; this is a lovely, sprawling building complex that obviously can expend more floor room for guest accommodations, the casino itself, and its features such as the huge spa and the cinema complex.
Casino
It's only away from the very busy Strip that casinos can manage to offer Bingo; the players must sit there for long sessions, and it's just too pedestrian, apparently, for the biggest hotels. How sad! But if you love bingo, you can add this hotel to your destination list. They offer 8 sessions daily starting at 11am. During each session there will be 12 bingo games and one Cashball Jackpot. They have a progressive game, and a $10,000 bonus. Electronic units are available at a fee; complimentary beverages served at all sessions. For current jackpots, session times and more, check the Bingo page on their website.
The casino has a huge number of slots — 2,390 — of many denominations beginning with a penny a pull to dollar and 25-dollar slots, video poker, progressive jackpot game MegaBucks.
South Point Poker
The poker room is 24 hours, and has 22 tables. It's nonsmoking. They offer games with nice low blinds at $2-$4 and $4-$8 on Limit Texas Hold'em, and even lower blinds on No-Limit Texas Hold'em, at $1-$2 and $2-$5. Poker play is tracked for your comps benefit; if you're a poker guest, definitely ask about a poker room comp. South Point also runs 4 tournaments a day, and has High Hand of the Hour prizes.
Race and Sports Book
The Race Book has over 150 seats (you can purchase earphones to listen to the race audio), and 16 interactive player terminals for betting. The Grandview Lounge shows racing on their TVs.
The Sports Book, a large separate section, contains 100+ seats, with two huge, wall-covering big-screen TVs, and more smaller ones. More seats are in the Del Mar Lounge, where you can watch sports action in comfort.
Hotel
The property is expansive, with 2163 rooms and suites. There are Premium Rooms which are generously sized at 500 square feet, or Suites, which are a good third larger at 835 square feet — or 1335 for the 2-bedroom ones. Business guests can get a suite suited for work and meetings, with conference table, desk, bar, and living room seating. The rooms are attractive, some with wood veneer flooring, others with wide curved bay windows with nice views and carpeting.
The hotel has mini-fridges in every room, high-resolution TVs, Serta Point Plush mattresses, and WiFi (included in resort fee).
Their spa & salon is called the Costa Del Sur. Like many other casino-hotels off the Strip, South Point devoted a good amount of space and luxury settings for this health and beauty rejuvenation spot. It's 40,000 square feet filled with steam rooms, whirlpools, 27 treatment rooms and some couples suites for a more private experience. For quite a while now, spas have promoted couples' luxury spa sessions as part of romantic vacations.
The spa also has a gym with a group exercise class 3 days a week, called Boot Camp. While spa use costs extra — you can purchase 1, 3, or 5-day passes — Gym passes are already included in your resort fee.
Pool & Entertainment
The lagoon-style pool is large, with a wading pool separate, and a hot tub. The pool features a deli right there, a bar, and there are scheduled sessions of pool yoga too.
Other things to do include visiting their huge 16-screen cinema, or getting tickets for one of the headline shows in the 400-seat Showroom. Check the current shows here, which may be comedy, music, magic. Other areas present dancing and live bands on weekends.
Restaurants
There are 11 different restaurants.
Michael's Gourmet Room — just 50 seats, for exclusive fine dining.
Silverado Steakhouse — typical upscale Las Vegas steaks.
Don Vito's Italian
Primarily Prime Rib
Baha Miguel
Big Sur Oyster Bar
Zenshin Asian — chefs Terence Fong and Yoji Shimonishi cook contemporary Asian dishes.
Garden BUFFET — like on the Strip, has many nationalities: Asian, Mexican, Italian, Chinese; then Barbecue and Seafood and special Mongolian dishes.
Coronado Cafe — open 24 hours.
Steak n Shake
Del Mar Deli
More
The Point's Arena and Equestrian Center is where they hold rodeo type events and horse-related exhibits. The schedule is uncertain as of now but you can check their website. This is
The complex also contains a bowling center, an arcade — along with the needed snack bars, ice cream shops, and coffee places you'd want there. It's a big, big place.
Equestrian Center.