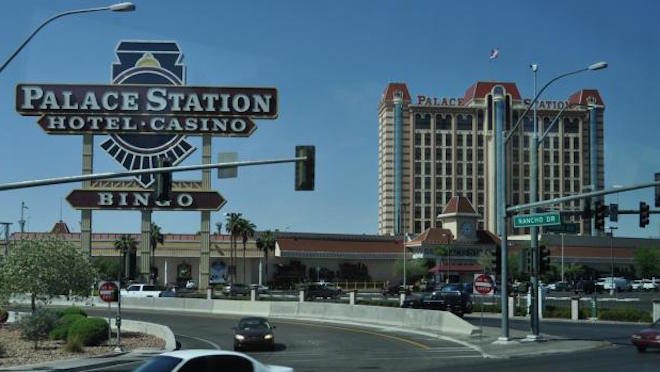 Reviews
Palace Station – 2
By
|
The Palace Station Hotel and Casino is located about a mile from the north end of the Vegas Strip. It's close enough that you can easily travel to the Strip to visit some of the most famous restaurants and tourist attractions in the city. However, it's far enough away to keep you out of all the hustle and bustle if you prefer to avoid most of the crowds there. This puts it in a good location for some visitor preferences.
The Station is not a tourist hot spot but that doesn't mean it's not an appealing option. It all depends on what you're looking for and what you want to get out of your stay. Some visitors want all the frills and glamour when visiting the city; but another way to travel here is by choosing places and games and restaurants the locals like, because they're usually really good deals. Locals pick out what's fun, filling, clean, frugal, interesting, reliable, friendly, historic… the list of good stuff goes on. This kind of choice wouldn't necessarily be of the trendiest or the biggest places, or brightest-lit gambling halls.
In some ways, the hotel shows its age but in other ways it keeps up with some of the more modern locations. While not the largest, fanciest or most extravagantly decorated, it is however popular among the locals. One thing that draws so many people is the casino. It is known for having one of the most reliable gaming floors in Vegas complete with a good poker room and Sportsbook area. They're a long-established gaming spot. If you're in town to gamble, this is a great option.
Of course, not everyone wants to gamble and for those who don't, the type of service you receive and the quality of the rooms is a very important factor in determining where you stay. Everyone wants clean rooms and decent service when staying in a hotel. So, how does the Palace Station Hotel and Casino stack up to the other casinos in the area? All in all, it does pretty well.
Hotel Rooms
The rooms are spacious and amenities keep you comfortable. They simply offer guests two room options: the Luxury Tower or the Value Courtyard.
The Value Courtyard Rooms are located in a two-story building and they are the oldest rooms in this hotel. The environment creates a casual setting that is quiet and relaxing. There are 430 rooms in the Courtroom that are offered at discounted rates for the money-conscious consumer. These rooms are smaller than the ones that are located in the tower.
All of the rooms have cable TV, dataport phones, safes and Internet access. Hair dryers and ironing boards are also included. Some rooms have a tub and shower combo while others only have showers so if you want a tub you may want to specify this when reserving a room. Bathrooms come with complimentary shampoo and conditioner.
These are the cheapest rooms but keep in mind that you're not going to get anything special when you rent one of them. They're an affordable place to rest and sleep during your downtime from betting, with a bed and other necessities. However, they are clean and decent.
The Luxury Tower is 21 stories high and you'll ride a glass elevator from the casino on the ground floor to the floor where your room is located. There are over 500 rooms, which have undergone renovations to make them more modern and comfortable. They have a nice view of either the mountains or the Vegas Strip. These rooms have the same amenities as the Courtyard Rooms but with flat screen TVs and coffee makers.
Palace Station Restaurants
Perhaps the eatery best known at Palace is The Oyster Bar, where you can indulge in fresh seafood, watch them cook it in front of you, and know that it's available to you 24 hours, yes. The Oyster Bar gets great reviews on Yelp and other travelers' sites for the food quality. The Grand Cafe is also open 24 hrs. Other restaurants are the Charcoal Room Steakhouse, Cabo Cantina (Mexican contemporary cuisine), Little Tony's (pizza where thick crust is VERY thick, thin is nice & crispy), and the Feast Buffet, which won "Best Breakfast Buffet" from LV's newspaper the Review-Journal.
Extras at Palace Station
There are several extras for guests. For starters, there are shuttle services to get you where you need to go on the Vegas Strip and to take you to and from the airport at no cost to you. They offer Western Union Services too.
There is no extra charge for kids 16 and younger as long as they don't require any special bedding and they share the same room as parents. Rollaway beds are available upon request but they may be limited.
There are designated smoking areas throughout the hotel and if you like to shop, there are a few gift shops onsite.
The Hotel Pool Area
There are two medium sized heated pools and two Jacuzzis that are a nice place to go and relax. They are fairly simple in design but they have a quiet environment where you can really enjoy sipping on a drink while taking in some rays. It's one of the quietest pool environments you'll find and the odds of your being disturbed by a lot of partygoers is very slim. It's also open until midnight, which is rare in Las Vegas.
Things to Do
Most of the action at this hotel takes place in the casino. It's considered a very good one by locals. There is a fitness room available and also a Business Center for personal use.
There are a number of activities you can take part in outside, such as hiking, biking, horseback riding, swimming, golfing and even helicopter tours. In addition, there are many tourist attractions to see just minutes away.
Final Thoughts
If you stay at this hotel you'll encounter mostly local residents. You won't find all the hype and beauty that you'll see at some of the Strip hotels and you won't get the same type of treatment. Management is not concerned about making guests feel special. Instead, their main concern is cleanliness and taking care of routine business.
If you need assistance, the staff will be happy to help you but you may have to ask. Don't expect them to notice you need help because more than likely, they won't. This is not because they're rude or because they don't care but because they are very busy taking care of all the necessities.
Most of the clientele at the Palace Station seem to be older adults but you will see a few young adults scattered about. It just seems to cater more to the older generation because it's not a party type environment. Children are welcome, but you won't see many kids at this hotel either. There's just not really anything for them to do here.
If you're not concerned with getting special treatment and you don't need to be surrounded by extravagant décor, this may be a very good option for you. It's important to note that some visitors have complained that the courtyard rooms are below standard and severely outdated. However, most visitors seem to be very pleased with the Tower rooms because they are much more comfortable and modern. The hotel has clearly made a lot of visitors happy enough to return, and recommend it to others. Perhaps the combination of savings and a few reliably good features have made it a favorite of those who've experienced Palace hospitality.
Videos