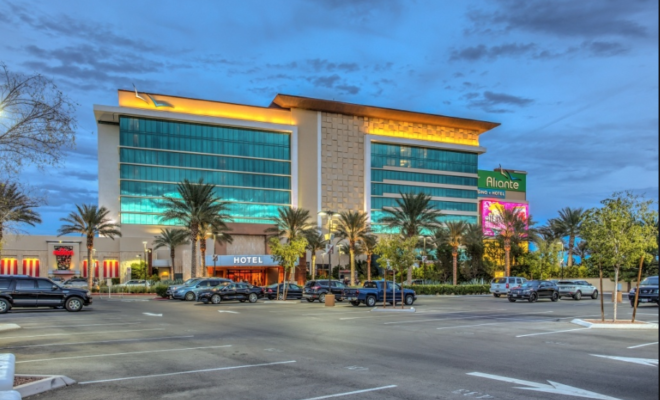 Casino Reviews
Aliante Casino Hotel & Spa
By
|
Address: 7300 Aliante Parkway, North Las Vegas, NV 89084
Phone: 844-790-3994
Website: AlianteGaming.com
This hotel resort has become a significant casino star in the Las Vegas region. It's the latest to be constructed in North Las Vegas, and is a drive of about 25 minutes — or roughly 20 miles — from the LV Strip. It's on the Aliante Parkway, which is easy to remember. Built in 2008, Aliante was owned originally by Station Casinos, and sold to Boyd in 2016. It takes its name from the community of Aliante, which was envisioned as primarily residential and recreational, with plans to allow 1 casino; it would rival Summerlin and similar areas.
Development happened fast. Now that Aliante is under different ownership, it too has changed somewhat according to Boyd management ideas.
Casino
Penny machines predominated the slots when Aliante opened. About 2/3 of the 2500 or more games were penny slots. Now there are about 1860 machines.

All the favorite classic casino games of blackjack, craps, roulette, video poker, Pai Gow poker.
Bingo: Once you're away from the Strip, casinos usually have bingo in the area. Aliante's bingo parlor serves 200 players, and uses paper cards exclusively. It is also completely non-smoking. Their bingo staff is, as the rest of the resort workers, reviewed as being very friendly and thus made the gaming better.
Their race and sports book areas get strong positive reviews for the ease of wagering, and comfort.

Restaurants
Bistro 57 — Italian dishes.
MRKT Sea & Land — Seafood & steak.
The Salted Lime —- Full cocktail bar, chicken, beef, quesadillas.
Farm 24/7 — Substantial favorites of country-farm food.
T.G.I. Fridays — the casual restaurant you know.
Medley Buffet — Priced according to day. Highest cost is Saturday dinner, at $25.99. Sunday brunch is $19.99. Discount with a players card.
Capriotti's — part of food court
Johnny Rocket
Rubio's —- Mexican
Nathan's Hot Dogs
Dairy Queen
Also, a Starbucks for your java fix.
Entertainment
There's a gaming Arcade and a 16-screen movie theater.
The pool gets strong approval from visitors. It is also open to the public at certain hours. (No outside food allowed here!)
Hotel
The 202 rooms come in medium to low prices, making this a family-level vacation spot.
Parking is free in the garage, so when the lot in front gets full, which it does quickly, head for the garage.
This is a well-reviewed, relaxing resort away from the noise of the Strip. Pluses seem to be that staff is friendly, the spa area and pool are very attractive, and much of the casino provides fun — particularly sports book action — but reviews on the other side indicate the hotel often has shortages of supplies and may possibly have some age problems.
Videos