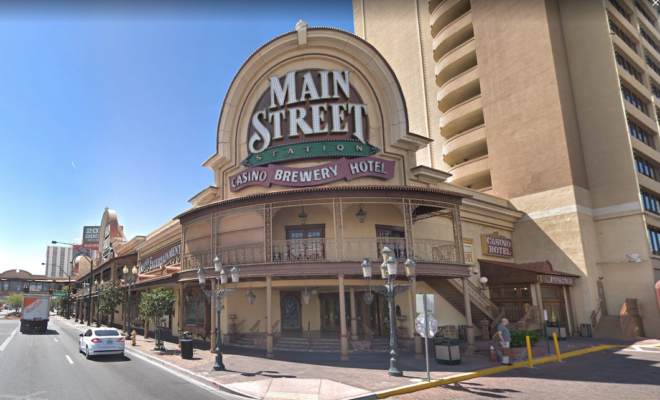 Casino Reviews
Main Street Station
By
|
Address: 200 North Main Street, Las Vegas, NV 89101
Website: MainStreetCasino.com
Main Street Station is a downtown Las Vegas casino. It opened with an old-timey railway station theme and its lobby and facade contain a lot of pieces taken from famous old banks, hotels, and railroad cars. The name causes some people to mistake it for belonging to the Station Casinos family, but it never did. The hotel is owned by Boyd Gaming (which owns The Cal and the Fremont, both downtown too), so you should definitely acquire a B Connected card for all the discounts, perks, and points. If you want to know where else to use your card in the wider area, see here: Boyd hotels.
This hotel is a budget-conscious place, like most downtown spots. But it's charming. Its Victorian-era decor starts in the lobby at registration, where the front desk is an antique taken from an old-time railroad station. Benches nearby are the same. The hotel also owns a number of famous antique Pullman Cars, including one used by Teddy Roosevelt, and one named for Louisa May Alcott. A list of other antiques are there to visit too: In the Men's room there can be found an actual piece of the Berlin Wall (there are urinals attached to it, which you could regard as a comment on the Wall's role in history), and on the casino floor you'll find a bank of antique slot machines. On a lower floor, you can find Winston Churchill's snooker table. It is probably not used for games now…
The casino floor follows the Victorian theme. You won't find this much real woodwork and iron in any Strip casino. Some of the downtown casinos have ties to Hawaii and Boyd Gaming does especially, so Omni Air and Vacations Hawaii offer packages and charter flights for reduced prices.
The hotel is connected to the California (also a Boyd hotel) by a walkway, and there's a lot of sharing amongst the downtown hotels. Shuttle service runs between here and Sam's Town, and goes all the way to the Strip. As a Main St. guest, you have special access to the Cal's rooftop pool and its Fitness Center. Each room has a safe, WiFi access, and an in-room refrigerator. A Resort fee is charged here: 19.20/night, for each room.
Casino
The casino has approximately 850 slot machines and video poker games. They offer an interesting machine called the Ancient Wheel Big 5, a newer game which has symbols from hunter-gatherer times of mankind, plus a big jackpot feature you should watch for.
Table games include the classic blackjack, craps, roulette, Pai Gow Poker, Let It Ride, also Super Fun 21 and Three Card Poker.
Football season food specials and giveaways happen at the Triple 7 Brewery, with prizes and such. If you'd like to take part in the city-wide free football contest Pick The Pros, step over to the California Casino, sister casino to this one.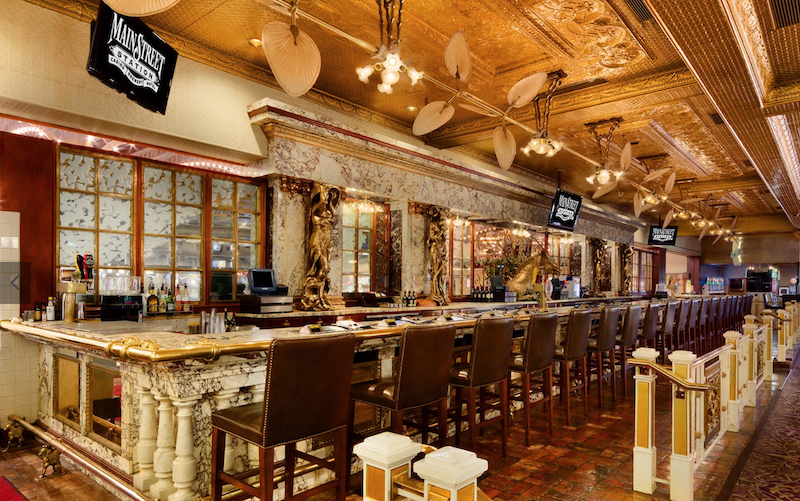 Dining
Triple 7 Restaurant and Microbrewery — here's why Main Street is a brewery as well as casino hotel, with American cuisine, and live entertainment each night.
Garden Court Buffet — voted the best of downtown.
Buffet prices:
Breakfast: M-F (7am to 10:30am) $10.99 but with club card $9.99
Champagne Brunch: Sat & Sun only (7am to 3pm) $15.99 but with club card $14.99
Lunch: M-F (11am to 3pm) $11.99 but with club card $10.99
Dinner: Sun & Mon, Wed & Thurs (4pm to 9pm) $14.99 but with club card $13.99
Seafood Buffet Dinner: Tues & Sat (4pm to 10pm) $17.99 but with club card $16.99
Seafood Buffet Dinner: Fri (4pm to 10pm) $29.99 but with club card $28.99
Boar's Head Bar — next to The Buffet. Incredible Victorian decor with brass rails and veined marble, but also TVs. And you can't go without taking a look at the Boar Statue, all in brass, a French-made replica of an ancient fountain statue in Italy created by the artist Tacca. The pig sits at the inner end of the marble bar.
Notes: Victorian themed, up-to-date amenities (flatscreen TVs, cable, internet for purchase and refrigerators) in the rooms
Videos