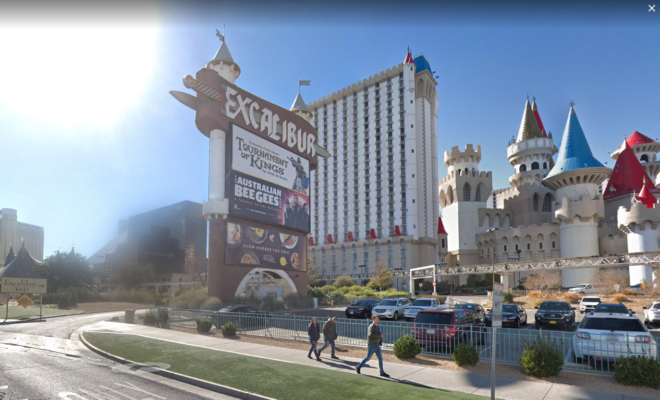 Casino Reviews
Excalibur, Part 2
By
|
The Excalibur Hotel and Casino is a budget hotel found on the southern end of the Strip with a medieval theme. It opened in the year 1990 and the outside is designed in the image of a medieval style castle. On the inside, you will find medieval décor but some of the original designs have changed due to remodeling. The Excalibur was originally created as a place where families with children could come for a Las Vegas vacation, and it still remains one of the best choices on the Strip for families.
There's a large adult casino with table games, a poker room and a full-service Race and Sportsbook room for adults to engage in some fun gambling activities. However, they didn't neglect offering a family atmosphere when designing the casino, and you'll find a designated area just for kids downstairs.
Located directly under the casino is an area called Midway. It's also called the "Fun Dungeon." Here you'll find arcade and carnival-style games for kids of all ages. This is a fun and exciting place for kids to hang out and it can be fun for parents, too.
It is important to note, that even though this hotel welcomes children, it does not offer childcare services. If this is something that you'll need during your stay, you will have to look outside the hotel for a service that is licensed and bonded.
Hotel Rooms
The website doesn't always clear what the rooms consist of; there seems to be a little bit of confusion when you click to see the photos. The room names are very similar, so you have to take care you identify the right one you want when booking. But it's clear they have nice rooms for a good price, definitely competitive on the Strip.
There are 3,981 guestrooms found in the 28-story tower castle. Some of the medieval themed décor that you'll see includes a dining table with two chairs, tapestries, and carved headboards. Some of the modern amenities that you'll enjoy include the televisions with cable TV and premium channels, pay movies and high speed Internet access. All rooms include a hair dryer, iron with ironing board and they either have a king-size bed or two queen-sized beds.
The Royal Superior King Room and the Resort Superior King have a deep soaking tub in one corner, and 40" flatscreen TV. (The Royal/Resort Tower King rooms do NOT have the tub.)
The Royal Luxury Suite and 2-Bedroom Luxury Suites have a big tub, separate living room area from the big king bedroom, and a good sized dining table. The Suites include a spa built for two. This is a great accommodation if you're looking for romance with your significant other. Includes a dining area, refrigerator, living room, and a marble spa. If you plan on entertaining guests of your own or if you have a big family, you may want to consider them.
EXTRAS
Wheelchair-accessible rooms are available. The hotel offers wheelchair rentals but they are limited so you are not guaranteed one. The pool area is not wheelchair-accessible so keep this in mind. You can rent cribs and cots for your room for an additional fee of $20 each but again, supply is limited so there is no guarantee that one will be available. The accessible rooms do have roll-in showers.
The Hotel Pool Area
The hotel pool area is nice and it has recently been remodeled. The environment is peaceful with palm trees scattered around. There are four pools in all and one of them is designed especially for adults only. This one has 19 cabanas that can be rented, each has a sun deck and a fire pit. Rented cabanas also have a tv and refrigerator, phone, dining table and chairs, lounge chairs, love seat.
One pool is specifically designed for kids and it includes a slide. You can rent toys, rafts and tubes to use while playing in the water to make it more fun and interesting. There is also a Jacuzzi in the pool area and a poolside restaurant where you can get beverages. The pools are heated to make them more comfortable for the guests.
Entertainment & Dining
The Tournament of Kings dining show is a sort of jousting pit theater, where the guests are served a sumptuous hearty meal they must eat with their hands, medieval fashion, whilst they gaze upon the valorous knights riding hither and yon, clashing lances and shields. If you stay at the Excal you must attend this, verily.
The hotel's Buffet is a good deal for a lot of food and drink among Strip hotels. Check the Buffet times and prices at Excalibur/restaurants/the-buffet.html
Camelot Steakhouse is a fine-dining choice with excellent beef and seafood, yet still casual dress.
You can book your own Camelot Feast, which is $100 per person for 10-12 persons. Must be reserved about a week ahead of time. The menu is huge, with Cornish hens and beef entrees as well as caesar or iceberg salads with pork, cheese board, vegetables, and pie and tarts for dessert.
As if rowdy invaders had arrived, Dick's Last Resort is famous for its annoying, free-for-all atmosphere with live bands. Expect the staff to joke, call you names or generally be obnoxious — that's their job. Good for bachelor/bachelorette parties; not really for people who are easily insulted. They have a Dueling Pianos show each Friday & Saturday night, no cover charge.
Other Restaurants:
Buca di Beppo
Johnny Rockets
Baja Fresh — a Mexican Grill
Castle Coffee
Food Court
Drenched Bar & Grill — poolside dining with full bar.
Bars:
Lobby Bar
Sports Book Bar
The Lounge
Sherwood Bar
Other Things to Do
You'll never be without something to do when staying at the hotel even if you don't plan to gamble. Do you enjoy shopping? You can go for a walk around the castle where you can enjoy checking out some very exciting shops. You can buy adult and children apparel including swimwear, evening wear and sports apparel along with many accessories. You can buy gift cards, toys, costumes, gifts, and souvenirs. There's even a store where you can buy all types of magnets. If you enjoy collecting refrigerator magnets, you'll love this place.
The Spa overlooks the pool area, and it offers facial, waxing, mani & pedicures, stone or regular massage, body wraps, paraffin dips and other treatments. This is one of the hotel's best features so set aside some time to check it out. Some of its best amenities include the heated whirlpool, redwood sauna and the eucalyptus steam room.
Work out in the Fitness Center. This is free of charge to guests, but non-guests can use it for a $25/day fee. Has Stairmaster, Cable Motion Machines, a Smith Press, Dumbbells and Barbells; treadmills, upright and recumbent bikes, and climbers. Open every day from 6am to 8pm.
The hotel offers a few other extras such as The Lounge, where you can relax and listen to music every night. This is located on the same floor as the casino. You can also visit the Octane Lounge on the Excalibur's Castle Walk, where guests are usually rocking the night away. You must be at least 21 to enter either one of the lounges.
If you decide to visit the area outside of the hotel, you can go for a helicopter or airplane tour or go golfing. You'll find some very nice golf courses close by. Since you're located on the Strip, there are also many other restaurants, shows and other activities to enjoy.
Final Thoughts
The Excalibur is a good, affordable family hotel and casino. It's clean and decent but don't expect anything spectacular because it is a budget hotel so the idea is to be comfortable, not memorized by its elegance. Pets are not accommodated, either. If you want to bring the furry family members along with you, you'll need to look for a hotel that takes part in the PetStay Las Vegas program or plan on putting him in a kennel during your stay.
If you don't have children and you're searching for glamour and luxury, this may not be the best choice. However, if you're searching for a hotel where you can be comfortable and save a little money for other things, this just might be the perfect hotel for you.
Videos