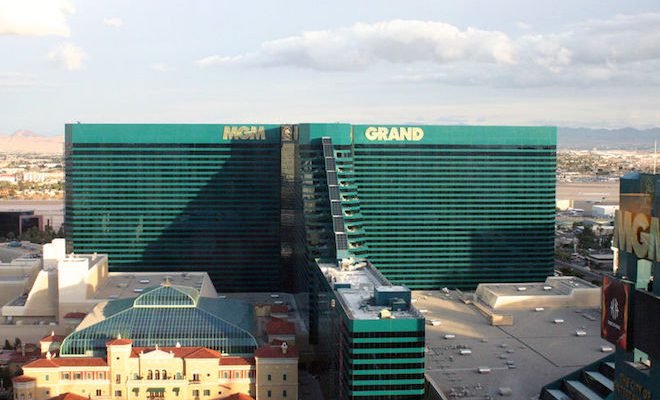 Casino Reviews
MGM Grand Hotel Review: Part 3
By
|
One of the most important aspects of a Las Vegas vacation is your entertainment. No matter what hotel you choose there will be a variety of clubs, shows, dining and shopping options. The MGM Grand offers a wide variety of entertainment for singles, couples and the whole family. Sure, you will want to play in the casino, but make sure to take a bit of time out from gambling to experience the other aspects and entertainment of Vegas.
There are so many great things to do that you'll wonder how to get it all in your visit. Nightclubs, swimming pools, shopping, spas and so much more are right at the tip of your fingers when you stay at the MGM Grand. You can easily experience all the excitement and activity of Las Vegas without ever leaving the resort.
Nightlife at the MGM Grand
The MGM grand is known throughout Vegas as the nightclub destination. Studio 54, Tabu Ultra Lounge, Centrifuge, Rouge, West Wing Bar and Zuri are all part of the MGM Grand Hotel and Casino. Drinking, dancing and live entertainment make every night at the MGM Grand a night to remember.
Daytime Nightlife
The Wet Republic Ultra Pool is a daytime nightclub combined with all the fun of being surfside. The 53,000 square foot ultra pool has two saltwater pools, five individual pools and spas, full service bar, plush daybeds, and private bungalows. With full service bar and world famous DJs pumping out music all day long you'll feel like your favorite night club has merged with your favorite beach area.
Dining
With four fine dining restaurants, eight specialty dining restaurants, in room dining and two cafés the MGM Grand offers something for every palate. Whether you prefer to enjoy your meals in the privacy of your room or get dressed up for an "on the town" experience, day or night your taste buds will find something to cheer about. Wolfgang Puck, Emeril Lagasse and other fine chefs' restaurants call the MGM Grand home.
Shows
The MGM Grand is known for lavish shows. From the Cirque du Soleil to sporting events at the MGM Grand Garden Arena there's always something to see and do at the MGM Grand. Musicals, comedy, adventure, concerts, cabaret and magic are all part of the events schedule year round at the MGM Grand.
Amenities
The MGM Grand has several amenities throughout the resort. A full service spa and health club, salon, wedding chapel, pool complex, shopping and golf are all activities and services that are just part of the typical stay at the MGM Grand Hotel and Casino. Not to mention the huge casino that helps MGM Grand guests experience Maximum Vegas. Luxury, pampering, services, and fun are all part of the MGM Grand experience.
While for many people a trip to Las Vegas may involve a room to sleep in after they've gambled the day and night away, there is a lot more to the Vegas experience than just the casinos. The MGM Grand Hotel and Casino features a wonderful casino area but there is a lot more to this resort than the gambling. Families, couples, groups and business people choose the MGM Grand because of the wide variety of entertainment, accommodations and services offered.