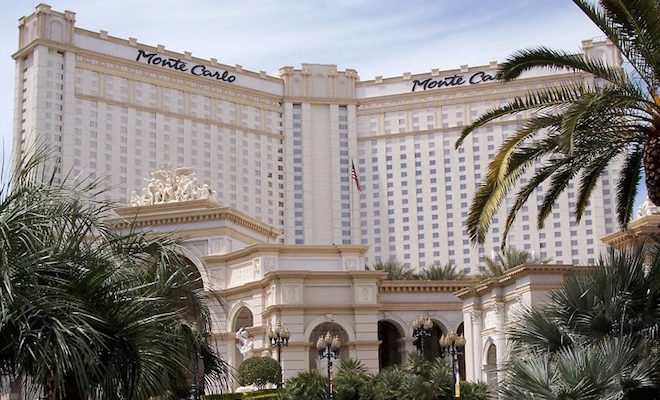 Casino Reviews
Monte Carlo: Part 1
By
|
One of the biggest draws in Las Vegas is the casinos. Sure there are plenty of nightlife and entertainment events to see and do but most visitors want to at least spend a little time in the casino. The allure of trying to make friends with Lady Luck and beat the odds in games of chance are what keep the casinos of Vegas filled. The Monte Carlo is known as the epitome of the Las Vegas lifestyle. Opulence, luxury, elegance and all the gambling you could possibly want is what the Monte Carlo offers.
The Monte Carlo casino offers a wide variety of gambling adventures for Las Vegas visitors. Day or night, you'll find the casino bustling. Whether you are looking for a quiet poker room or a cheering crowd at a table, you can find exactly what you're looking for at the Monte Carlo.
Slots
Whether you prefer traditional slots or video poker machines the Monte Carlo slots area offers you single machine progressives, multi-million dollar jackpot slots and hour's worth of gambling fun. Pull up a stool, have a drink delivered and pull the arm. Several different levels of wagers are offered in slots so you can go all in or gamble prudently with pennies! You could spend several hours playing the slots and maintain the wagering balance you started with based on various wins and losses. When it comes to experiencing the casino without losing a lot of money the slots are a great choice.
Table Games
When it comes to casino action, the most recognized gambling activities are the table games. Crowds gather 'round the craps table to cheer and jeer while casino hosts and service people make sure that your visit is enjoyable. The Monte Carlo boasts many different table games including: Baccarat, Craps, Blackjack, Roulette, Pai Gow and several different types of poker. Take your chances with Lady Luck and maybe you'll walk away a winner. Las Vegas casinos offer many different wagering and betting opportunities to visitors but in every casino, the majority of the traffic is at the table games. These are what visitors have seen on television and in movies; these are what they want to try their hand at.
Poker Room
If you know anything about poker you may want to move away from the table games and venture into the lavish Monte Carlo poker room. You'll find limit and no limit, casual games and tournaments. With 9 tables enclosed in a stylish and lavish room you can get in on a few different types of games with wagers that range between $1 and $6 each.
For the high rollers there are the high limit slots and tournaments to satisfy the "hang on to your hat" thrill of big wagers.
Las Vegas is known for its casinos, the Monte Carlo is known for its wide variety of games of chance and the atmosphere of a lush and lavish gambling club. There is no gauche tourist-y scene at the Monte Carlo. Elegance and understated luxury are the keywords at the Monte Carlo. Whether you are looking for a high stakes game of poker or a few hours of enjoying the random wins on the slot machines you'll find what you're looking for.