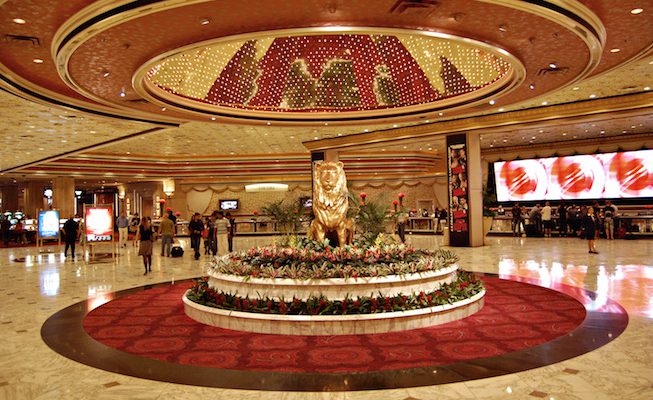 Casino Reviews
MGM Grand Las Vegas – Part 2
By
|
MGM Grand in Las Vegas has a lavish and extensive range of guest accommodations. Comfort, opulence, luxury and fun are all part of staying there. It also helps to have some notes to decipher what the room options actually mean. Here we can clue you in on what they have, from the utterly opulent-can't-afford-that, to the maybe-for-my-honeymoon, to the ordinary sorts of rooms. The main buildings of the resort have received the very high 4-Diamond award from AAA's travel reviews (while their more exclusive sectors earned an actual 5 Diamonds).
You will find rooms and suites to meet your needs whether you're traveling alone, as a couple or with the family. Groups are also welcome and provided for. The motto "maximum Vegas" is what the MGM Grand strives to offer and they don't fall short. Let's take a look at some of the many things you will see and experience.
Skylofts at MGM Grand
This is a section of lofts (51 of them) within the hotel, that are located on the top 2 floors of the MGM main building. They run from $2,000 to $10,000 per night. These very exclusive lofts won the rare 5-Diamond rating from AAA; there are only 6 hotels which received this in all of Las Vegas.
The Signature
The Signature is the group of 576 condos, some of which are available for nightly rental ($170 to $599 per night) or outright purchase in both Towers. Cost to buy: $450,000 to $2 million. Pillow top beds, Jacuzzi tubs, kitchenette and in-suite dining with private balconies make these rooms less hotel and more personal space. The Signature suites are the top of the line for getting away from the excitement and noise to be spoiled with luxuries.
The Mansion
The Mansion means a group of villas that are reserved for VIPs and specially-invited guests of the casino.
MGM Grand Hotel Staywell Rooms/Suites
These are a selection of rooms/suites equipped with special health-minded additions, or spa-like amenities or "wellness technologies" as they term it. Includes special lights & bedding, air purification systems, aromatherapy, vitamin C-infused showers, serene-sounding alarm clocks, and comes with access to the fitness center, steam & sauna, whirlpool, lounge areas. Separate menus for room service, too.
Other guest rooms cost from $79 to $499 a night; suites from $275 to $2500 per night.
West Wing Rooms
The West Wing offers more of a non-traditional Vegas experience. These rooms are a showcase of sleek, stylish accommodations with modern touches such as flat screen televisions in the bedrooms and in the bathroom mirror, DVD players and Bode Wave radios. While these rooms may be a typical hotel room size, there is nothing typical about them. When you stay in the West Wing rooms, you'll know that you're right in the heart of Vegas.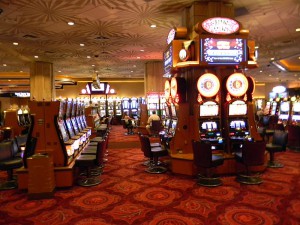 Tower Deluxe King and Queen
The Tower Deluxe King room includes a king-sized pillow top bed while the Queen has two Queen-sized beds. A large bathroom with oversized vanity and a convenient sitting area give you all the space you need to enjoy your Vegas vacation. Perfect for business travel these rooms have a large work desk as well. With a bit more room than the West Wing rooms, the Tower Deluxe King and Queen rooms are a step up in terms of space and luxury.
Suites
Bungalow suites, Celebrity Spa suites, Hollywood suites, Premiere suites and Glamour suites as well as Terrace and Marquees suites allow guests to select their own special experience. You will find everything from Marble bathrooms with TVs, bidet and double sink vanities to oversized marble bars and living areas with dining tables. With so many specific suites to choose from you can find the ideal accommodations for your vacation without looking any farther.
The resort is known as Maximum Vegas not because it is a good motto, but because it has earned it. They are a Forbes five-star award winner, AAA 5-Diamond award winner and dedicated to making sure that their guests find exactly what they are looking for in their stay. Whether you want the excitement of gambling, the fine dining experience or the relaxation of a secluded site with a wonderful view of the Las Vegas skyline you'll find all of that and more.