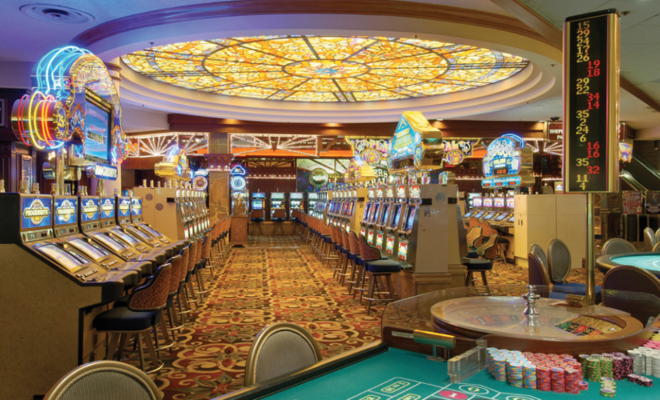 Casino Reviews
Sam's Town, Part 2
By
|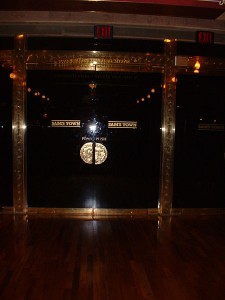 Sam's Town Hotel and Gaming Hall is more than just a local casino where locals play and win but it is also a full resort, a great destination for tourists and families. It is located just a few miles east of the Las Vegas Strip and is only a short bus ride away with shuttle services offered to both the Strip and downtown casinos. The casino hotel is also the home of NASCAR racing and the PBR bull riding and rodeo, so excellent package deals can be had for anyone heading for these events.
The Hotel
The hotel boasts over 600 rooms and suites. Those who belong to B Connected, the players' club, have an advantage on room rates all year long. All the rooms come with cable television and in-room movies as well as a hair dryer, ironing board and iron, clock radio so you can get up for your day of activities, and non-smoking floors for those who prefer not to smell the previous guests' smoke.  Guests have their choice of views from the strip, mountains, and the Mystic Falls Indoor Park. Those who are booking for a large group should call for special discounts for your group.
Deluxe Rooms – There are two types of rooms available for guests who are not looking for a suite.  The two different deluxe rooms are the queen and king rooms.  The queen rooms feature two queen-sized beds along with a sitting area and the king rooms have one king-sized bed and a sitting area.  Both room choices can also have a hide-a-bed or crib added for an additional fee, and refrigerators are also available for a small fee.
Deluxe Suites – There are also two different suites available and both types overlook the Mystic Falls Indoor Park.  First there is the Jacuzzi Suite which boasts a wet bar and refrigerator as well as a Jacuzzi tub and in room coffee maker.  It also features a king bed, living and dining area and huge big screen flat television.  The other suite is the One Bedroom Jacuzzi Suite which is similar to the first suite but the rooms are separated by walls so you have a separate bedroom instead of just a bedroom area and seating area.  This suite is huge and offers all the comforts of home while enjoying your holiday in Las Vegas.
Internet – Many want to stay connected while they are on vacation, so WiFi and internet connections to their guests are available for a small fee each day.
The Pool – There is a pool area for hotel guests and offers a free-form swimming pool and plenty of deck chairs for soaking up the Las Vegas sun.  The pool is considered seasonal so check with the registration desk to see if it will be open during your stay.
Gatsby's Salon – If you forgot to have your hair done before you left home or want a new look to take home with you then Gatsby's Salon is the perfect choice for you.  You can also get an in-room massage, pedicure or manicure.
RV Park
Those who would rather bring their home with them can hook up at the convenient RV Park which boasts nearly 500 spots for RVs and campers.  There are many amenities for campers including internet access, cable televisions, pools and Jacuzzis, phone hookups, pet runs so your furry friends can exercise, many BBQ areas and full hookups.  It is advised to call ahead and make a reservation because during peak times there are no spaces available.
Entertainment
There are many activities for the entire family who stays at the hotel or RV Park.  These activities are fun for both families and those traveling without kids. 
Mystic Falls Park – This Park is open 24 hours with a light, laser, and fountain show at sunset.  Located in the middle of the hotel and casino, this indoor park has live trees and birds that chirp from the branches and creates a soothing atmosphere.  At sundown, the call of a wolf starts the show and the low howl sends chills up and down the spine.  It is a beautiful experience and if you get a hotel room that overlooks the park you can watch without ever leaving your room.
Bowling Alley – The hotel has a full bowling alley that sports 56 lanes and is home to some of the biggest tournaments in the world.  Many of the pros have played here so you know the lanes are high quality.  It is open 24 hours a day, seven days a week, and offers one free game of bowling for guests of TGI Friday's or the movie theater when they bring in their ticket or receipt.  There is also a pro shop, snack bar, full arcade, and a cocktail lounge for the over-21 bowlers.
Movie Theater – One of the best aspects of this movie theater is that is has a more intimate nature than movie theaters that are not located in a casino.  It also boasts a top-of-the-line cinema, with THX sound and giant wall-to-wall curved screens.  It is set up with stadium seating for the best viewing and also has loveseats to make the movie watching experience more comfortable.
Roxy's – This is the place for adult entertainment and has live bands nightly with no cover charge.  You can play your favorite games while listening to live music as you hit a jackpot or sit in the 100-seat lounge, and dance on the huge dance floor.  There is a fantastic sound system and some of the greatest bands that Las Vegas and other parts of the world have to offer.
Sam's Town Live – This venue seats over 1,000 guests and is the perfect setting for concerts and other events.  You can see a live band one day and come in for the Future Stars of Wrestling to see who your new favorite wrestler will be.  This event room is also available for booking for private events and is perfect for motivational speaking, conventions and other activities that would need a large amount of seating.
Conclusion
There are so many things to do and see here that you should leave some time from your tourist activities to check them out.  Whether you want to bowl, watch a movie or just hang out at the pool, you can do this with complete ease and without leaving the hotel.  When locals have friends going to Las Vegas, they always recommend the off strip casinos and Sam's Town is one of the first recommendations.
Videos