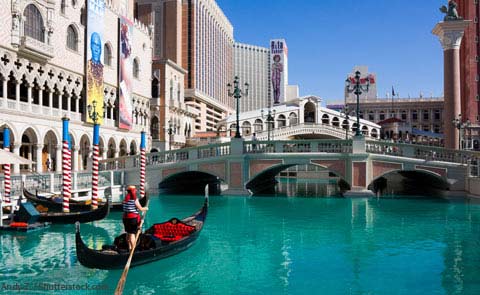 Reviews
The Venetian Hotel
By
|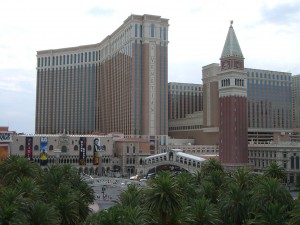 What is the main thing that this town is known for? Gambling. When it comes to a wide variety of gaming and betting options, as well as a chance to play with Lady Luck, The Venetian Hotel Las Vegas offers everything you are looking for and more. Located in the heart of Las Vegas, you'll find not only shows, restaurants and lodging but a serious playground for gamblers in The Venetian casino.
The opulent and classic atmosphere of The Venetian gives gamblers a lavish and plush Las Vegas experience that is multi-faceted and will please even the most discerning of gaming enthusiasts. The Venetian hotel is a taste of Vegas that you will never forget, no matter what sort of gambling and wagering you are interested in you will find a game any time of the day or night in the opulence of the classically styled casino with lots of modern touches.
Poker Room
The newest addition to The Venetian's casino area the poker room sticks to the tried and true formula that has made The Venetian a four-star resort. With a wide array of poker games from Texas Hold 'Em to Omaha and many in between you'll have your choice of stakes and games. There are 39 poker tables in the poker room where you'll be entertained by 21 large screen plasma TVs, enjoy comfortable adjustable chairs and be treated to butler service and gourmet dining. The smoke free poker room offers safe deposit boxes for players and complimentary valet parking for guests.
Slots at The Venetian
The most luxurious high-stakes slots experience in Las Vegas resides here. Megajackpots machines, Wheel of Fortune and video poker games are part of the typical slots experience are a collection unique to the casino. The high limit slots and the Gold Club Lounge let you enjoy a living room-type setting with food, beverages and private bathrooms.
Table Games at the Venetian Hotel
Besides poker, The Venetian casino also offers a wide variety of table games for the casual gambler and a special high-limit salon. Baccarat, blackjack, craps, roulette, paigow tiles and poker, Caribbean stud, big six and casino war will keep you occupied and testing your luck for hours.
Race and Sports Book
If you enjoy beating the odds and testing your own ability to judge and wager on sports and races, The Venetian is the place to be. The Cantor Race and Sports Book offers the largest HD screen and provides gamblers with a marriage of technology and gaming that is a must-see for sports lovers. With comfortable seating, full bar and wait staff as well as a full menu you'll enjoy pari-mutuel race wagering, sporting events and personal betting stations to make sure that you get the full experience.
Conclusion – Venetian Part 1
A trip to The Venetian hotel and casino should be at the top of your Las Vegas to-do list if you have any interest in gambling at all. Whether you're interested in the sports book or a high stake poker game, you'll find what you're looking for. Even if your idea of gambling is small stakes slots The Venetian is the best choice for all sorts of casino play.
Videos