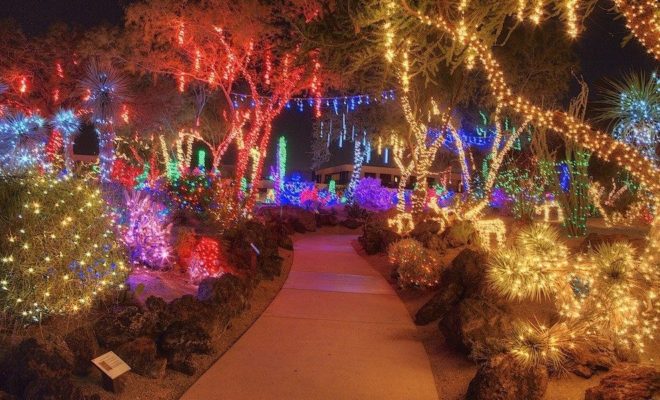 Attractions
Las Vegas Attraction: Ethel M Chocolate Factory and Cactus Garden
By
|
One of Las Vegas' little secrets is the Ethel M Chocolate Factory and Cactus Garden and the locals tend to like keeping it this way.  This is not just for chocolate lovers although the chocolates are perfect and quite tasty, but there is also the cactus garden that offers a great nature walk where people can learn about the natural flora of the area.  There are self-guided tours throughout the factory with a tasting at the end.  This is a great activity for either single adults or families because of all the things there are to do and to see at this attraction.
The Tour
This is a self-guided tour which means that you do not have to book a time to go in nor do you have to wait for a large group of people.  You can simply walk in and take your time going through the different stages of the candy making process.  The doors open at eight thirty until four thirty in the evening seven days a week for the tour but the store is open every day until six so there is bound to be a time when you can fit this into a busy schedule of sightseeing and gambling.  At the end of the tour you get to sample some of the delicacies that you watching being made and they are very tasty too.
Keep in mind that the factory only runs on an as needed basis to keep costs down so it may not be running while you are there.  You can still see all the machinery used and the tour takes you through all of the processes but you just will not get to see the actual processes as they are happening. You can read along as you walk through the factory taking in all the different phases of chocolate making.  The kids will love the entire factory but the end is always their favorite part where they get free chocolates.
The Store
There are stores located all over Las Vegas including at the factory, the California Hotel and the Fashion Show Mall.  There are actually four locations at McCarran Airport for you to conveniently pick up some chocolates to take home with you in case you ate everything you bought when you took the tour. These are located in each terminal and at all four gates lettering A through D.  All stores sell a wide variety of gift boxes and bulk candies that you can mix and match to create your own special gift box for that special someone who stayed home.
It is all About the Chocolates and Candy
There is more than just chocolate available at Ethel M's as there is also the best pecan brittle you have ever tasted.  These come prepackaged in traditional collections or you can choose to create your own collection from the many different types of chocolates and candies.
Traditional Collections
The Classic Collection – This collection comes with sixteen or thirty two pieces and offers a good variety of chocolates.  With the sixteen you get one of all of the different assorted chocolates available at the store, the thirty two piece collection offers two of each type.
The Nut and Caramel Collection – The Nut and Caramel Collection is just what is states it is, a box full of chocolate and nut love for those who enjoy the nuttier side of life.
Truffle Collection – Anyone who loves truffles needs to get this collection or if you have a truffle lover in the home, send them a box of these and see how happy you make them.
Crème Liquor Collection – While this is a cocktail collection, there is not enough alcohol in the chocolates to really get anyone drunk.  At less than one percent alcohol per chocolate, they offer the tastes of brandy, whisky, amaretto and rum without the hangover in the morning.
Taste of Las Vegas – One of the most popular collections for the tourist is the taste of Las Vegas collection that offers a little bit of everything.  The best part is the signature box that has the Welcome to Las Vegas sign prominently displayed on the front.  Whoever is receiving this box of chocolates will be very happy indeed.
Sea-Salted Caramels – For the caramel lover in the family, this box of chocolate covered caramels is lightly dusted with sea salt.  Sea salt works very well with chocolate and caramel and this tasty treat can satisfy both the salty and sweet cravings.
The Deluxe Collection – For the person who wants a big enough box to share with their friends or family, this is the perfect choice.  There are a wide range of all the chocolates and specialties any chocolate lover could want.  If you do not want to share, then you can take home a huge box just for yourself.
Specialties
If the above selections are not enough for you, there is much to choose from at Ethel M.  The following is a list of the other specialties you can choose from:
Signature Brittle – There are two choices in brittle to choose from, classic that does not have any chocolate and the chocolate covered brittle.  Both are made from sumptuous buttery brittle along with sweet pecans.  This is a must for the brittle lovers in the family.
Chocolate Dipped Treats – If you can imagine it, it has probably been covered with chocolate at Ethel Ms.  There are espresso beans, almonds, cherries, raisins that have all been covered in either milk or dark chocolate.
Sugar Free Treats – There are a wide variety of sugar free treats for those who cannot eat sugar or who are watching their weight.  You do not have to miss out because you are dieting!
Kosher Choices – Ethel M understands that certain religions need to have kosher foods and this is why many of the collections and other sweet treats are one hundred percent kosher.
The Cactus Garden
The garden encompasses over three acres of natural flora that is native to the area and is set up on walks throughout.  There are over three hundreds of varieties of plants that you can view and if you go to Vegas during the Christmas holiday, you will even find them lit up for the occasion.  Santa makes an appearance and you can listen to the carolers who sing as they walk through the garden.  This is a great time to visit the gardens for both tourists and locals alike.
Final Thoughts
The Ethel M Chocolate Factory and Cactus Garden is a must see for all who are visiting Las Vegas or those who have lived in Vegas for a long time and never knew it was there.  It is close to the Strip and just a few minutes' drive to the location which is just outside of Henderson.  If possible, get there during the holidays to take advantage of the spectacular light show, to see Santa and to hear the carolers sing their Christmas Carols.  If you cannot make it to the factory for a tour, at least stop by one of the many convenient store locations and get a couple of pieces of Las Vegas to take home with you.  There is bound to be one collection that you will love and that those at home will thank you for.
Videos