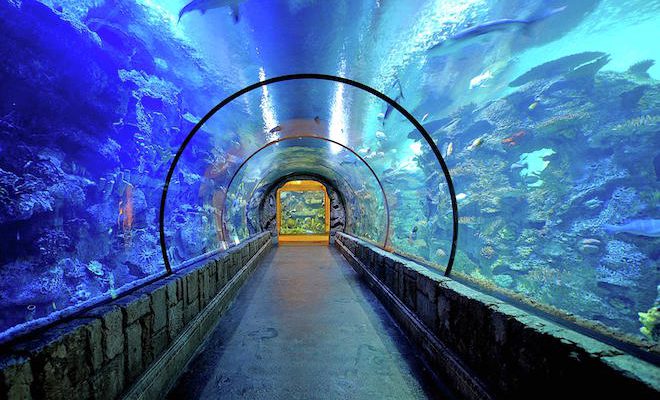 Attractions
Shark Reef Aquarium at Mandalay Bay
By
|
When people stop and think about Las Vegas many things come to mind such as gambling, pools, fine dining, exotic shows and all the glitz and glamour that is found on the infamous Strip. However, the thing that most people never even consider is marine life but one visit to Mandalay Bay's Shark Reef Aquarium will change that.
The Shark Reef at Mandalay Bay opened in the year 2000 and was renamed The Shark Reef Aquarium in 2007. While many people may look at the name and simply think it is your run of the mill aquarium that is not the case with this Las Vegas attraction. The Shark Reef aquarium is one of the very few accredited aquariums in America and the only one in Nevada State.
What this means is that this aquarium works hard to ensure that all of the animal's health and happiness are being cared for and that they work hard to educate everyone who visits about these incredible creatures. These are great features to have and when an aquarium does it right, you won't even realize you're learning because of all the fun you're having.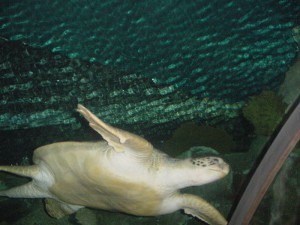 The structure is simply amazing because it's designed to look like a sunken temple deep under the ocean's surface, which makes the visit more fun and exciting. If you visit the tunnel, you'll notice that it looks like a sunken ship that was wrecked. Because of the close attention the designers paid to detail, you'll find something exciting in every inch of this attraction.
There are over 1,200 different species to see and learn about while visiting the Shark Reef at Mandalay Bay. Aside from ocean life, you can also see many freshwater fish and even a sea turtle that weights about 300 pounds.
Sharks
There are many different shark species inside this attraction that includes the tiger-striped shark and the nurse shark. You can see them the best from inside of the shark tunnel. The sharks here can be a little intimidating and even scary looking but after learning a little about them and what they prefer to feed on, which isn't humans, then it will change the way you look at sharks. Movies have given them a bad reputation and visiting this attraction can set the facts straight.
The sharks here are treated very well and fed about three times a week so they actually eat more than they would in the wild. For this reason, other, smaller creatures can share the tanks with these astounding creatures and not be in any danger. Sharks won't seek out food when they're not hungry. This even makes it safe for the scuba divers to clean the aquarium but they still wear protective steel mesh suits to stay as safe as possible and so they won't look like food.
Piranhas
Everyone has heard horror stories about piranhas eating away humans in a few seconds flat. At the Shark Reef Las Vegas attraction, you'll discover that these fish are not so aggressive after all, even though they do have a mouth full of very sharp teeth.
In fact, piranhas are actually scared of anything bigger than they are and considering they're slightly larger than the hand of an adult, humans don't have a lot to worry about. Now that's not saying they won't take a bite out of you if the conditions are right but it's not common and it would take hundreds of them to eat a human.
Piranhas are careful creatures that do not hunt outside of their comfort zone unless they are starving to death, literally. You can learn all about their teeth, eating habits and their natural habitat at the Shark Reef at Mandalay Bay.
Stingrays
Stingrays are another animal that many people are afraid of but the Shark Reef's interactive touch pool shows you just how gentle these creatures can be. The touch pool is a wonderful way for kids and adults to pet live stingrays along with other smaller animals such as eels and crabs.
The stingrays are harmless and they enjoy the attention they get. If they don't want to be petted, they will just swim away to the center of the pool where you cannot reach them, which proves these creatures are intelligent.
You may have to wait a minute or two for a stingray to approach you so you can pet it so don't get discouraged if they don't flock to you right away. You can enjoy the most interaction with these creatures if you get to the attraction early before the big crowds arrive and before they get tired of being touched.
The main thing to remember here is don't wear any jewelry or anything flashy that could scare the animals away or choke them should it fall off your body. If you are wearing jewelry such as rings and bracelets, stash them in your pocket or have someone else in your group hold them while you pet the animals.
Komodo Dragon and Other Creatures
The Shark Reef Aquarium has much more for you to see than just sharks. One very special attraction is the endangered Komodo Dragon. This creature is the largest of the lizard family known to man and it measures about 8 feet in length when full grown.
The Komodo Dragon is a remarkable creature and just learning about this animal is enough reason to visit the aquarium. You can get fairly close to the Komodo Dragon for a good look as you learn all about its hunting rituals and lifestyle.
The Komodo Dragon is native to Indonesia and the designers at Shark Reef have created an excellent representation of its natural environment. The habitat is hot with boulders, sand and a nice pool where he can cool off.
Some of the other interesting creatures that you'll see and learn about inside of the Shark Reef Aquarium include turtles, urchins, sawfish and even a very rare Shark Ray fish also known as the Bowmouth Guitarfish. There are only about 12 of these in America so it's a real treat to get to see one. With so many different fish and animals to see, it'll keep you busy and entertained all day.
Basic Information about Shark Reef
The Shark Reef Aquarium in Vegas opens every day at 10 am and closes at 8 pm during the week and 10 pm on the weekends. The general admission prices are as follows: $18 for adults, $12 for children between 5 and 12 years of age and kids 4 and under get in free. Discounts are available periodically and all Nevada residents get a discount with proper ID.
Extras
The audio wand is a nice feature available to those who want to learn even more as they explore this aquarium. They're available in three languages and they provide more information for each animal you see than what you'll hear from shows or read on the plaques.
This attraction offers a guided tour for visitors 13 years old and up that cost an additional eight dollars. This tour takes you behind the scenes and they run every half hour between 10 am and 5:30 pm. This attraction can be rented for private use so check ahead of time to make sure it's open to the public before planning your trip.
There is also a gift shop that offers many wonderful items from picture frames to stuffed animals to help make your visit even more memorable.
Most people that visit the Shark Reef at Mandalay Bay are very happy and satisfied with their trip although some visitors have expressed that it's just a large aquarium that's overpriced. Whether you enjoy this Las Vegas attraction or not depends on how interested you are in seeing and learning about these remarkable creatures.
Videos