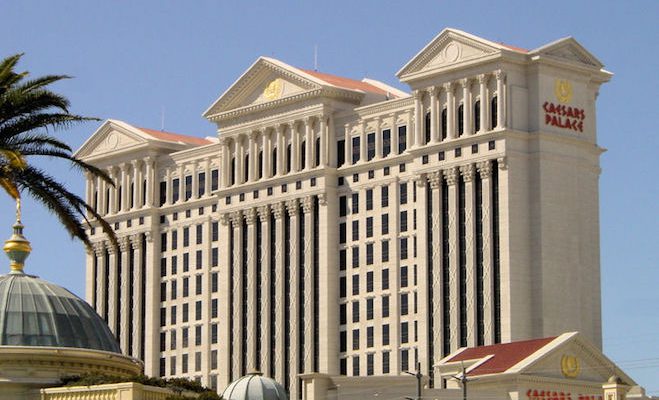 Casino Reviews
Caesars Palace Casino
By
|
The Poker Room
The largest poker room is Las Vegas belongs to Caesars Palace and it covers 8,500 square feet in the main part of the gaming area but that's not all. There is also a connecting 6,000 square feet tournament room, making this poker lover's paradise a total of 14,500 square feet. That's huge for a poker room so it gives you an idea of just how much emphasis is put on playing poker in this casino.
You'll find 62 game tables here with a variety of poker games playing constantly 24 hours a day. There are so many selections that finding a table that suits your budget perfectly should be easy. If you love poker, the Caesars Palace in Vegas is a great place to be and it's large enough that you'll never feel crowded. They also have cocktail service and the Augustus Café serves food for those who want to enjoy a meal at the tables.
Slots and Video Poker
Slots and video poker are two of the most popular games in Vegas and the Caesars Palace has a wide variety of games to choose from that include many different denominations. They start at one cent and go up to $500. The payouts are large but still proportionate to the denomination you use to play. There are hundreds of selections to choose from and some of them include the reel-type slot machines, video slots, video poker, video 21 and video keno.
Sportsbook and Horse Racing
Caesars Palace has one of the best Sportsbooks on the Strip. Here, you'll find 65 private booths with 12-inch flat screen TVs where you can place your bets in total privacy. There are also 13 betting windows and some private windows for those high rollers who don't want others seeing their wagers but who prefer not to use the booths for whatever reason.
This Sportsbook facility has a fun and fast-paced environment and you do have the chance to win big. They have 12 plasma 50-inch TVs scattered throughout the room and six extra large screens where you can watch all of the major games and races.
You can place wagers on live races and all of your favorite sports from this race and sportsbook room. This is the place where many professional sports bettors like to visit when in Vegas because they have so much to offer. It's a great place to stay updated on the sport events and races taking place at any given time. The staff is knowledgeable and available to answer any questions you might have so if you don't know much about sports betting, don't worry. They will be glad to explain things to you.