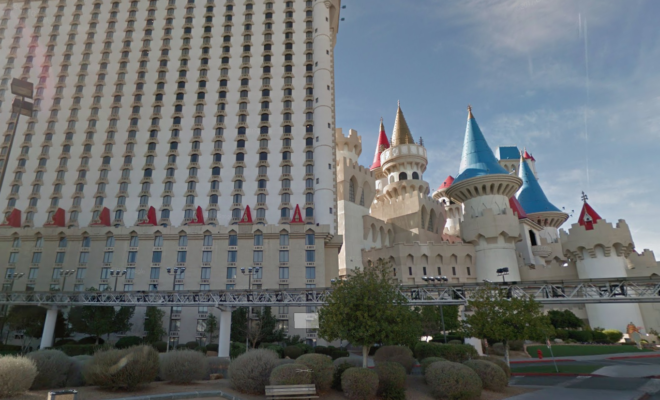 Casino Reviews
Excalibur, Part 1
By
|
The Excalibur Hotel & Casino is well known in Vegas and it's very easy to spot. It's the hotel with the medieval castle design so you can't miss it. The inside of the establishment continues with the theme and you'll see medieval décor everywhere. You'll find it on the southern end of the Strip very close to the McCarran Airport so it does offer convenience for travelers.
You'll find several budget hotels in town and this is one of them. The castle theme caters to children and it is one of the best places for families to stay on the Strip. The overall price for staying at the hotel is reasonable and there are several affordable places to dine with kids.
Downstairs, right below the Casino, you'll find the Midway. This is a carnival and arcade combined to create a great place where kids can go and play, and win prizes. Do expect to see loads of kids running around this hotel and casino but that does not mean that it lacks when it comes to adult casino action. In fact, the gaming action is what draws in so many visitors who do not have children.
Excalibur Casino
The property has a large casino but the design is a little different. Instead of being one large open room, it's designed like a crossroads or intersection. This design can make it difficult to find your way around. If you take a few minutes to study the layout before wandering around, it will help you keep your bearings. You can also ask any of the staff you run into for directions. The payouts fall in the same range as the other casinos offer so it's competitive in this area.
The Party Pit is one of the casino's most exciting spots. You can play blackjack and roulette while watching the girls on stage entertain in this area. The dealers are friendly and it's a lot of fun so expect the Pit to be packed most of the time. This is where a lot of the guests like to hang out. The casino room also has a bar that offers snacks and beverages. There are cocktail waitresses to take your drink orders in this area but some guests have complained about slow service.
Table Games
You can enjoy a variety of table games at the Excalibur that include Roulette, Mini-Baccarat, Big Six, Blackjack, Pai Gow, Craps, and Poker. This casino is the most famous for Blackjack because of the low-limit tables it offers — something a little harder to find in Vegas these days.
There are a number of tournaments that you can take part in when staying at the hotel. These include a variety of poker tournaments, keno, slots, blackjack and horse handicapping. The payout for these tournaments can reach very high so, if you win, you should go home very happy.
Poker Room
The poker room never closes. It is a non-smoking room so be aware of this if you are a smoker. You'll find a number of different games in the poker room that include NLHE (No Limit Texas Hold'em) or Limit Hold'em, with daily poker tournaments 4X a day — these have $40 or $45 buy-ins. It's always fast-paced.
On Saturday nights, the Excal poker room has an exclusive show called Strip Poker, where the girls will dance on stage while the games are taking place. This show begins at 9pm and runs until midnight. The buy-in limits will change depending on the day of the week and the time of the day. If you're searching for the lowest limits, you'll need to check around a bit but they are usually during the week and in the mornings.
Slots and Video Poker
The slots and video poker range from one cent to $100 so you can find the games that suit you the best. Take advantage of the multi video game machines where you can play different games without moving around, or play the penny slots that offer players a chance to win a "Campagna T-Rex 14RR," described as being "a ferocious pavement predator."
Sportsbook and Horse Racing
The Excalibur has a nice Race and Sports Book room where you can go to get in on some sports betting action. You can wager on many different sports such as Pro and college football and basketball. They also accept wagers on soccer, baseball, boxing, tennis and hockey.
Horseracing is big here. You can place bets on some of the major races and they even offer daily Greyhound wagering. There is also a full-service Keno lounge in this area, and games there run 8am to midnight.
Entertainment at the Excalibur
They offer a variety of entertainment right inside the establishment. There are many shows to choose to choose from and some are funny, others are adventures and there are a few sexy production shows as well. For example, the "Thunder from Down Under" is a male strip show that caters to women. You must be at least 18 to get in and if you're under 21, you'll still need to be accompanied by an adult.
The "Tournament of Kings" is a dinner show suited for all and it's always a big hit. You can take advantage of the Pick Two Entertainment Special where you get to watch two Luxor or Excalibur shows for the one low price of $75.00 a person. The Excalibur also has lots of loud, upbeat music that will keep you entertained and a couple of lounges where you can kick back and relax.
Food and Restaurants
The Excalibur has a reputation of having good food at good prices. You have several options to choose from depending on what mood you're in. The Buffet offers breakfast, lunch and dinner and they serve a wide selection of entrees. If you're a steak eater, The Steakhouse at Camelot is where you'll want to dine. They also have seafood and offer private dining rooms.
Dick's Last Resort is well known for its cuisine and some very crazy décor. The servers have been known to get a little rowdy from time to time, too. It's referred to as an exciting place with its loud music and casual atmosphere.
Sherwood Forest Café is a great place to eat that sells breakfast foods, sandwiches and even burgers. They sometimes have late night promotions and breakfast specials. Other options include the Lynyrd Skynyrd BBQ and Beer, Buca di Beppo, American Burger Works, Village Food Court, and you can also sample the In-Room Dining, aka Room Service.
EXTRAS
The casino offers a rewards program called M Life. This program allows you to earn benefits for each dollar that you spend. The benefits you receive are based on your Tier Level. When you go out to eat, enjoy entertainment, gamble and so forth, you'll be earning benefits that are applied to your Tier within the rewards program.
Some of the benefits that you earn include discounts on rooms and access to certain entertainment and dining areas. You can use the rewards that you earn in 15 different popular locations so it is a good program.
The resort caters to families and there will always be lots of children running around. If you don't have kids or if you're taking the trip to Vegas to have an adult getaway from your own kids then this may not be the best hotel for you. On the other hand, if you're searching for an affordable, fun and decent place to stay with your kids in Vegas, it has a lot of potential.
Videos