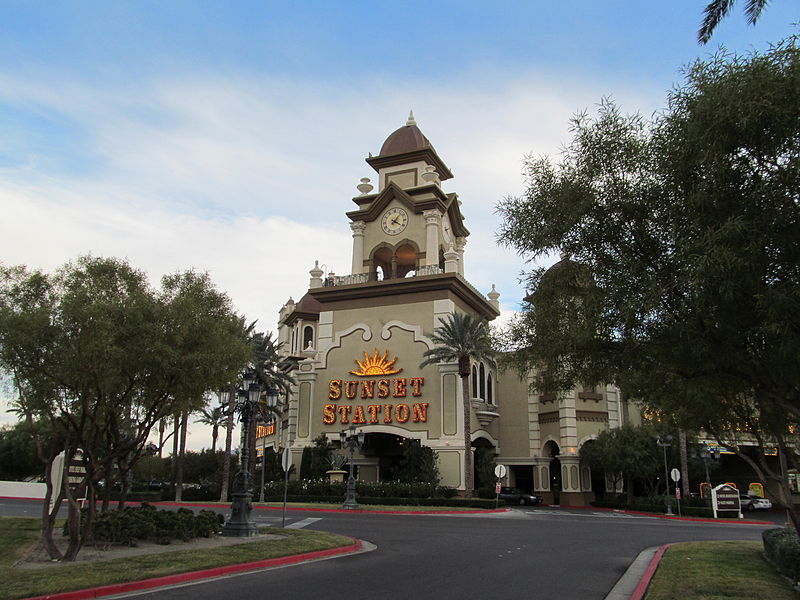 Casino Reviews
Sunset Station Part 1
By
|
The Stations Casinos are a chain of local casinos that are located all over the city and Clark County proper.  They own eighteen properties including the Wildfire Casinos and Red Rock Casino which is their latest casino to open and which is only a few years old.  The company also owns and manages a wide variety of casinos and hotels throughout the United States.  One of the most popular for locals is the Sunset Station which is located in Henderson and has been in operation since 1997.
Stations Casinos History
Stations Casinos started off as one casino located off the strip and on Sahara Avenue and was called the Casino and Bingo Palace and was opened in 1976.  The name of this casino was changed to Palace Station in 1983 after many renovations and expansions.  There was another triple in the size of the casino in 1984 with many upgrades for its guests and gamblers including a new buffet and more casino floor space.  Another casino was built in 1994 in Missouri as well as the Boulder Station that is located on the "Boulder Strip" that was started by Sam Boyd.
The next casino to open in Las Vegas was Texas Station which is located in North Las Vegas and offered a down home Texas atmosphere for its gamblers and guests.  In 1997 the Sunset Station was opened and was one of the first full service casino/hotels in Henderson.  There are many other casinos and hotels that are owned by the Station Corporation and they are all successful and have made the company a great deal of money.  They are one of the biggest employers in Las Vegas and they set a standard as their restaurant and hotel employees do not belong to any of the unions that other casinos, restaurants and hotels commonly join and expect their employees to sign up with too.
The Casino
Sunset Station has been the proud recipient of best slots and best video poker in Las Vegas for many years and lives up to the award by offering over a hundred thousand square feet of video poker and slot machines in the main casino.  One of the favorite casinos for locals, this casino offers more than two thousand slot machines and over eleven hundred different penny slot machines.  There is a poker room, bingo hall, keno lounge and a sports and race book along with all the traditional and new table games located in the pit.  They have also recently opened a new nonsmoking casino area with slots, video poker and table games.
Slots and Video Poker – This casino boasts one of the largest gaming floors in Las Vegas with the most video poker and slot machines.  Any gambler who wants a great variety of games to choose from would do well at this casino.  The video poker denominations range from just a penny a hand up to five dollars a hand.  There are also two hundred video poker games that offer one hundred percent payback which is almost unheard of in Las Vegas where the Strip casinos only offer eight five percent and the downtown casinos that are a little higher at eighty seven percent payback.  There are two high limit slot areas as well as a smoke free area for those who would rather not deal with second hand smoke.
Table Games – There are all the standard table games you are looking for including Black Jack, Let it Ride, Pai Gow Poker, Three Card Poker, Mini Baccarat, Craps and Roulette.  You will also find some not so common games such as Ultimate Texas Hold'em Progressive, Mini Baccarat and Wild Hold'em Poker.  There is also a high limit lounge for the high rollers located in the Martini Bar.  Black Jack starts at just five dollars a hand and is a double deck to make the action that much more exciting.  There is even a lounge if the gambler wants to take a little break to relax and have a cocktail or to wait for a seat to open at their favorite table.
Poker Room – This poker room boasts eight tables, is open twenty four hours and is entirely nonsmoking.  It offers Texas Hold'em games at many different levels including limit and no limit with the base limit amount $2/$4 with a half kill and $1/$2 no limit.  The maximum tables run from $6/$12 limit no kill to $2/$5 no limit and also offers a $2-$10 spread limit.  There is basically a game that is priced for a wide variety of players from the novice to the professional.  Sunset Station also offers poker lessons for those who want to learn the game so they can sit and get in on the action.  There are also many different jackpots including the bad beat jackpot that offers thousands of dollars to the players sitting when it is hit.
Bingo Hall – The bingo hall at Sunset Station seats nearly five hundred players and offers some of the best bingo in the city.  Sessions begin at 9am and run through until 11pm and each session starts at the odd hour, 9am, and 11am and so on.  The coverall stars at one hundred and twenty five thousand and is a progressive that increases until it is hit.  It has progressed to some very high amounts and winners have walked away with over a half a million dollars on occasion.
Sports & Race Book – Three hundred seats surround thirty seventy inch televisions that offer all the current games and races that can be wagered on.  There are individual race boards that show the results from races around the country as well as a ticker that show all the updated game scores.  There are twenty betting stations so you will never miss your chance to place that last minute bet.  A VIP section with full leather seating is available for those who spend a great deal of money in the Sport's Book.  There are also individual flat screen televisions that can be tuned to whatever sports or race you have wagered on.
Keno Lounge – The Keno Lounge is small and intimate with only twenty four seats but they are comfortable and close to two of the best restaurants in the casino.  Wagering starts at fifty cents and you can bet as high as you want though most people only play a dollar a line.  There are many different ways to wager for the Keno players who just enjoy the thrill of the lotto and bingo combined.
Conclusion
Sunset Casino and Hotel is a staple in the Las Vegas gambling industry and has one of the largest casino floors in the city.  There are so many games to choose from that it can be overwhelming at first attempting to find your way around and not get lost.  Once you have found your favorite area though, the games are loose and the gambling is fun.  You can play for hours and hours without moving to a new a section of the casino.  Whether you like poker, video poker, slots, keno or table games, you will find a place to play, great people to chat with and a wait staff that is on point and never late with your cocktail.
Videos