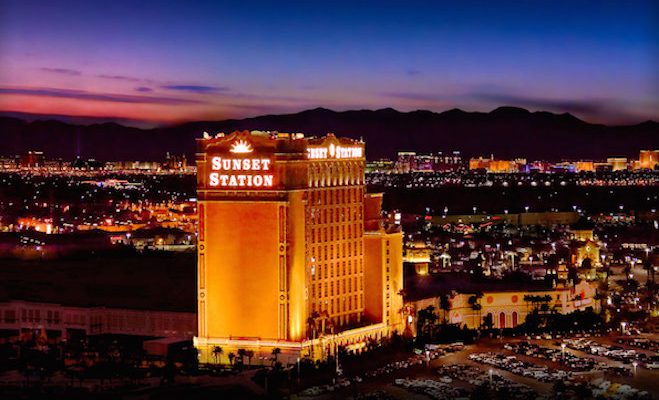 Casino Reviews
Sunset Station – part 2
By
|
Sunset Station has been around since 1997 and is one of the most popular hotels and casino located in Henderson and offers a centralized location for many activities.  It is easy to get to the many areas of Las Vegas that are known to be fun for tourists such as Lake Mead and the Las Vegas strip.  The Galleria Mall is just across the street and offers some of the best shopping in the city.  There are also a wide variety of other activities, restaurants and golf courses in the area surrounding Sunset Station.
The Sunset Station Casino & Hotel
The Sunset Station Hotel is located on close to one hundred acres and boasts over five hundred hotel rooms and suites with prices starting at forty dollars a night.  The hotel was rated three stars and holds an AAA rating too.  There is plenty of parking and also a twenty one story tower that offers a great variety of views of the Las Vegas area.  Those who join the players club can get discounts on their room rates and there are always specials running during the off peak periods.
The Rooms
There are three tiers of hotel rooms that can be booked at Sunset Station, the Deluxe Hotel Rooms, the Junior and King Sized Suites.
Deluxe Hotel Rooms – There is either the single king sized bed deluxe or the two queen sized bed deluxe rooms to choose from.  The beds are cozy and you may find that you do not want to get out of them to start all the tourist activities you have planned for the day.  You can call room service, hang out at the pool or get your work out on in the hotel weight room.  There are also smoking and nonsmoking rooms to choose from for those who have a preference.
Junior Suites – The Junior Suite is very similar to the Deluxe Room but offers a double vanity in the bathroom, a sitting room and a much larger tub.  As with the deluxe rooms, you have a choice between one king sized bed or two queen sized beds.  The addition of the sitting room area creates a larger space and the couch can be pulled out for an extra bed in the room.
King Suite –The King Suite is larger than some studio apartments in Las Vegas and boasts over a thousand square feet of room space.  There are two full rooms, one is a living room and the other is the bedroom that has a king sized bed in it.  In the living room there is a full dining and sitting area, a fridge, mini bar and two bathrooms so nobody has to wait to shower if it is already being used.
Amenities – All rooms are decorated in the tones of the desert which are neutral and soothing to promote the best sleep possible.  There is internet access as well as a data port connectivity area and same day valet service.  There is also cable television, in room movies and a business center.
Kids Quest
If you brought your children with you to Las Vegas and you want just a little mommy and daddy gambling time, you can drop them off at Kids Quest.  This is a professionally run daycare service that does cost a bit extra.  Your kids can hang out for a couple of hours or for a whole day as meals are provided for an additional charge.  There are a wide variety of activities to keep them entertained including a play area with slides, ladders and fun tunnels to crawl through, non-violent video games, a quiet play area where they can color, a karaoke machine and stage and a special room for the little guests called the Tiny Tot room.  This daycare is professionally staffed and employees are certified in CPR as well as first aid.
Regional Cinemas
There is also a movie theater with thirteen different screens including 3D and IMAX for those who want to get the full effect from their movie experience.  All the new movies are shown here in the comfort of soft seats and stadium seating so the views are great from any seat.  You can set up dinner and a movie along with a hotel stay for one night or include this in your package when you book your stay.
Club Madrid
Club Madrid is Sunset Stations answer to the live music venue and they bring it with a state of the art sound system as well as five hundred seats.  Catch your favorite band or performer then head out to the casino to win your fortune.  The costs of the shows are dependent upon who is performing and those who are Stations Club members can get discounts on tickets.
Outdoor Amphitheater
Sunset Station was one of the first casinos to boast an outdoor amphitheater for live concerts and shows and they offer some of the best live acts around Las Vegas.  In the spring, there is always a free concert series featuring bands like Dokken, Quiet Riot, Slaughter (who is a Las Vegas native) and many others.  Some of the biggest acts around today are also featured on the Sunset Station stage.
Restaurants
There are eight full service restaurants as well as a food court filled with your favorite fast food restaurants.  Some of the top eateries are as follows:
Sonoma Cellar Steakhouse – Sonoma Cellar offers some of the best quality cuts of meat for their guests and offers a full menu to please any palate.
Pasta Cucina – Any pasta or Italian food lover should definitely check out Pasta Cucina, the portions are huge and well-seasoned and the menu can leave you with difficult choices to make.
The Oyster Bar – As the name implies, this is where you can get your seafood on and slurp up some tasty raw shelled oysters.
Cabo Mexican Restaurant – Feeling like a taco or nice sizzling plate of fajitas?  Then Cabo is the restaurant for you.
Hooters – There is not much you can say about Hooters except, hot girls, hot wings and hot dining.
Grand Café – If you are simply looking to grab a quick bit and do not want to get fast food, then the Grand Café is for you.  You can have breakfast, lunch or dinner at any time day or night.
Feast Buffet – The best bang for your buck, the Feast Buffet features cuisine from all over the world and most is prepared right in front of the diners.  Eat until you are full and then head to the desert bar for more.
Fast Food Court
The following is a list of the fast food restaurants found in the food court:
Ben & Jerry's
Fatburger
Panda Express
Sbarro
Starbucks
Subway
Conclusion
If you are planning a trip to Las Vegas but you want to get away from the Strip for a few nights, you should definitely look at Sunset Stations.  There is something for every member of the family and you may argue about which great restaurant you want to dine in.  There are concerts weekly, great gambling, tons of slots and rooms that are large and comfortable.  Get away from it all and head to Henderson to stay at Sunset Station.
Videos