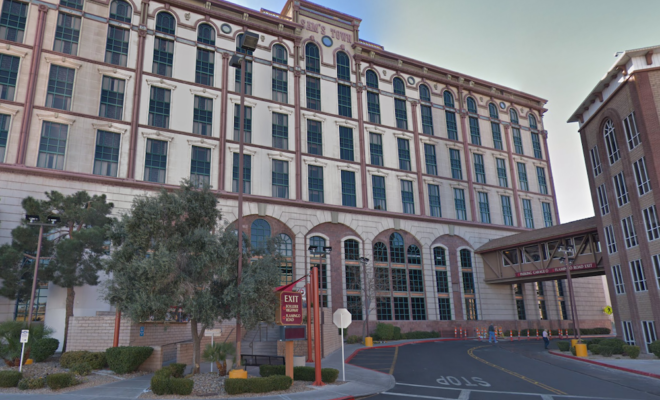 Casino Reviews
Sam's Town, Part 1
By
|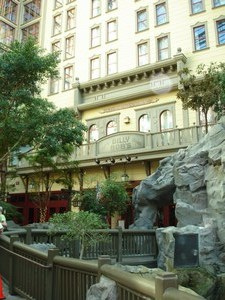 Sam's Town Hotel and Gambling Hall in Las Vegas is one of the earliest local casinos that opened not on the Strip or Downtown, but on Boulder Highway. It has been in operation since 1979 and is owned by Boyd Gaming Corporation. Since then, many have followed in its footsteps to locate off-strip. Today there are many Boyd properties located all over the United States as well as in Las Vegas.
Boyd Gaming History
Sam Boyd moved his family to Las Vegas in 1941 with just enough money in his pocket to pay the first month's rent for their home and a dream to make it big.  He started in the gaming industry as a dealer and worked his way through the ranks from pit boss to shift boss all the while saving every extra penny he earned.  Once he had enough saved, he bought shares in the Sahara Hotel, a small holding, but it was a start for him. He also bought a partnership in the Mint Hotel downtown, which is no longer in business, where he also worked as the general manager.  Here he brought new ideas and innovations to the hotel and casino industry and in 1968, the Mint was sold.
After the sale of the Mint, Sam began managing the El Dorado Casino in Henderson, which his son Bill had interests in through legal work he completed.  Boyd Gaming still owns El Dorado Casino today and it is one of the most popular casinos in downtown Henderson.  In 1975, Boyd Gaming was on its way to bigger and better things when it developed and operated the California Casino downtown.  This casino was marketed directly to the Hawaiian tourists and was a huge success for Boyd Gaming.  Shortly after, they purchased thirteen acres on Boulder Highway — basically in between the two casinos that they already owned.
This property, it was decided, would be called Sam's Town, after Sam Boyd. It opened to mixed reviews in 1979.  Many thought that there was no way that a hotel and casino marketed to locals could ever be successful or could have the following that downtown and Strip casinos had.  The gamble was rewarded and Sam's Town became one of the most popular casinos in Las Vegas where the locals loved to play.  This was the beginning of what is now known as the Boulder Strip and there are many more casinos located in this area today.  The casino and hotel have gone through many upgrades and additions and today even boasts their own RV Park.
Sam Boyd was not only an innovator in the casino industry but also was one of the first Las Vegas businessmen to give back to the community and to hire women and racially diverse people in his casinos.  He instituted the United Way and the Boys and Girls Club in Las Vegas in the 1960's and these programs are still in existence today.  Sam Boyd passed away in 1993 but his son has continued on with his legacy and has continued to expand and grow the corporation to the national level that his father had always dreamed of.
B Connected
B Connected is the Boyd Gaming player's club and can be used in any of their casinos around the country.  Players can earn points through their play that can be used for free play, items at the gift shop or can be used to buy food and beverages at many of the cafés and restaurants located in the casino.  Always the innovators, Boyd Gaming is also offering the B Connected platform app for Android and iPhones so you can stay in touch with special promotions and giveaways.  There are also social media rewards for those who use their social media to promote Boyd Gaming.
The Poker Room
Sam's Town has always been one of the leaders in the poker scene and their 11-table poker room is a locals' favorite. They offer not only games of limit and no limit hold'em, but also seven card stud and Omaha Hi Low or 0/8. They also offer daily tournaments and boast 24 full tournaments a week. There are many other promotions such as progressive high hands in hold'em and stud and best hand of the day in Omaha. Any pocket aces cracked during a certain period of time also gives the loser of the hand a cash bonus. The dealers are friendly and the service from the wait staff is also on the mark.
Slots and Video Poker
There are a wide variety of the hottest new slots on the scene as well as the old favorites that brings back the times of old Las Vegas. You can find both electronic and computerized slots and the old reel slots that require you to pull the handle rather than push a button. When it comes to video poker, Sam's offers some of the best games and again has the old coin machines that actually pay in coin rather than spitting out a ticket. The nostalgia is mixed with a great quality of new games which is just one of the reasons that this casino is so popular.
Race & Sports Book
This room has recently gone through a multi-million dollar upgrade and offers gamblers a wide variety of horse races, pro and collegiate sports to wager on. There are 60 huge screen televisions that are surrounded with seating that is comfortable and a snack bar/deli is located just outside the sport's book.  This is the sports gamblers dream room and one of the most popular areas in the entire casino.
Other Games
Gamblers will also find a state-of-the-art Bingo room and Keno rooms and there are also all of the table games you could want.  These games include blackjack, Pai Gow poker, roulette, and craps.  There is bound to be a game that someone wants to play when they head out of the busy strip and hit one of the most popular casinos in Las Vegas.  Remember, all games including sports book bets are registered on the B Connected card!
Conclusion
Anyone who wants to visit Las Vegas but wants to be away from the hustle and bustle of the Strip and downtown Las Vegas should consider this casino as choice for their vacation or holiday.  There is plenty of gambling and most of the gamers are locals who know where to play and where to win.  There is a reason that locals play here and it is not to get away from the tourists; their location actually means looser slots and just possibly more fun.
Videos