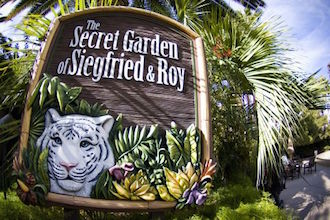 Attractions
Siegfried & Roy's Secret Garden and Dolphin Habitat
By
|
If you want to see some of the most beautiful animals in their own habitats without ever leaving the Las Vegas Strip then you need to check out Siegfried & Roy's Secret Garden and Dolphin Habitat at the Mirage Casino.  Plan on spending quite a bit of time here as there is so much to see and do that it cannot be done in just an hour or two.  The cost affordable with adults only paying twenty dollars, children four to twelve pay fifteen dollars and children three and under are free.  There are discounts for locals and the military.
The Dolphin Habitat
The Dolphin Habitat is the most popular area of the Mirage and offers more than just a way for people to see dolphins up close and personal.  There is a great deal of education and research that also goes on behind the scenes as well as a successful breeding program.  All of the dolphins are Bottlenose and live at the habitat for the duration of their lives.  Visitors get a chance to see them as they would be viewed in the wild and also as the trainers put them through their paces.
Bottlenose Dolphins
These animals are typically found in most waters that are not cold like in the Antarctic waters.  In the United States they are typically found along the eastern seaboard and rarely travel to the western shores.  They live to be about twenty five years old and studies have shown that they do have longer life spans in captivity than in the wild due to a lack of predators and natural disasters that cause them hardships.
Trainer for a Day
If you would rather get up close and personal, even swim with the Bottlenose Dolphins then you should register for the Trainer for a Day program.  You need to do this as soon as your book your trip to Las Vegas as there are only four spots a day available for this activity.  It is not cheap either, those who are interacting with the dolphins pay five hundred and fifty dollars and those who are just watching and not participating pay one hundred and fifty dollars.
Everything is supplied for this price including wet suits, photo CD, an eight by ten photo, souvenir hats and shirts, a certificate that says you completed the program, a small breakfast and a three course lunch.  This is an all-day experience so make sure you do not have any other plans for that day.  You may even want to keep your night free as you may be too exhausted to take in any other shows or to hit the casino floor.  Trainers must be at least thirteen years old in order to participate in the program as the animals can be too overwhelming for those who are younger.
Since dolphins get to be very large, they grow to lengths of over eleven feet and weigh over six hundred pounds, it is advised that those who partake in this encounter be in good health.  There is a great deal of interaction with the dolphins and they are in good health and are considered sexually mature which means that they can become aggressive at times but this is a rare occurrence.  This is the main reason why people do need to be able to handle themselves while working with the dolphins.  While you do not need to know how to swim, you will never be in water over your head; you should be comfortable in the water and should not have any allergies towards chlorine.  Also, keep in mind that the weather in Vegas can be very hot and you will spend the majority of your time in the heat outside.
The Secret Garden
The Secret Garden has a wide variety of wild cats for the visitor to see in their natural habitats.  The following is a list of all the animals you will see:
Black Panthers – Black panthers are not a different species from any other panther their skin is what makes them black.  They differ from a black leopard in that the black leopard has visible spots and the black panthers do not.
Golden Tigers – These are the tigers that most people recognize and they have a large range in the wild.  They are going extinct however as they were overhunted in past years.
Leopards – Leopards have a range that extends from Africa to Asia and live in both the desert and tropical areas.  There is however a different in the coloring and size of the spots in leopards from different locations.
Lions – Like the leopards, the lions have a wide and varied territory and can be found in both Africa and India.
White Tigers – Any tiger pair can give birth to a white tiger and the reason that they are so rare is because in the wild they lack the natural camouflage that they golden cousins use to avoid detection.
Education
There are a wide variety of programs that are designed to help students learn more about the wildlife in the Secret Garden and Dolphin Habitat.  They are designed to help students discover an interest in not only the animals but the science that goes along with them.  The educators use fun and interactive means to teach students of all ages about the animals and how their lives are made better from interaction with them.  One of the main goals in the education department is to simply make people's lives better by showing them how to respect the wild animals that are still out there that are going extinct and to give people an appreciation for those animals that are still with us.
The Dolphin Habitat also offers classes on echolocation which is the way that the dolphins "talk" to each other and it helps them to "see" in dark waters by having sounds bounce back to them in a way that is similar to sonar.  There is also an area on their website that offers classroom instruction packages that teachers can use to help students to be prepared for their trip to the Secret Garden and Dolphin Habitat.  This shows the anatomy of the dolphin, facts about dolphins and just about any question that a student would ask the teacher about this wonderful mammal.
Conclusion
While Las Vegas is known for its flashy lights and crazy atmosphere, there is a haven from all of the hubbub right on the strip located at the Mirage Hotel and Casino.  The Siegfried & Roy's Secret Garden and Dolphin Habitat is a great place to view big cats and dolphins in habitats that they would be naturally found in the wild.  You can put on a wetsuit and swim with the dolphins then take a leisurely walk through the Secret Garden.  The price is very affordable if you just want to watch the trainers put the dolphins through their natural behaviors or to go to the garden and view the wildlife there.  This area is very child friendly and while kids have to be thirteen to participate in the Trainer for a Day program, all ages are welcome at any other portion of the attraction.
Videos